Maya and I have been best friends since we were 13. In the time since, due to the generosity of her family, we've taken a lot of trips together – to Seattle, Florida, and even the Bahamas (I, in turn, have tried to reciprocate with homemade scrapbooks). But for the last few years, college has eaten up most of our "friend time" – until February, when she decided to take the semester off for personal reasons. Since she would be around during my spring break (and we both needed a break from what had been a hard few months), we decided to finally bite the bullet and pull off the road trip we'd been talking about for years.
After less deliberation than we should have had, Maya and I chose for Niagara Falls, which I had never seen before. And thus began our road trip… To Canada. In March.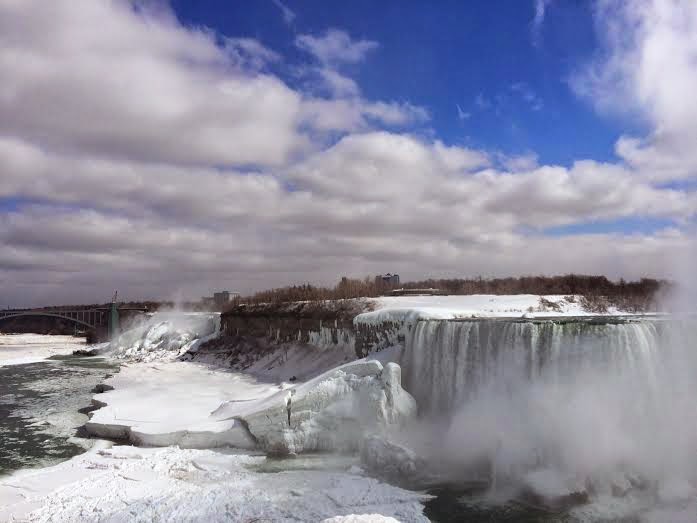 Break out the bikinis!
Let me tell you all something: I have spent years trying to figure out my mixed cultural identity, but I have never felt more American than I did in Canada. Every time Maya and I were alone for more than an hour, I started spouting eh's like some kind of deep northern lumberjack (or, rather, sarcastic American). This happened a lot when we were driving, especially if there was a conversational lull. We would quietly be listening to music (Life is a Highway, anyone?), when suddenly:
Me: "Eh. Eh! Ehhhhhhhhhhhhhh. Ehhhhh? Ehhhhhhhhhhhhhhhhhh."
Maya: "That's not how you say it. It's not a question or an affirmation, you say it at the end of a sentence."
Me: "Ehhh."
Maya: "Stop it."
Me: (To the tune of the song) "Eh eh eh eh eh ehhhhh, eh eh eh eh eh ehhh, EH EH EH."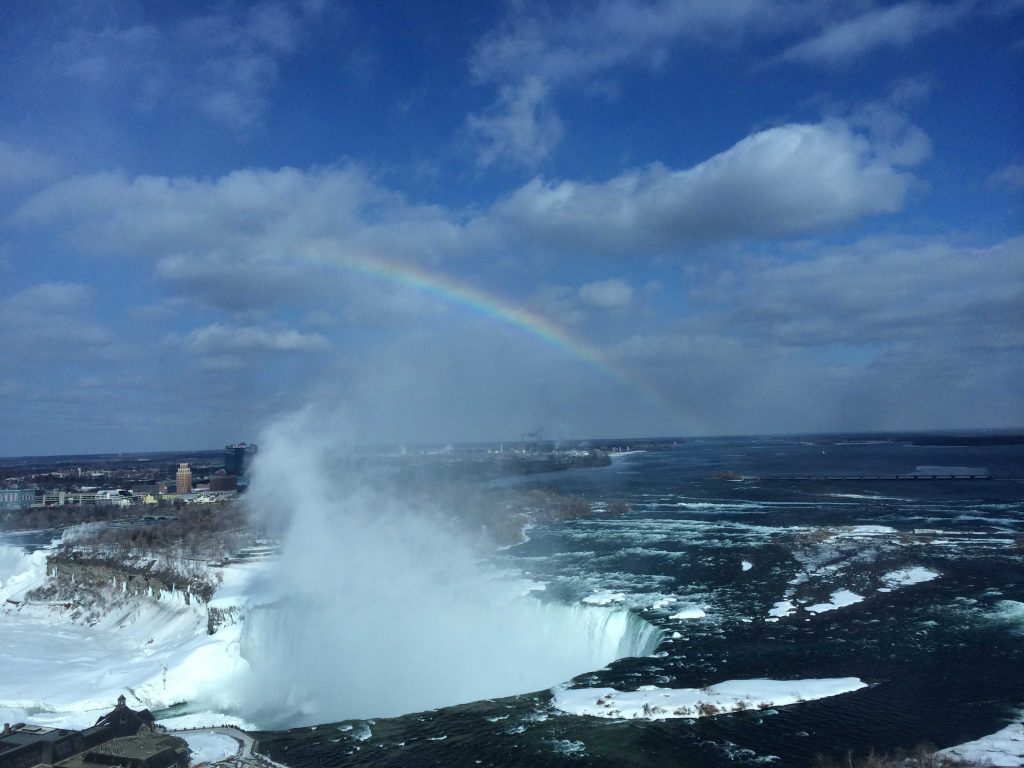 This picture was taken from the window of our hotel room.
Niagara Falls (or just "the Falls" to locals) was absolutely beautiful, even in winter. Most Falls-related activity – tours, Maid of the Mist, etc. – was cancelled until June due to the snow and ice. Despite that, and even in the freezing cold, it was gorgeous. The Falls were much larger than I had expected, and in a cheesy way, seeing them made me feel small. Standing next to something so enormous, formed by nature over hundreds of years, gave me a little perspective on the size of my problems – or, rather, lack thereof.
That Wednesday night, Maya and I drove to Toronto and had dinner in the CN Tower, the tallest tower in the Western Hemisphere. This was probably, for me, the best part of the whole trip. The first 15 minutes were pretty high in anxiety, though, because both Maya (who planned the dinner) and I have a fear of heights.
I know. What were we thinking?
I spent the beginning of the dinner constantly switching back and forth between checking if Maya was okay, and freaking out because the floor was moving. (The CN Tower restaurant is constantly turning, so you can get a 360 degree view of the city.)
We finally adjusted, and managed to take it all in – and the view was extraordinary.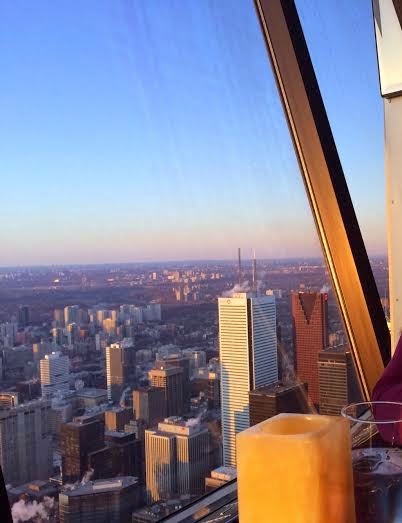 Later that night, we went to the Observation Deck, which includes a glass floor that lets you look 150 floors below your feet. Maya saw it and immediately ran for the nearest wall to clutch and hyperventilate next to. After about a minute and a half, I got myself to stand on it and take a picture, as spritely seven-year-olds jumped up and down next to me and made me feel wimpy in my moment of bravery.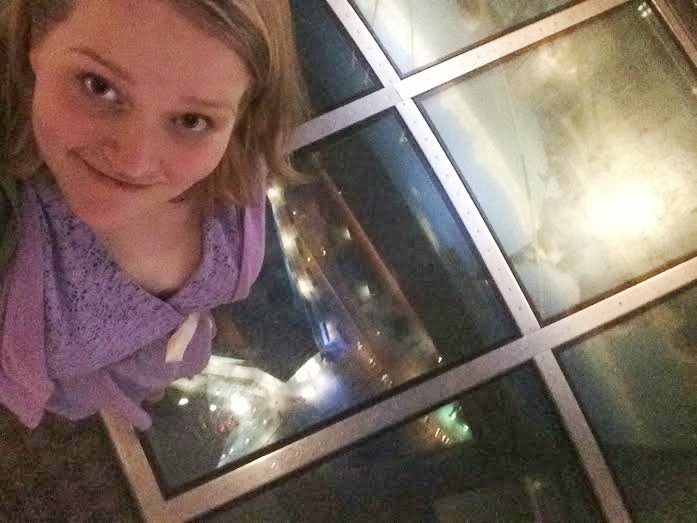 My smile says 'All good!' but my eyes say 'OH THE TERROR.'
That night, as we drove back to Niagara Falls, Maya and I decided that, as a dare, we would listen to only one song on repeat, as long as we could. The song we chose was Caramelldansen by the Swedish dance band Caramell, which we listened to for a total of five hours as we drove back to Pennsylvania the next day. (I dare you to listen to it only twice.)
The trip was wonderful – my first time to Canada, first time seeing an American Natural Wonder, and, less relevantly, the first time I was ever given a hot stone massage (it was weird. Do not recommend). But despite the beauty of the falls, the wonderful food, and the spa trip, I think the best and most valuable thing about the journey was that it reminded me of how incredibly grateful I am for Maya. She had been having a really rough time (luckily, she's doing a lot better now); as we 'got away from it all,' it was so great to see her laugh and smile, and I was so happy I could be there with (and for) her. The fact that she was still able to treat me to the wonderful things we did, even when she was dealing with her own difficulties at the time, reminds me of how selfless she is, and what a caring friend.
Maya is a lot less verbal than I am, so we didn't always do much talking – more driving, singing in the car, walking, and lazing around. The fact that watching a Kevin Hart show in bed helped her up as much as a heavy talk about loss, reminded me that sometimes all we need from our loved ones is time. Not words, not touch, not trips or tours or fancy spa visits. Just time spent together to show the other person that you care.
I am grateful for this trip, but more than that I am grateful for Maya's friendship and her love, and the things she's taught me about being a friend and a good person.
Thank you, Maya. To many more poorly-planned trips, over (hopefully) many more years.