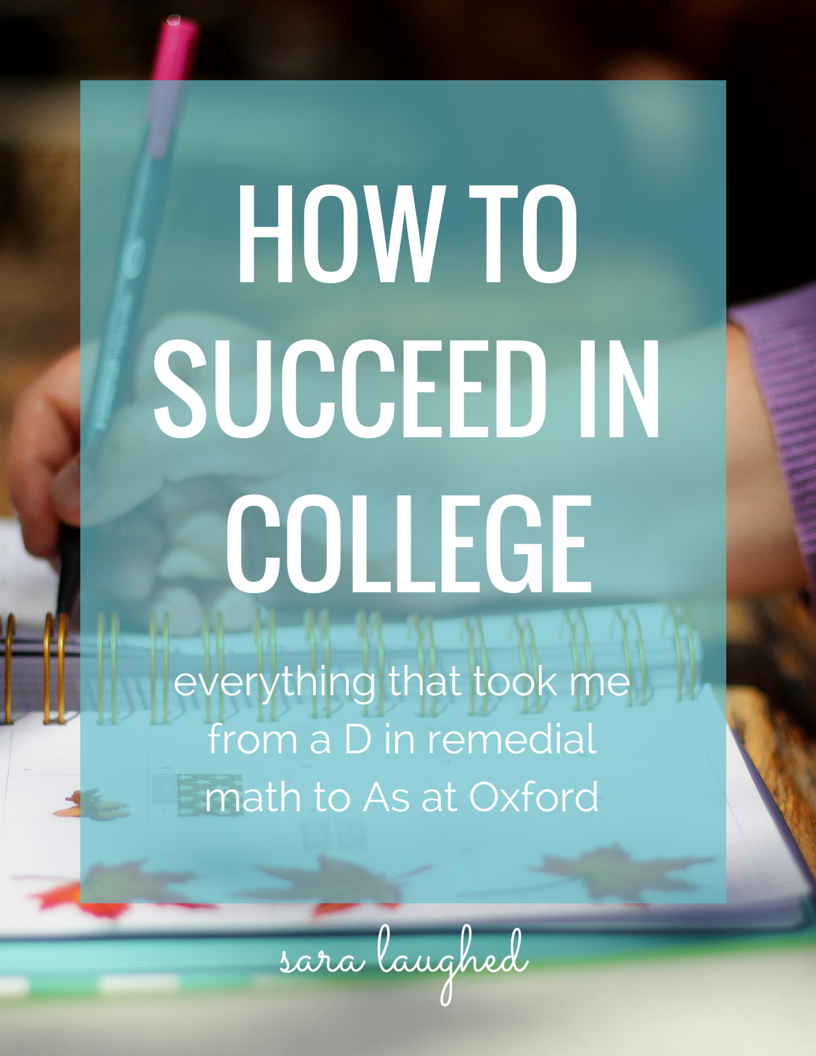 I haven't always been a good student. In my freshman year of high school, I was getting a D in the lowest-level math class in my school.
This past June, I finished my year abroad at Oxford University, where I got an A in every class.
Through my blog, I've received dozens of emails asking how I did it. So I decided to write an eBook to share with you everything I've learned in a way that's accessible and easy. This isn't your average guide to college. This is a collection of advice from someone who's been there, who knows what you're going through, and who is ready to share everything she's learned with you.
Whether you're a straight-A student looking to hone her skills or a college freshman with no idea of what to expect, this guide is for you.
Succeeding in college doesn't have to be difficult.
When I came to university, I was completely overwhelmed. There are so many facets to the American college experience to deal with, from getting motivated to writing a college paper to taking your first final exam. How to Succeed in College is an 80-page guide to every aspect of my college process, broken down into actionable steps.
So what's inside the eBook?
10 full-length chapters, filled to the brim with information and exercises that will help you succeed in college
Introduction

A little bit about my story and why I chose to write this book.

Motivation

This chapter outlines different strategies for getting motivated for your semester. I also include tips for motivating yourself long-term, and advice for when you lose your motivation.

Scheduling

This chapter goes over how to choose classes and extracurricural activities for a balanced schedule that will still fulfill your major and distribution requirements.

Organization

This chapter includes updated and expanded content from one of my most popular posts, The Ultimate Guide to College Organization. I go over choosing and using a planner, keeping track of papers and assignments, and how to annotate a syllabus.

In Class

In this chapter, I go over how to make the most out of class time using different note-taking techniques and class participation. I also talk about processing information after class for better retention later!

Reading

This chapter goes over my reading strategies for four different kinds of college reading, as well as time management techniques and how I take reading notes.

Procrastination

In this chapter, I go over four different kinds of procrastination I have experienced, and how to address and conquer each of them. I also give two short pep talks for different kinds of learners.

Essays

This chapter is a thoroughly expanded version of my guide to How to Write the Perfect College Essay. In it, I walk you through every step of my process and each section of your paper. I also devote some time to the editing process, with questions you need to ask yourself to make your essay as strong as possible.

Studying and Exams

This chapter covers my strategy for studying for exams, from time management to tips on focusing to finding the perfect study spot.

Balance

This chapter is one of my favorites, and goes over how I manage to keep it all together when I'm so focused on school. I give tips for self-care, talk about how to sleep better and how to deal with stress.