Ken and I celebrated our four-year anniversary this Sunday. It was the first time we had ever celebrated our anniversary together; this year, the date happened to fall during my Spring Break, and thanks to an amazing deal and my dad's air miles, I was able to fly to the Netherlands to be with him for a week and a half!
Four years together means that we've seen each other grow — a lot. Ken and I started dating when I was 18; I'm now 22, and our relationship has almost encompassed my entire college experience and all the changes that entails. In turn, he's graduated from college, gotten his own apartment, moved to another continent and back again, and dealt with his new diagnosis. We've grown up together, and now we're making plans for the first steps of independent adulthood. That means hunting for apartments, talking about work arrangements, and (in my case) making bulleted timelines about children and PhDs. (The compulsively organizational side has never left me.)
As Ken and I take this step, I am constantly reminded by friends of how scary this is supposed to be. Most of my friends have never been in a serious relationship, so the idea that I'm apartment-hunting with my partner, rather than job-hunting by myself, is strange to them. That we're planning to buy, not rent, and that we're talking about plans for marriage and education and family, is even more terrifying. So they ask me how I feel. Am I scared?
Sometimes, it overwhelms me; but the only part that I find scary is the numbers (money and mortgages). Everything else — the commitment and the nitty-gritty of daily life with the person I love — is exhilarating, not overwhelming. I honestly can't wait.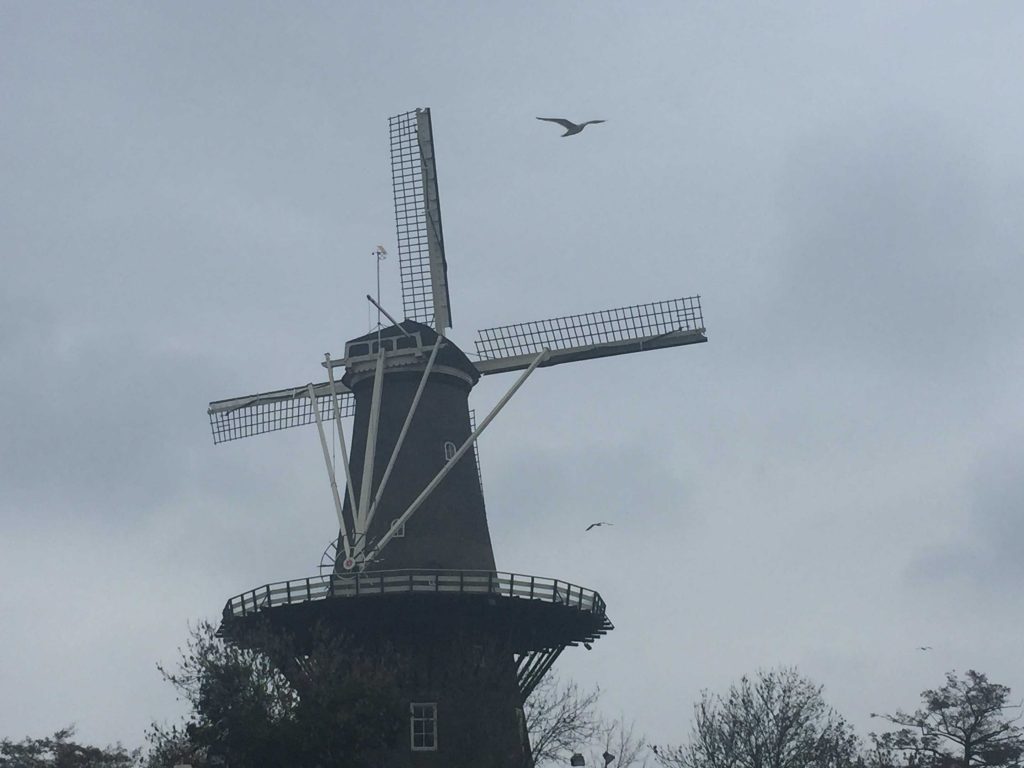 The windmill in Leiden on a blustery day.
The idea of finally being with Ken — sharing not just a country and a city, but an apartment and a life — is, cheesily enough, a dream come true. For four years, I've been waiting, not bothering to count the days because the start of our time together was so far off. Now, we have concrete plans, and a date when we can finally be together. It's becoming real.
Four years ago last Sunday, my cousin's best friend Ken taught me to longboard and then took me out to dinner. I thought he was cute, but it wasn't going to be anything serious. But within days, we were spending every waking moment together. Three days after our first date — four years ago today — he held my hands and told me, "I am a very loyal person. And I already feel very loyal to you."
That was when I knew. It only took three days.
So when my friends ask me if I'm scared, I think of that moment, and every moment since then that affirmed that yes, this is the one I want. This is the person I choose.
I don't feel fear. I feel joy, and love, and security in my choice.
I'm not scared. I'm certain.
Ken and I on our four-year anniversary.