As I mentioned in my January goals update earlier this week, I've been spending a lot of time in my room lately. More specifically, I've been cleaning it. With quite a few college move-in and move-out days behind me, I've gotten used to packing all my stuff into boxes, but the unpacking has been harder. There have been at least two, and sometimes up to six, 20-gallon plastic boxes in my room since we moved to this house a few years ago. With my own transatlantic move coming up, it was high time to clean. I can't wait to show you the results!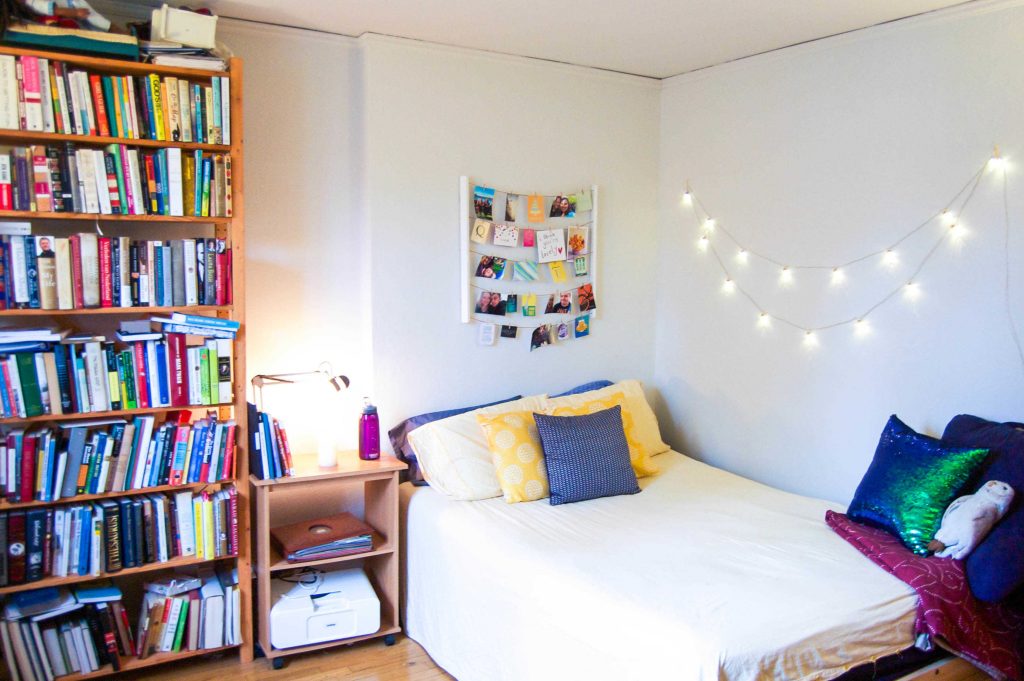 Many of you may have seen part of my room in my dorm style or dorm evolution posts, but I've never shown the entire room before! The biggest part of my room is my bed, which is a queen-size double bed. I love the look of lots of pillows, so I have four normal pillows and three throw pillows at the head of the bed, and a husband seat and sequin cushion at the foot. These sheets are from Ikea and the pillows are from Ikea and Bed Bath & Beyond.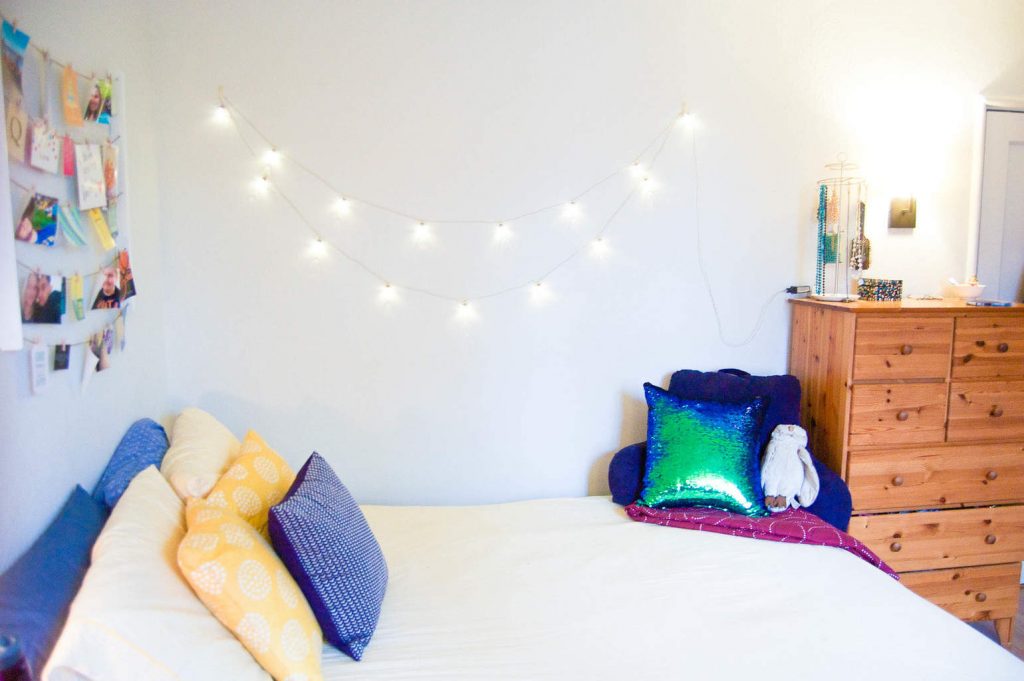 Above my bed are a photo and card display, and some cute mason jar twinkle lights. To the side, between my bed and my door, is a dresser where I keep my pajamas, makeup, and hair accessories, as well as work out clothes and socks.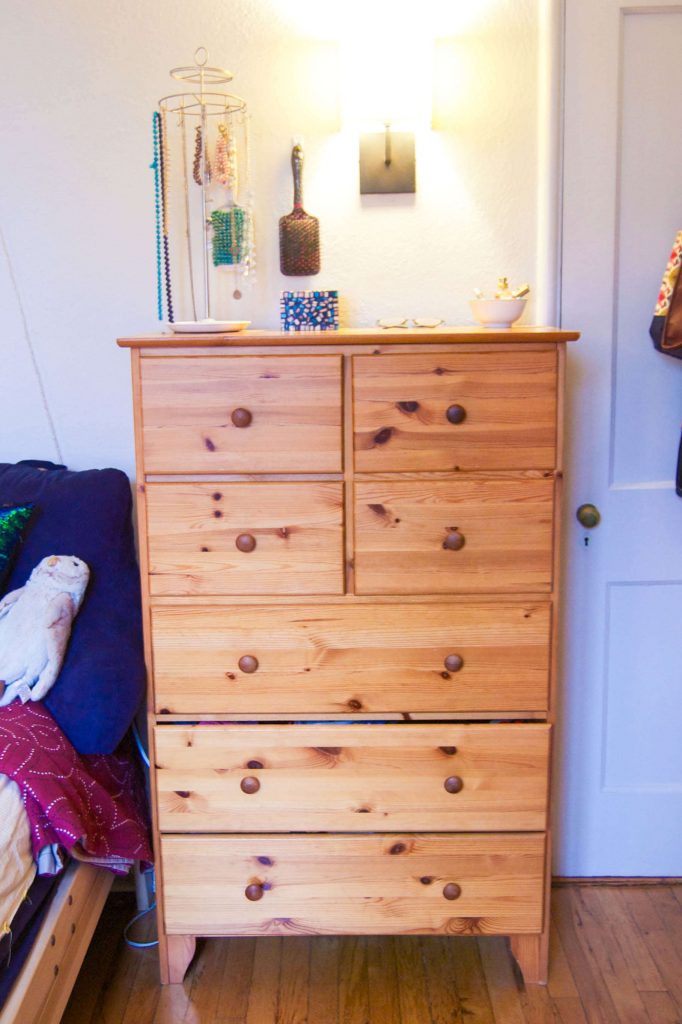 I use the top of my dresser to store my daily hair accessories and jewelry. On top of the dresser, I keep a jewelry tree, a box of hair ties, and a bowl with my perfumes. I also use command hooks to hang up my hair brushes so that they're out of the way and I can keep a relatively clean dresser surface.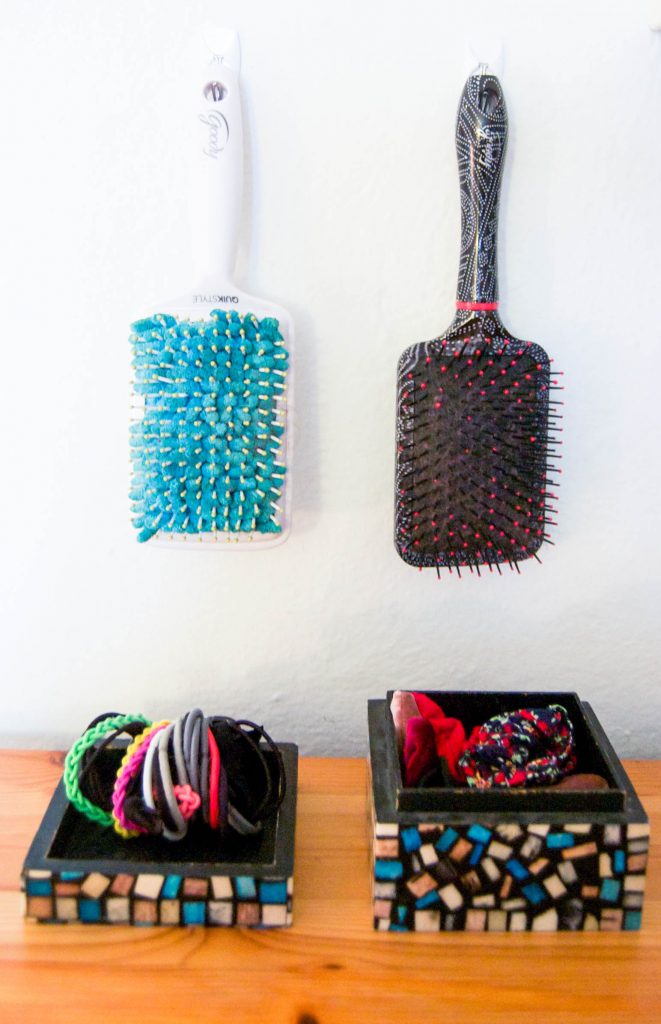 If you also want to hang up your hair brushes, I recommend
You can use the extras to hang up any twinkle lights!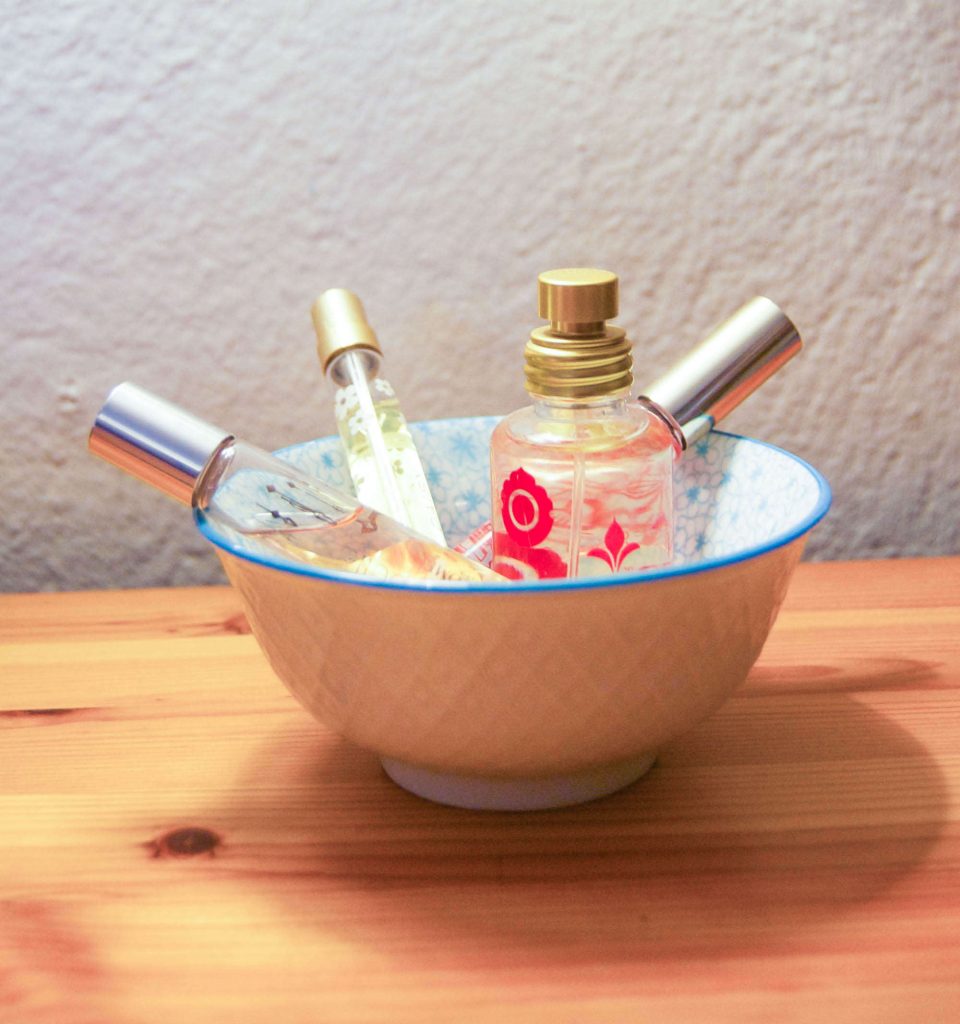 On the next wall are two of my bookshelves, which I have to admit are pretty messy because I have so many books that it's hard to get them to all fit. As you can see, there are a bunch of books stacked on top of the top shelf, as well as quite some books resting on top of other books on almost every shelf. This is one of those to-do's that's just not very high on my priority list; it's mostly aesthetic, so reorganizing my books is just about my last priority when it comes to my room.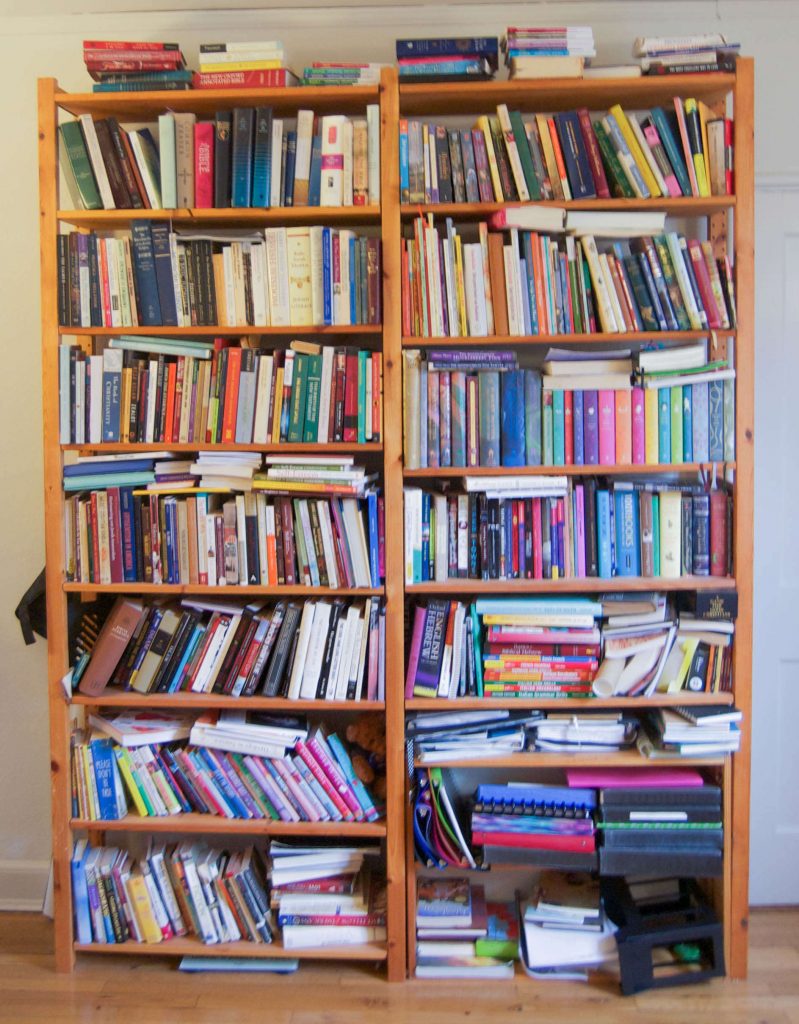 Next to my bookshelf is the door to my closet, which is positioned right next to my heater and mirror. Next to the heater is my desk, where I work during the day (when I'm not working from my bed!).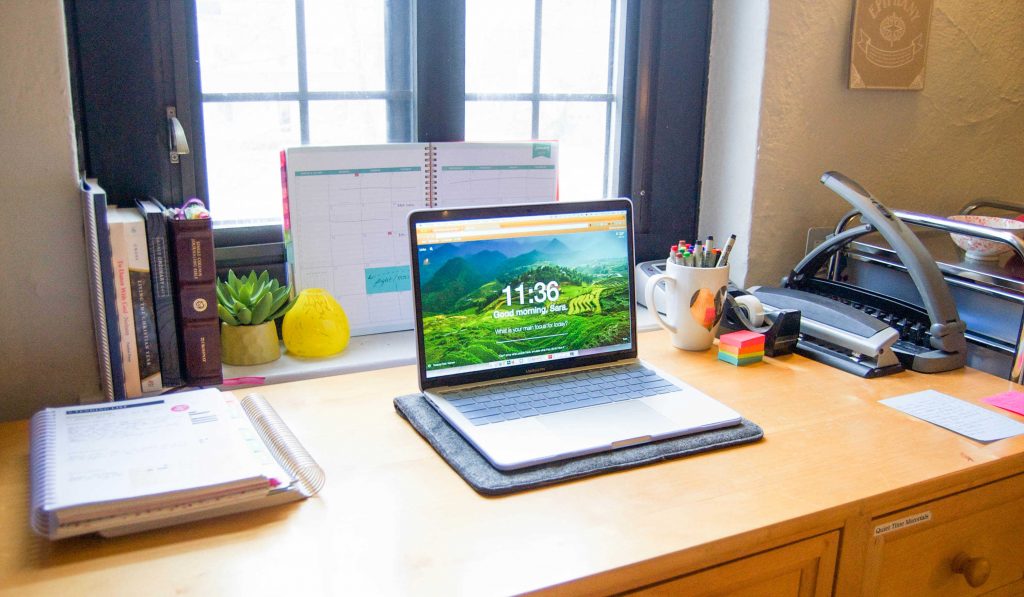 I keep my Bible study books in the window sill for when I do Bible study in the mornings, and lean the monthly view of my planner against the window so I always have a view of what's coming up. Then on my desk, I keep my PowerSheets goal planner and my hourly planner face-up so that I can always access them. On the right side of my laptop, I keep my office supplies and a few color-coded to-do lists on different lined Post Its. My laptop case is this case in Serenity Blue, and my laptop is the October 2016 Macbook Pro.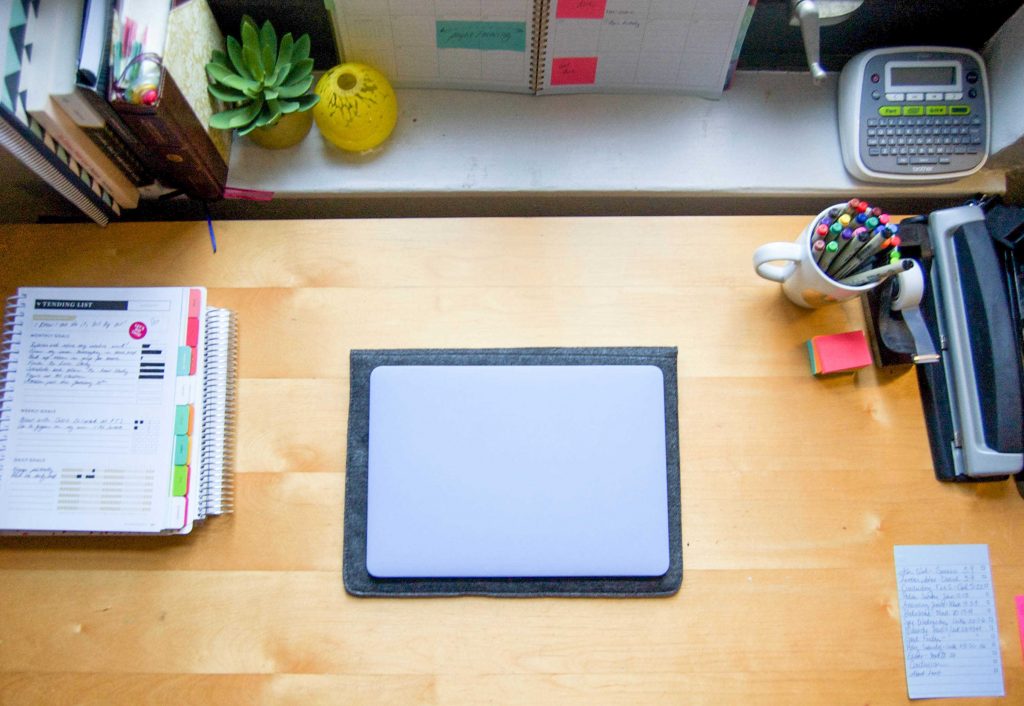 Next to my desk, I have some craft storage, on top of which I keep a bowl for my keys and wallet, and a ceramic pomegranate that was my one souvenir from my summer in Jerusalem. The calendar above that reminds me of the liturgical season we're currently in, and is from the Sacred Journey Etsy shop.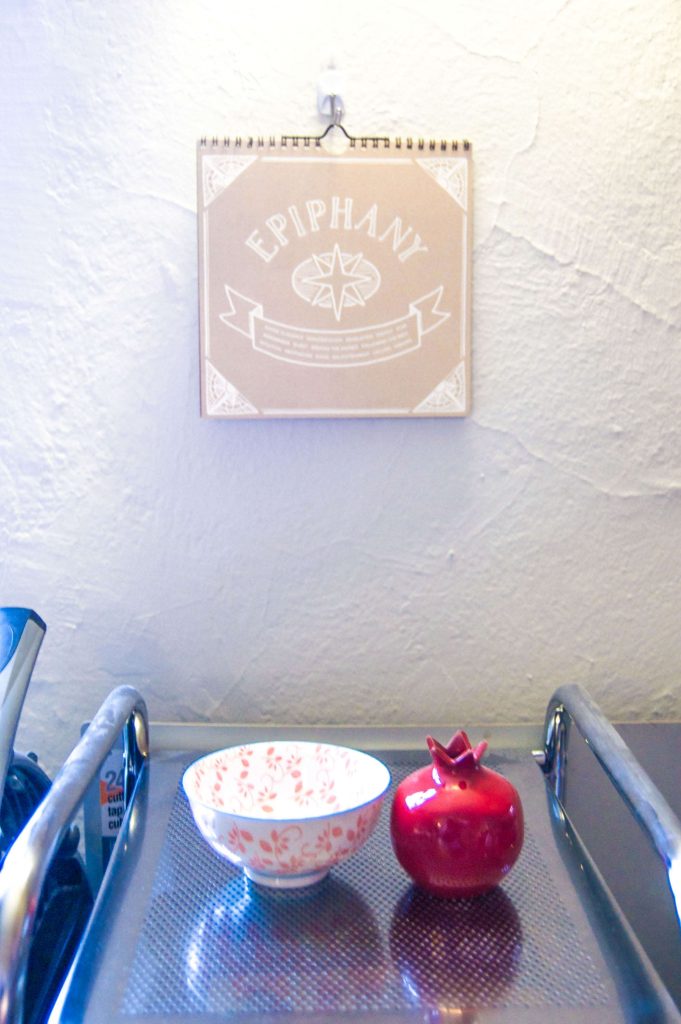 Next to that, I have more craft storage, and my third bookshelf.
I've only spent a few years in this bedroom, but now that I've cleaned it (for the most part) and arranged it in a way I like, I wish I'd done it earlier. Ah, well. I have a new home waiting for me across the ocean, ready for a new beginning and a new chapter of my life. As much as I love this space, I'm ready for that one, too — and the one I'll be sharing it with!