I've been making flower crowns since I was 16, and selling them on Etsy since I was 19. As hard as it is for me to believe, that's seven years of doing my flower crown DIY thing! I've gone through phases where I wore a flower crown every day (yes, even to class), and phases where I didn't pick one up for months. Now, after many years of wearing and selling flower crowns, and many, many hours of designing and creating them, I'm sharing my process, so that you too can make beautiful flower crowns yourself! Read on to learn how to make a flower crown DIY!
Flower Crown DIY Supplies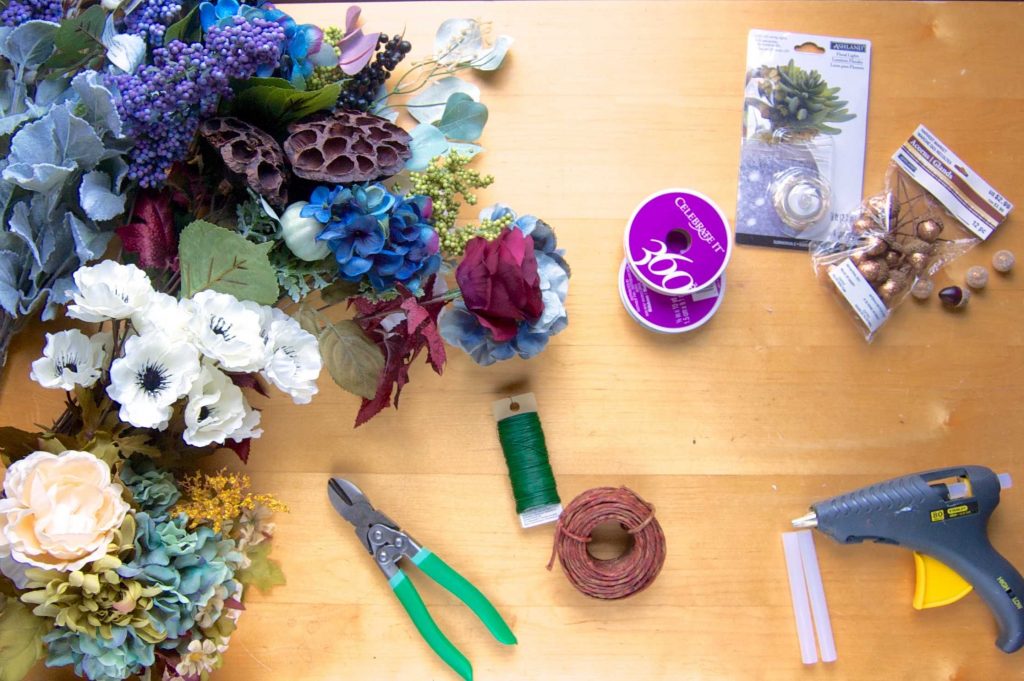 Supply list:
How to make a flower crown base
Almost everyone who makes flower crowns has their own way of making the base. Some people use headbands or elastic, while others make wire or wooden halos for a base. I make my own flower crown bases out of natural floral wire, which is a special kind of wire wrapped in tissue paper so it looks like it might be found in nature. I like this instead of wood or a headband because it's totally customizable to the person's head. And once you get used to making them, it's pretty easy! Here are two options, depending on the style you prefer.
Flower Crown Base Option 1: the Loop Method
This base is best if you want a lot of exposed, twisting wire, or if you plan to have a very full flower crown.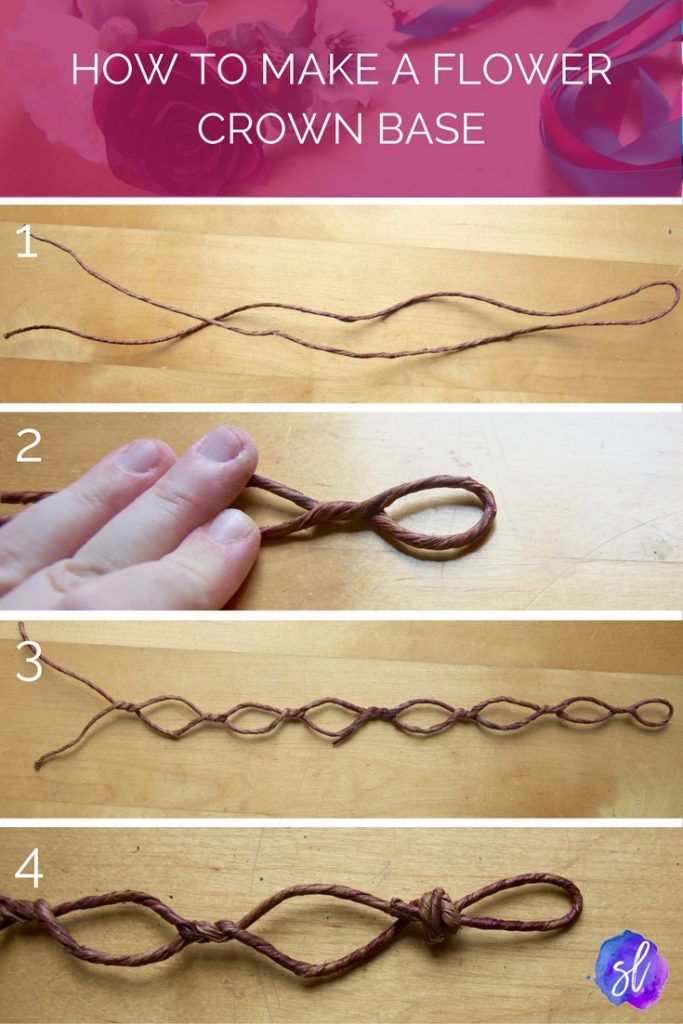 1. Cut the right length of wire. Using the wire, measure around three-fourths of your head. Bend the wire, double back to your starting point, and cut using wire clippers. You will now have a piece of wire that is 1.5 the circumference of your head, bent in half in the middle.
2. Create the ribbon loop. Make a small loop in the middle of the wire by twisting the bent portion around twice. You want the loop you made to be around the size of a quarter, and shaped like an almond. This will be one end of your flower crown!
3. Twist loops in the wire until you reach the end. Double-twist each time to make sure that it doesn't come loose.
4. Create the second ribbon loop. You can do this by bending one end of the wire into a loop shape, and wrapping the other end around it to form a secure hold.
5. Bend into horseshoe shape. You will now have a long, flat flower crown base. Gently bend it into a semicircle or horseshoe shape so that it can be worn on the head.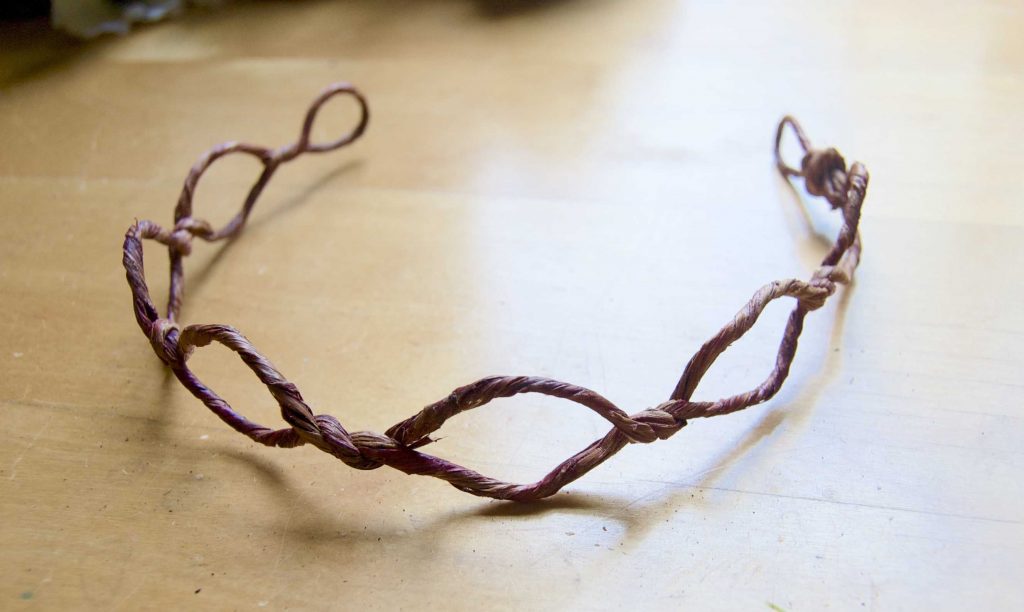 Flower Crown Base Option 2: the Twist Method
This base is best if you want a simpler or sturdier flower crown (for example, if you want to travel with it or have it survive a music festival). This method is pretty easy to do!
1. Measure for size. Measure all the way around your head with the wire, and pinch where the wire meets so it sits well on your head.
2. Secure the hoop. Twist the loose end of the wire (the one that's not attached to the roll) around the rest of the base so you essentially have a hoop or lasso of wire the exact size of your head.
3. Twist around, again and again and again. Using the roll of wire, twist around the halo until you've gone around it around three to five times. Clip the end of the wire and wrap it around the halo to secure it.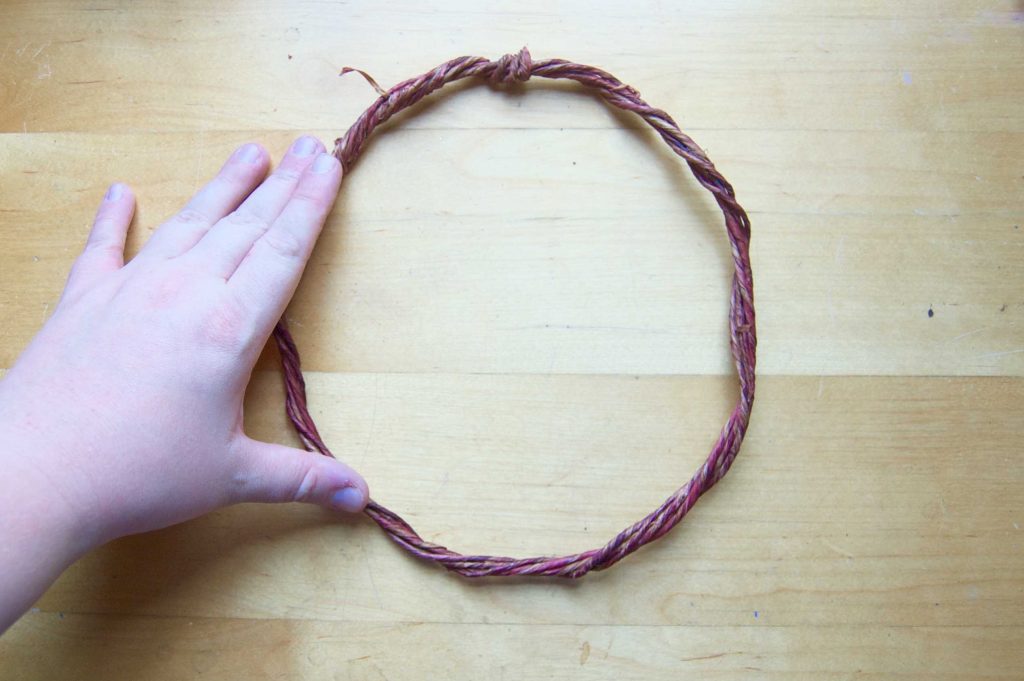 Now comes the fun part: styling and decorating your flower crown. I'm going to show you how I finished both these crowns in two different styles, so you can get some options.
How to make a flower crown DIY
Choosing flowers
Start by choosing a few colors for your flower crown. Here are some things to keep in mind when selecting flowers and colors.
Buy a silk bouquet if you plan on making only one crown. If you buy individual stems from the craft store or silk flower seller and you're only planning to make one crown, you're likely to run up a lot of costs and end up with excess. Bouquets are already selected to be a complementary color palette, and usually include several different types of flowers.
Buy individual stems if you want to make multiple flower crowns. Multiple individual stems allow you to mix-and-match.
Spring for quality. Silk flowers come in a whole array of colors, costs, and quality levels. The cheapest silk flowers will have only one or two colors or shades in the petals. The most expensive and realistic-looking flowers will have many different shades in the petals to make it look as real as possible. I recommend opting for these mid-level silk flowers, to make your flower crown look as beautiful as possible. It will last longer and you will get more wear out of it!
Decorating the base (optional)
For some flower crowns, you may want to add an additional touch of fun or whimsy by decorating the base before you add flowers. In the example below, I wired on some pussy willows in a circle so that there would be small strands sticking out once the crown filled up.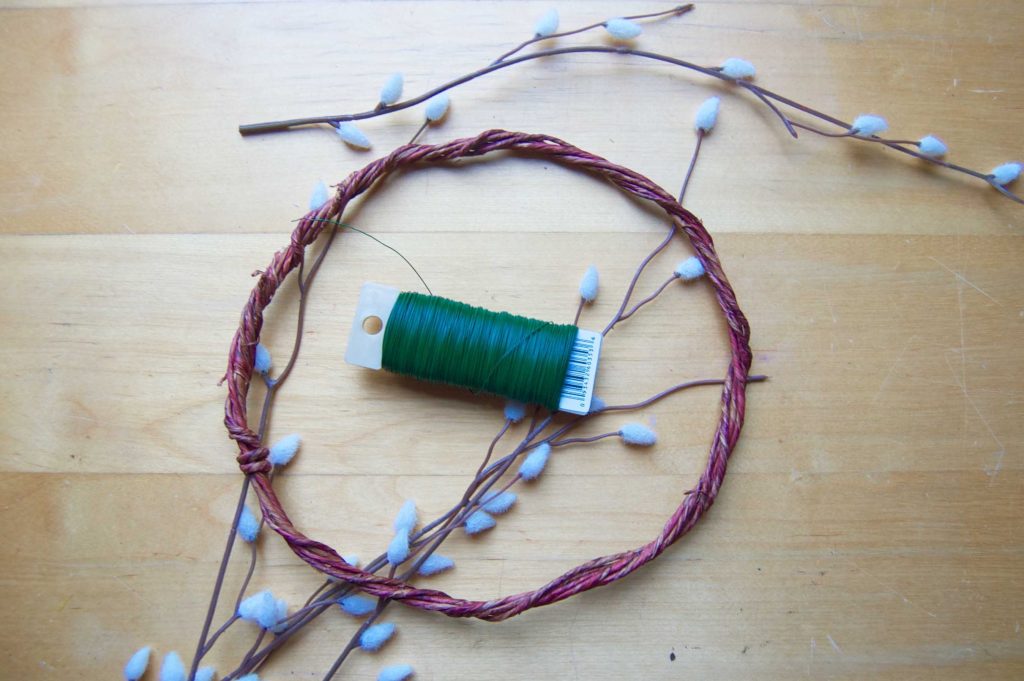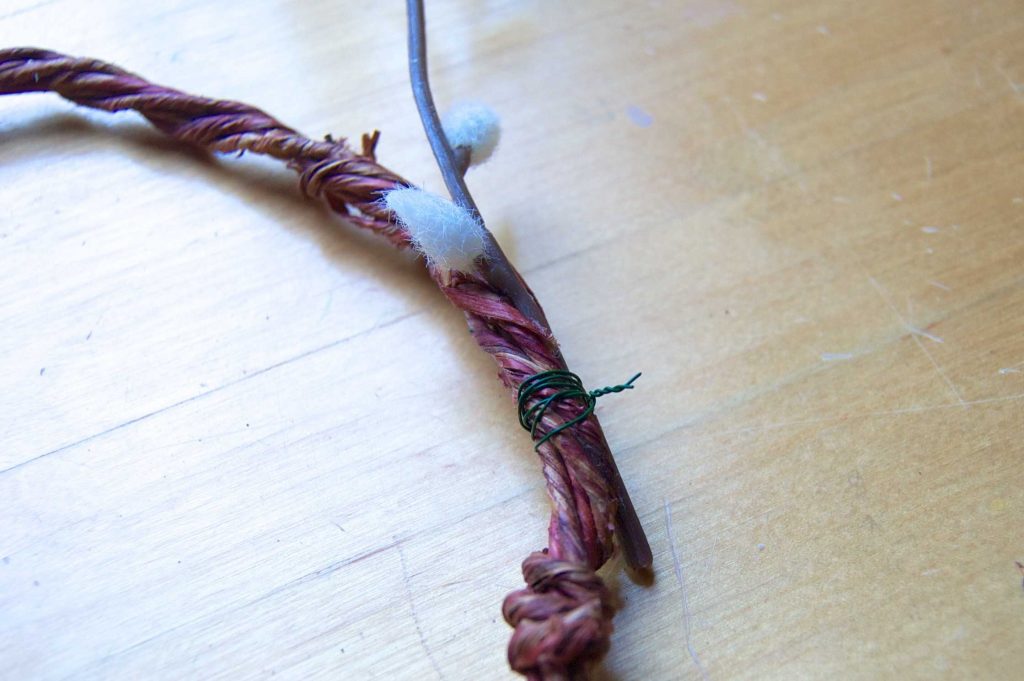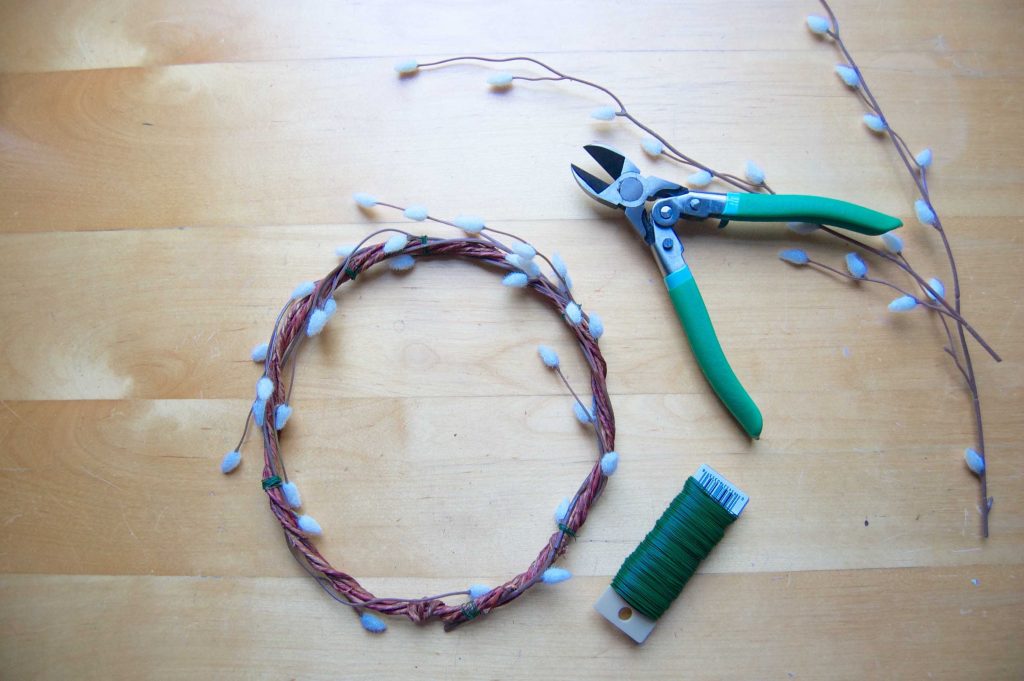 Starting to glue flowers on to your flower crown DIY
Using your hot glue gun, start adding leaves to the base of your flower crown. The leaves will provide extra support for flowers later on, and make sure that there aren't any gaps you don't want where your hair or skin would show through.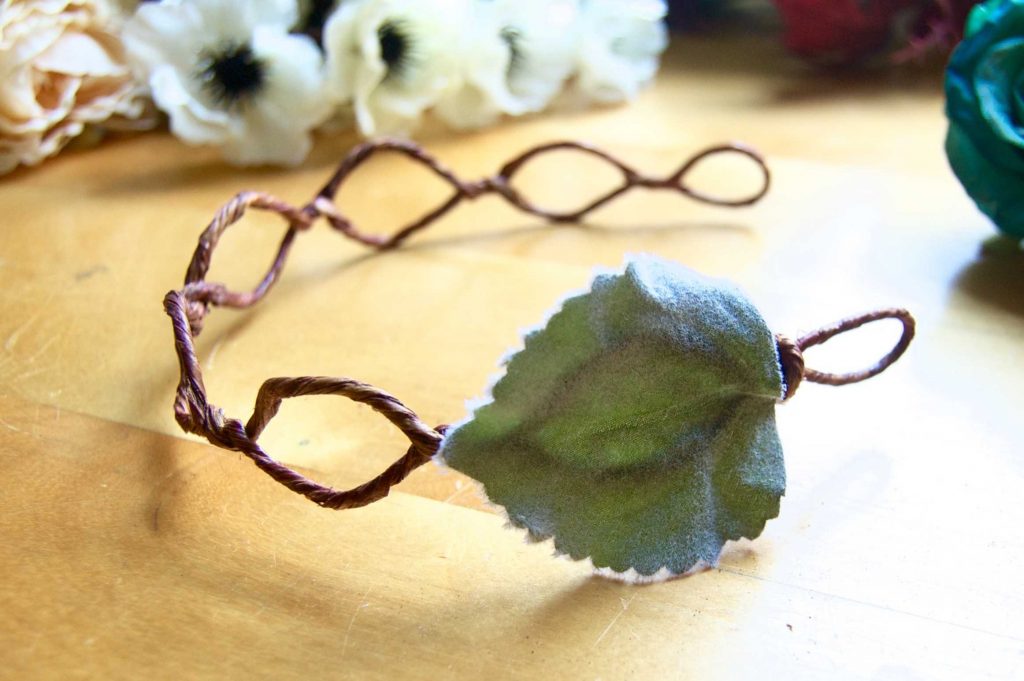 Once you have one or a few leaves glued down, you can start adding flowers. Different flowers need to be glued on in different ways; here are a few basic types.
Single-layer flowers
Many single-layer flowers like hydrangeas will come with a little plastic pod in the center that you can easily remove. Pull out the pod and glue the petal layer in place by making a small O around the hole in the center of the petal later. You can add something like a rhinestone, pearl, or ladybug in the center later if you don't want the hole to show.
Multi-layer flowers (2-6 layers)
There are also flowers that come as little pods of 5-6 petal layers, For these, pull them off the stem, remove the fake plastic leaf base, cut the excess stem remaining, and glue it into place.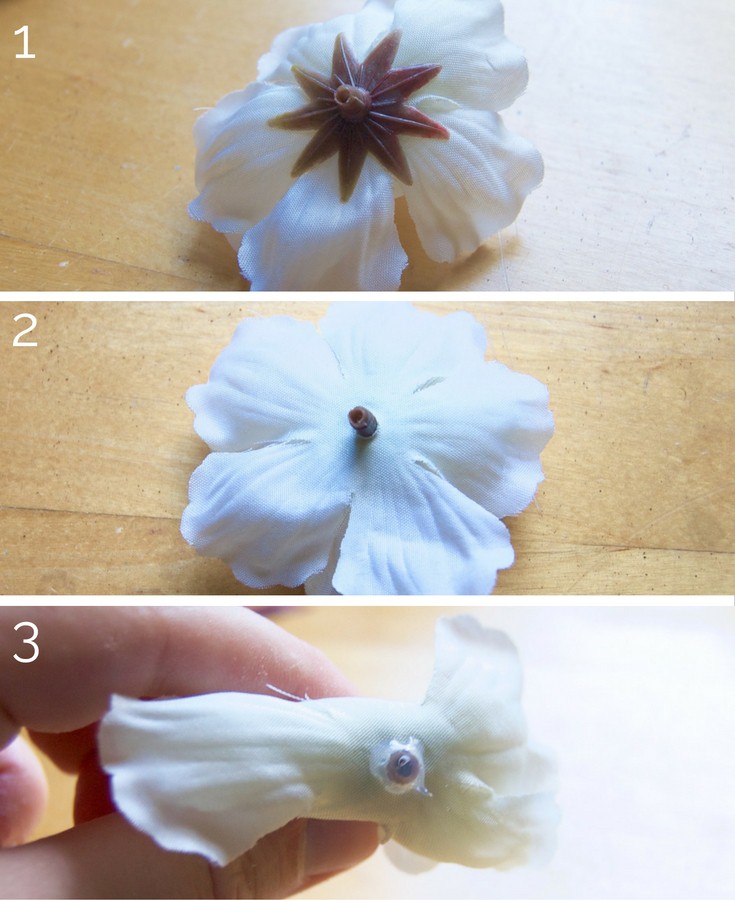 Multi-layer flowers (7+ layers)
Roses, peonies, and other very full flowers will come with many, many layers, and often can't handle having their supporting stem shortened. Unfortunately, you have to do this unless you want plastic poking into your head! What I do for these kinds of flowers is glue them on one layer at a time. It may seem like a hassle, but it only takes a minute, and it means the flower will stay on for good.
Filling the crown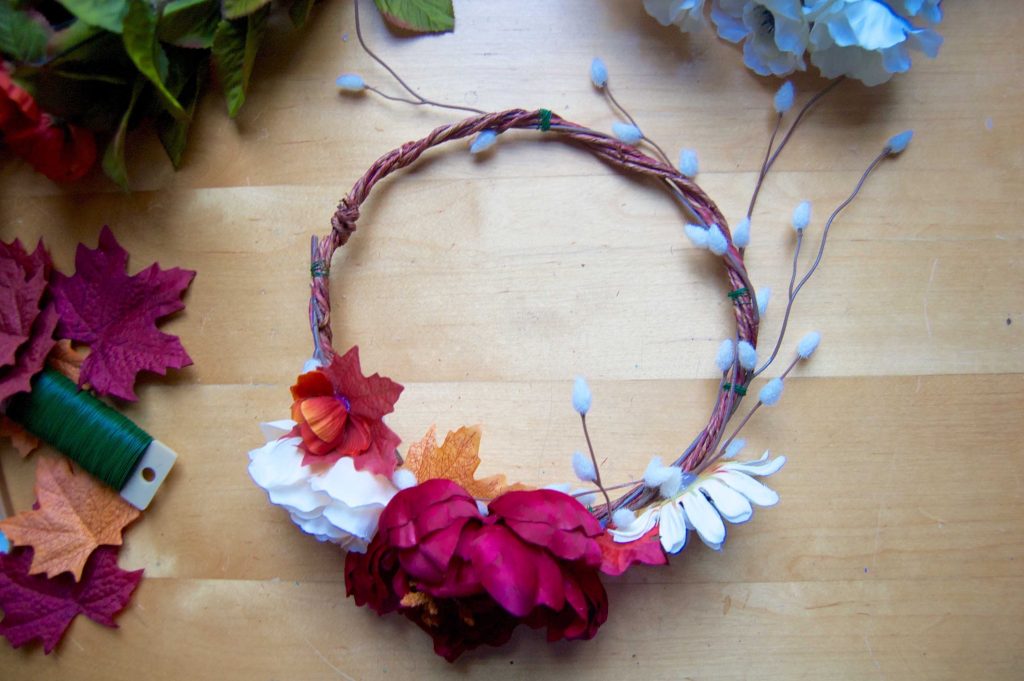 There's no magical method for putting together a beautiful flower crown. Like arranging floral bouquets, it just takes practice and a good eye. I recommend not going for a symmetrical design, but instead trying to make sure that every three or four flowers in a row look good together. The little bunch above looks nice by itself, but when I add to the crown, they should still fit aesthetically into the whole design.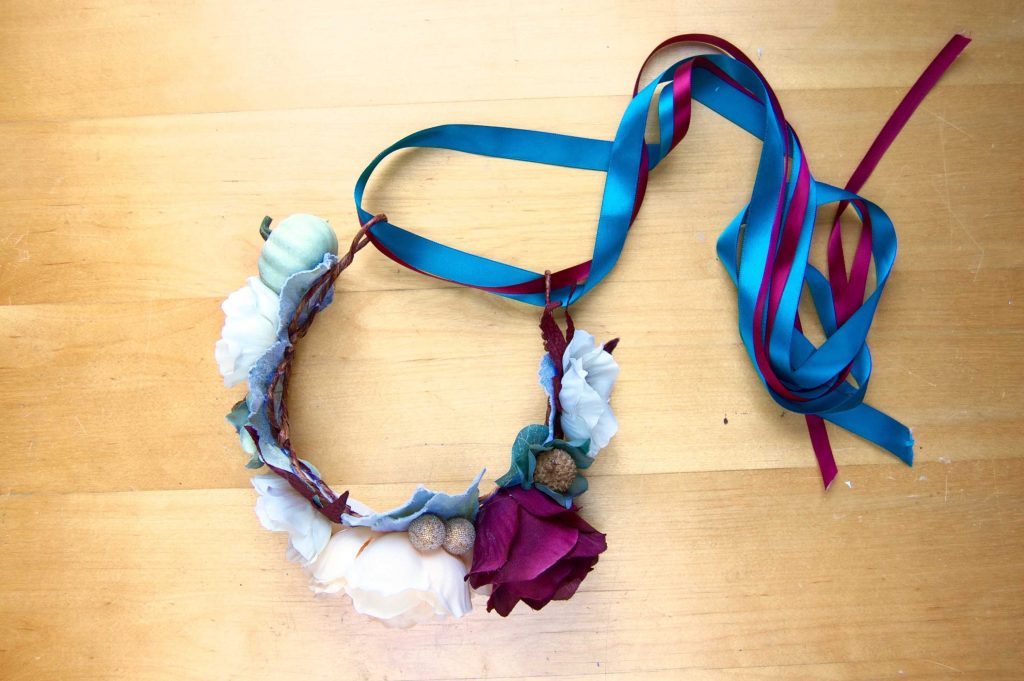 Also make sure that there's some variation in size and flower type throughout the crown. you can see in this overhead shot that some flowers stick out more than others, but none so much that they take away from the overall design.
Adding ribbons and final touches
Finally, choose a few ribbons that coordinate with the crown colors to tie onto the back. You can slip them through the loops on either end of the crown, or if you made a full circle, you can double-knot the ribbon around the center-back, and tie the excess into a bow.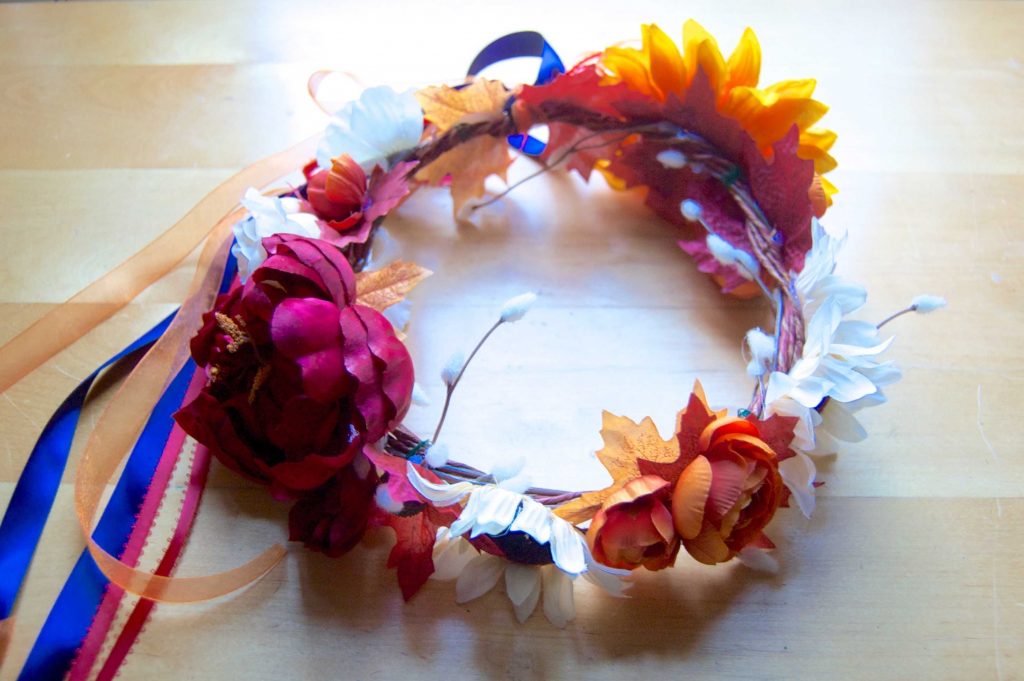 Finally, if you want to you can add additional touches like pearls, rhinestones, acorns, pinecones, or any other whimsical items.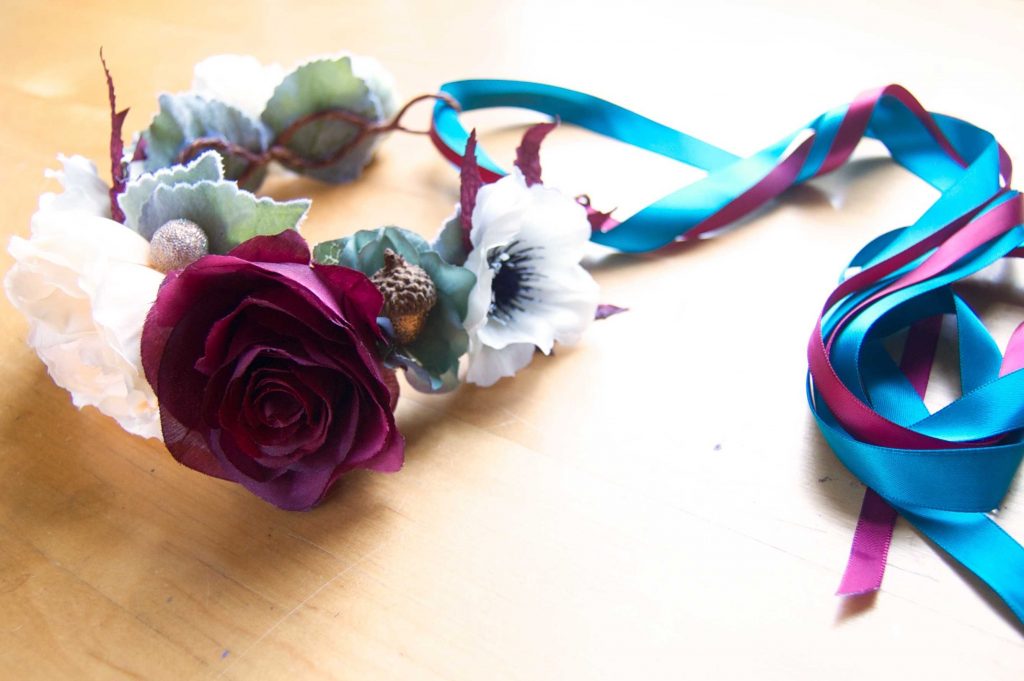 Congratulations! You're done and ready to wear the flower crown DIY you made!

Have questions? Did you try this flower crown DIY? Comment below and let me know how it went!