This past weekend, I went to New York for Her Conference. It was an amazing experience, and attending was of the best choices I've ever made. What I expected to be a great networking opportunity turned out to be one of the most inspiring, empowering, and incredible weekends of my life! I learned so much, made great friends, and was able to meet and hear from some incredible female role models, many of whom have changed the way I think about success and failure.
I'll be unpacking what I learned for quite a while (I'm not kidding: I took 20 pages of notes!), but because I know there were many young women who wanted to attend this event and weren't able to, I wanted to share some of the things I learned and heard that touched me most deeply. Here are 6 incredible lessons I learned at Her Conference from our amazing speakers: Rebecca Minkoff, Andi Dorfman, Joyce Chang, Samantha Power, Vanessa De Luca, and Nastia Liukin.
Saturday's Speakers
Saturday was the first day of the conference, and was open only to members of the Her Campus community. I woke up at 6 in the morning to take the train in to New York, and used an app to navigate the subway system. The conference was held at the Convene Conference Center overlooking the water, and when I walked in I was immediately greeted by other young women. I signed in and got a beautiful Vera Bradley tote full of swag from some of the sponsors. The bag included Self and Essence magazines, Urban Decay and Ulta makeup, and even a spill-proof Camelbak travel mug!
The program notebook we received, featuring our speakers on the cover!
We had a quick breakfast, provided by Chobani, and I was able to meet tons of really cool, ambitious young women who also work in or want to work in media. After breakfast we went to see our first speaker.
6. Trust your gut and follow your own path.
Our opening speaker was celebrated fashion designer Rebecca Minkoff. She was warm and witty in her opening keynote, which was structured around a series of questions by Her Campus co-founder Windsor Hanger Western. Rebecca shared her experience building a career in the fashion industry, during which she often had others telling her to go against her instinct. But she stuck to her guns, and that's what's led her to become one of the most successful female fashion designers of our generation: "Whenever you take your own path," she said, "you always win."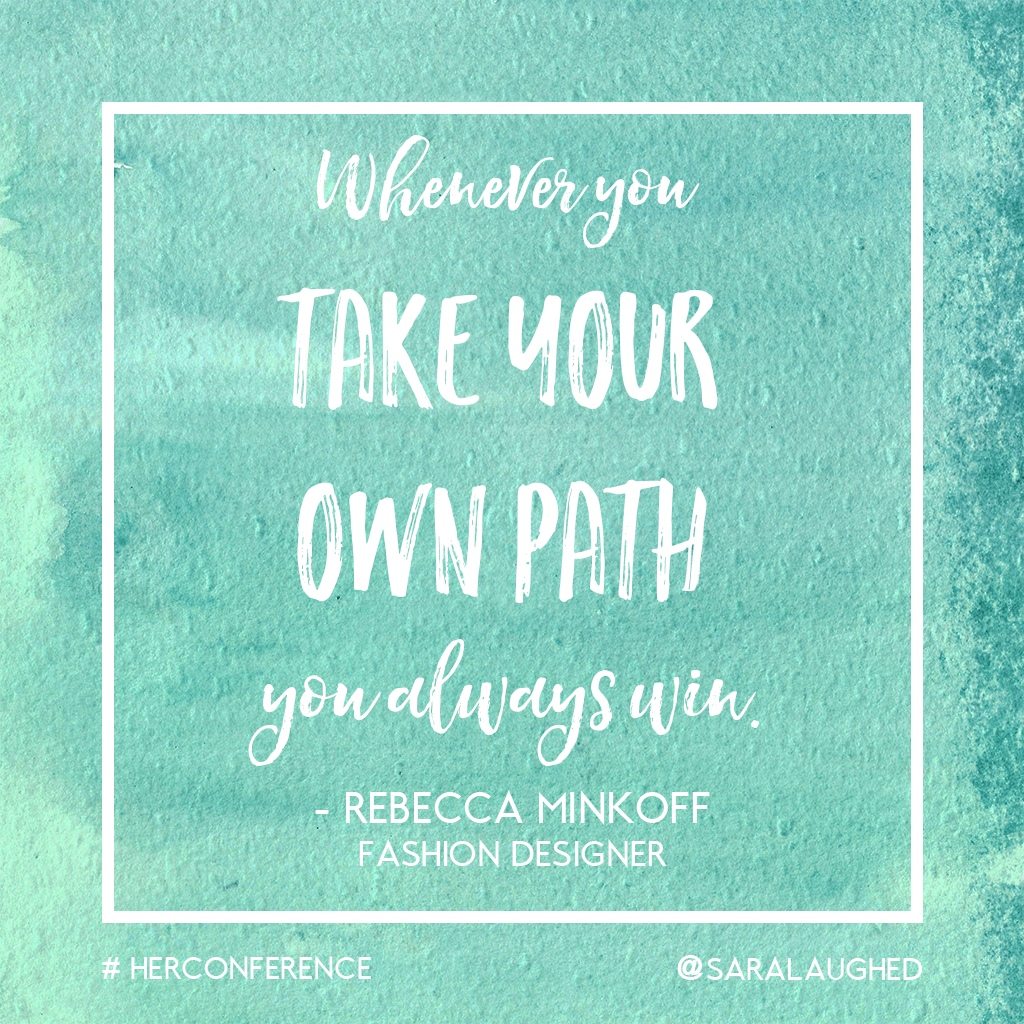 5. Change is uncomfortable. Learn to love the discomfort.
One of Saturday's speakers was Andi Dorfman, bestselling author and former Assistant DA of Atlanta, who is known for her appearance on ABC's The Bachelor and The Bachelorette. Having spent the last ten years of her life going through some major changes in both her career and personal life, Andi spoke about the importance of persistence in the face of hardship.
One of the most powerful parts of Andi's message was the way she talked about change. Through all the changes she has dealt with in the last few years, Andi has stayed resilient and positive, and she attributes a lot of that to her ability to embrace and accept change. "Embrace change," she said. "Changes are the greatest gift."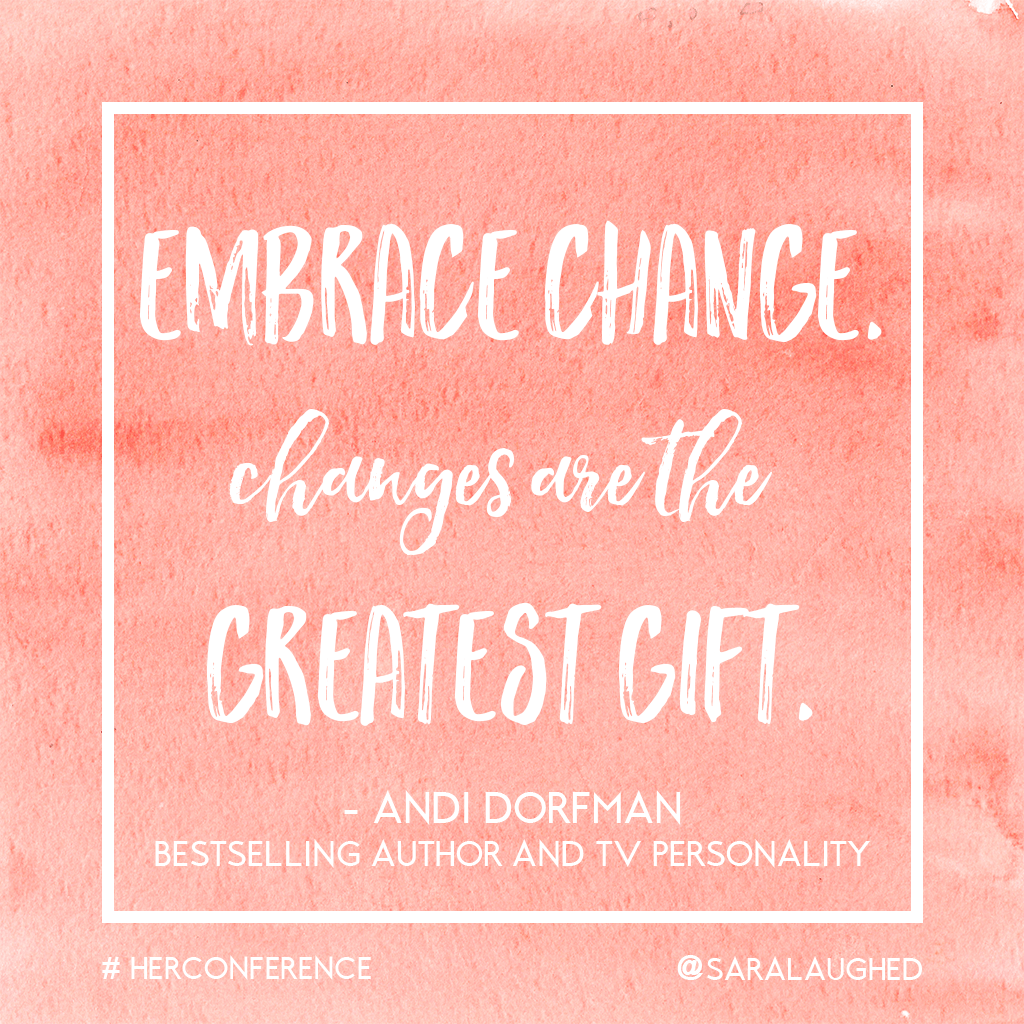 4. Stay open to new possibilities in the face of failure.
Later on Saturday afternoon, we were able to hear from Joyce Chang, the editor-in-chief of Self. She was a powerful and passionate speaker, who shared with us her early experiences in publishing, and how the lessons she learned then have helped get her where she is today.
Joyce told us of her early ambitions to write for the New Yorker. When she was able to get an interview at their office, she was so enthusiastic that she "bombed" the interview by repeating the same phrase over and over: "I'm just so fired up about the New Yorker!" Though she didn't get the job, she was later able to go on to achieve much greater things in areas that she hadn't first imagined. In regards to failing at something you've always dreamed of, she told the Her Conference audience, "Stay open, because your GPS is rerouting you."
Sunday's Speakers
Sunday was the second day of the conference, and was open to the public. I was able to meet even more readers and new friends, and got to spend some time with my fellow blogger Morgan (check out her blogs here and here!), who was so lovely!
Although I went to several panels and workshops, my favorite part of the day was, once again, hearing the inspiring speakers. On Sunday, we started with Vanessa De Luca.
3. Don't dwell on regret.
One of my favorite speakers of the weekend was Vanessa De Luca, the editor-in-chief of Essence magazine. For its power and encouragement, her speech touched me the most, especially because she discussed issues of bravery, boldness, and standing up for the causes you believe in because it's what's right, even if it's not what's popular. Her story was so inspiring, and she attributed much of her success to the women who came before her, who encouraged her to pursue an education.
Despite everything that Vanessa has accomplished, her story also includes its failures, a few of which she shared with the audience. She encouraged us to learn from our mistakes and use them to better ourselves, rather than dwelling in regret: "We all make mistakes. Don't look back. Just do better."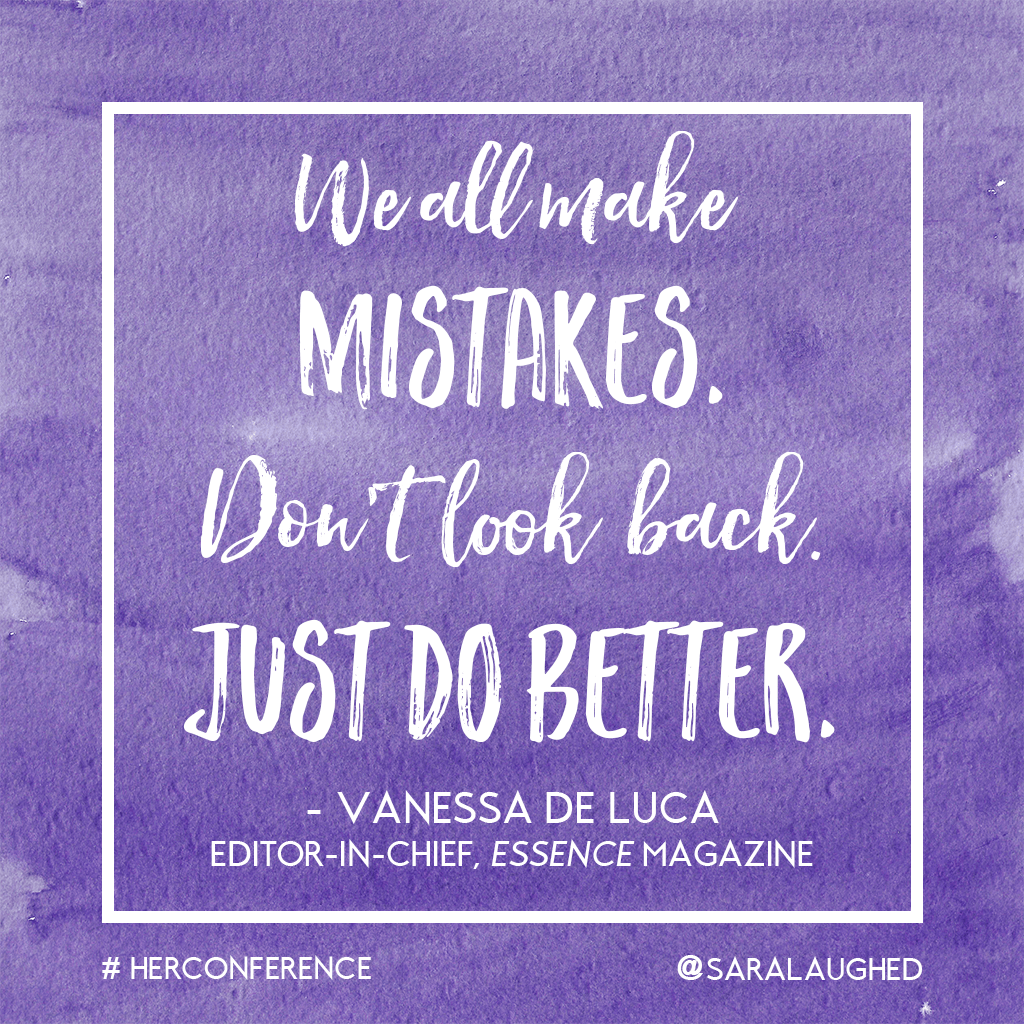 2. You choose how you tell your story.
Another speech which really touched me was the keynote by Nastia Liukin, an Olympic medalist, advocate, author, and recent college graduate of NYU (like everyone else at Her Conference, she's a powerhouse). Nastia also told us about her experience with overcoming failure, and her overarching message was to change your perception to focus on the good.
Nastia shared about falling on her face at the 2012 Olympic trials, telling us that that slip, and her decision to rise after the fall, was one of the defining moments of her life. "You create the defining moments of your life and career," she shared with the Her Conference audience.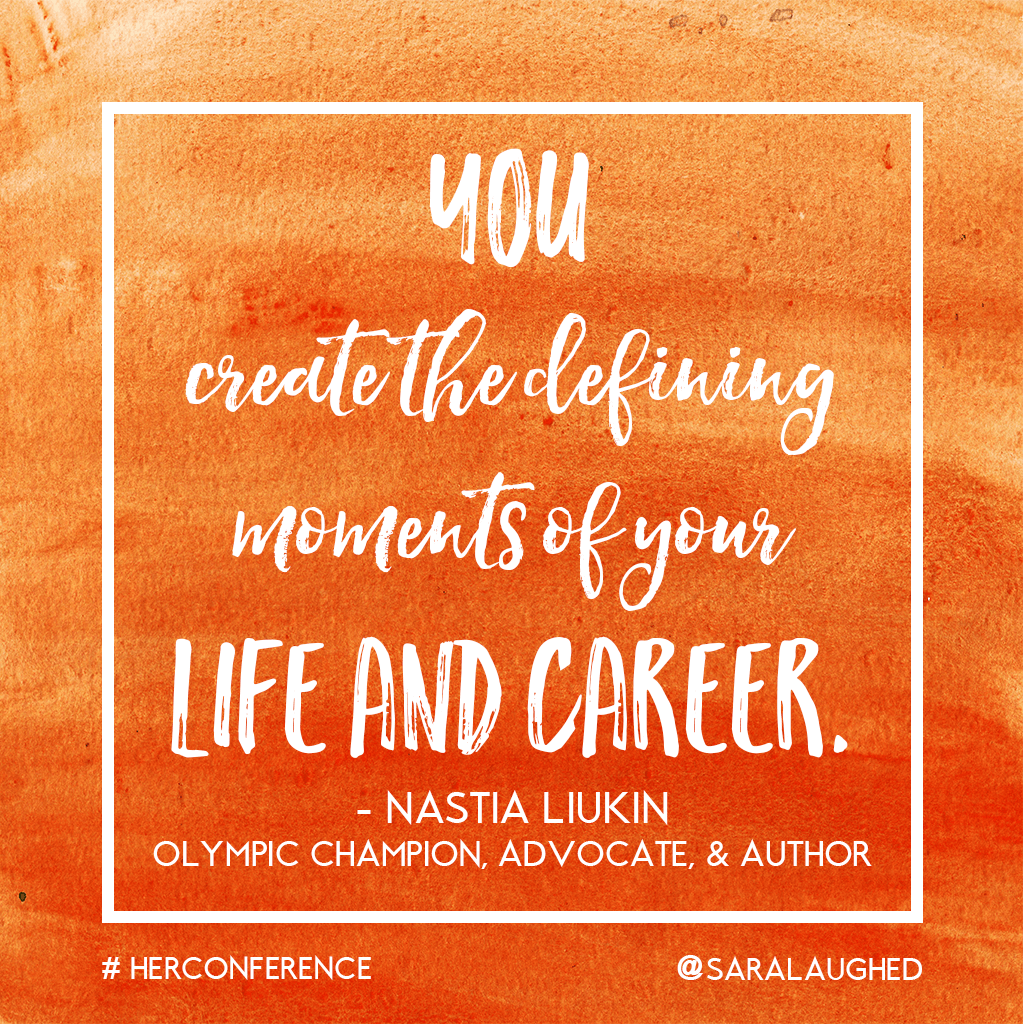 1. Focus on where you want to make a difference now.
Our Sunday afternoon speaker was Samantha Power, a Pulitzer Prize-winning journalist and the U.S. Ambassador to the United Nations. Her keynote was a combination of speech and question-and-answer session, and when asked what advice she had for young, ambitious women, she advised us not to be overwhelmed by our large, world-changing goals, but to apply the skills we are learning now to one problem or one cause, knowing that we can later expand our reach. "Know what you want to make a difference in right now," she said, "and the rest will figure itself out."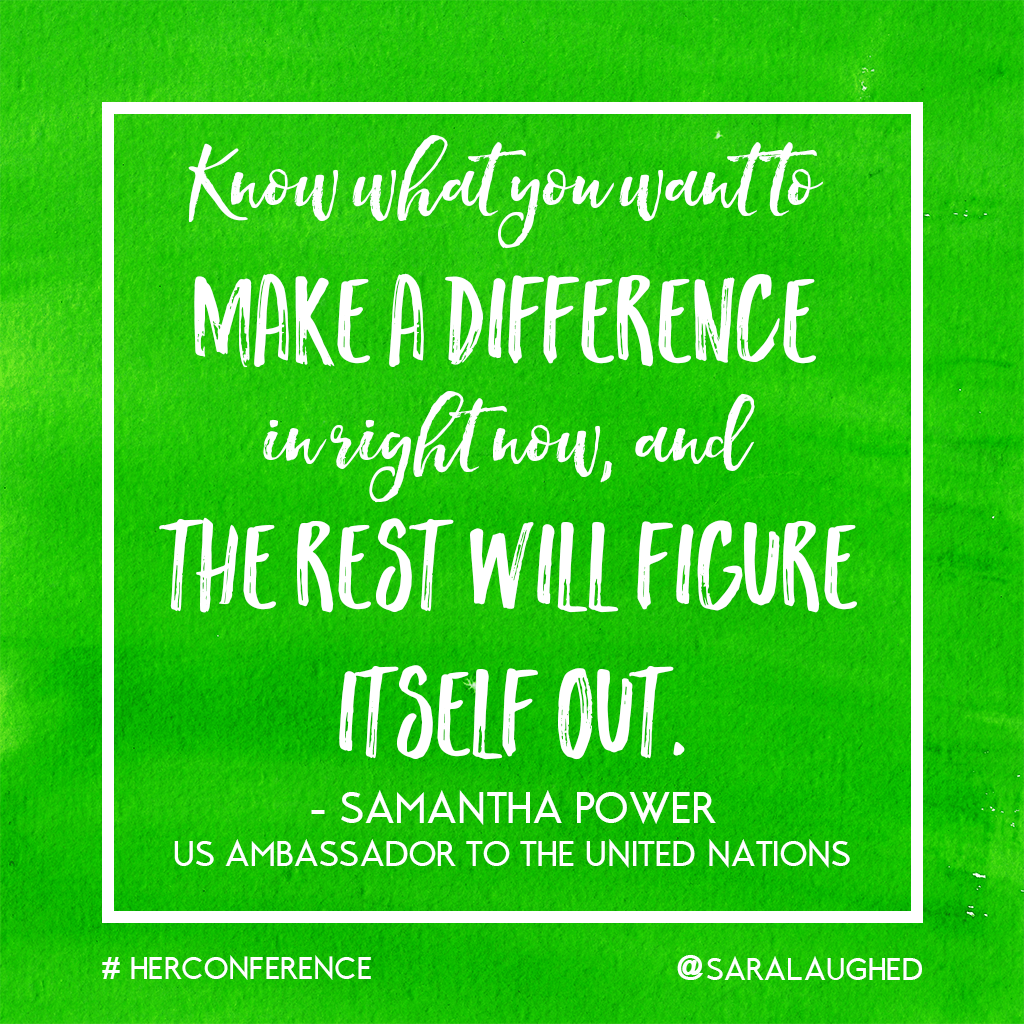 Each of these quotes motivated and moved me. I loved being in a space where powerful and successful women wanted to share their lessons and stories with the younger generation. So many college women have big dreams but don't know exactly where to begin, and from a place of compassion and support, these women took the time to address, inspire, and help us.
The speakers, panelists, and workshop leaders are in huge part what made Her Conference so powerful for me. I walked into the convention center's doors feeling tired and nervous, but I left feeling more inspired and empowered than I ever have in my life. I hope to carry the lessons of this event with me for a long time.
Which of these lessons stands out to you? Which quote is your favorite?