I care about ethical fashion. Ideally, I want to have all parts of my life reflect my values and beliefs. However, I'm a size 20. Finding cute and affordable plus-sized clothing is hard enough. Finding cute, affordable plus-sized clothing that is ethically-sourced and -made is – well, a lot harder. Some companies who previously made such clothing have now closed, and many of the articles and websites I've found about plus-sized ethical clothing are out of date. Since this is an area where I've done a lot of searching, today I thought I would share my finds with you.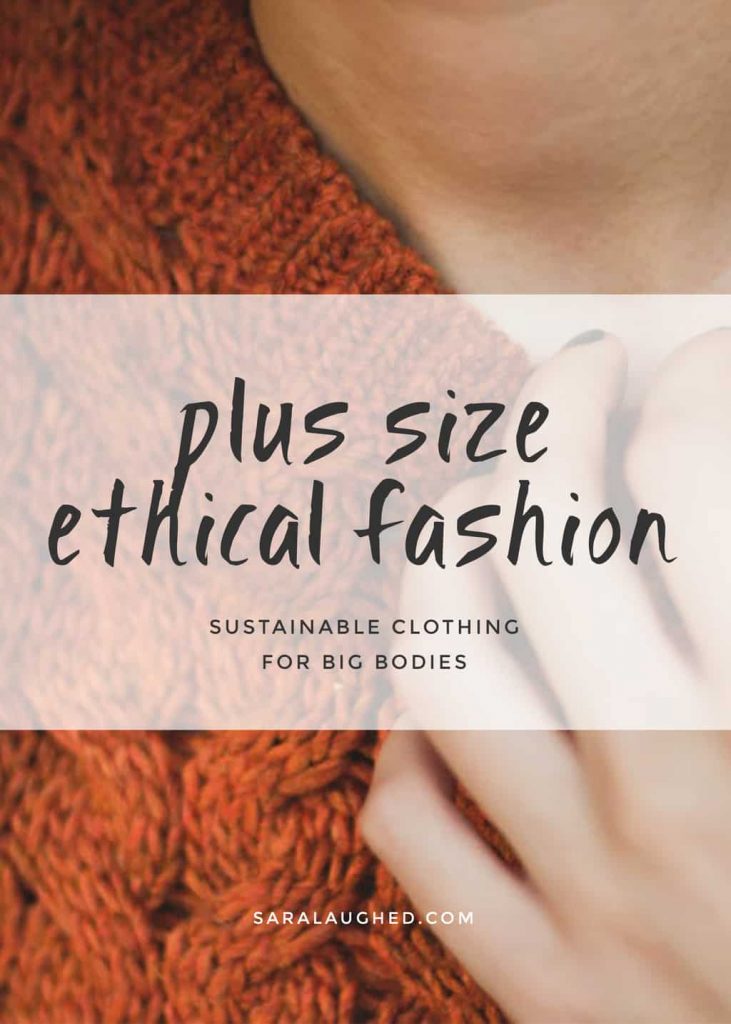 It should be noted that several of these brands are not what I could call "affordable" for the average young person or college student. I personally do not have the means to buy from some of these companies. However, I have learned over the years that I need fewer clothes than I previously thought, meaning that the money that would previously have gone to five cheap, "fast fashion" shirts, can now go to one or two good-quality, ethical ones. Additionally, many of these sites have regular or introductory sales, so keep an eye out!
Without further ado, here are a few of my favorite plus-sized, ethical fashion brands.
1. Marketplace: Handwork of India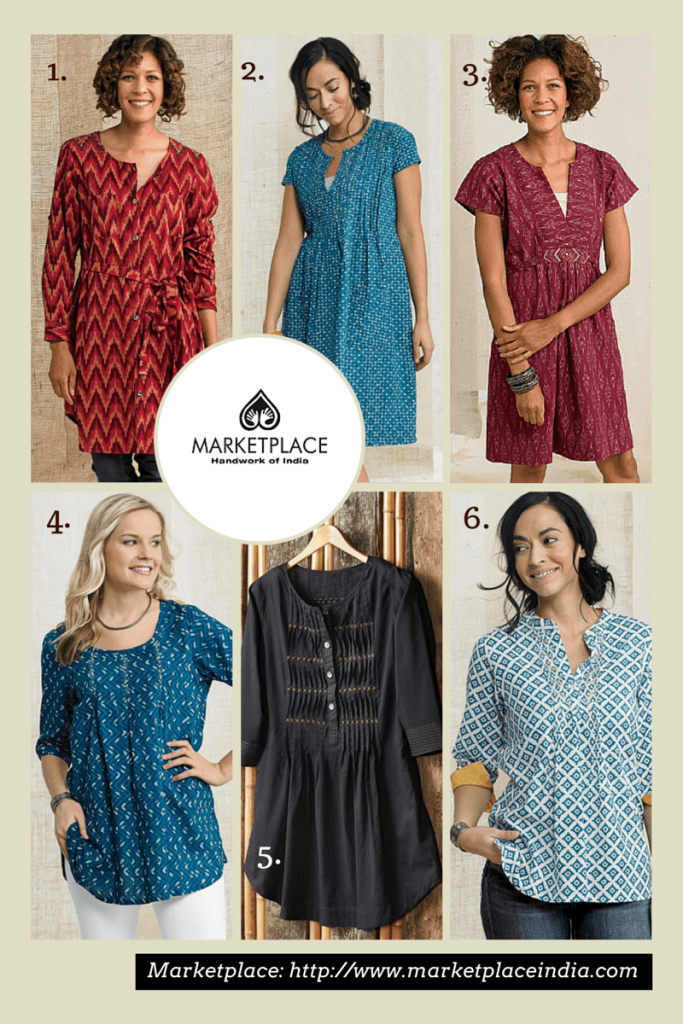 1. Sneha Shirt – Red/Multi 2. Mogra Dress – Lapis 3. Amethi Dress – Raspberry 4. Raipur Tunic – Lapis 5. Asmita Tunic – Black 6. Shireen Top – Ink Blue/White
What they sell: Beautiful clothes (misses, petite, women's, and men's), accessories, and home decor items that are handmade or upcycled.
Their sizing: Up to a 4X.
Their policies: Marketplace is a non-profit cooperative empowering women by teaching them new skills in entrepreneurship and craftsmanship.
In their words: "We work with over 400 artisans who are organized into 11 independent co-operatives that produce high-quality women's apparel and home decor[.] They learn skills such as sewing and embroidery, and participate in all aspects of running the cooperatives. In addition, programs offer educational and enrichment opportunities designed to help the artisans overcome personal, cultural and financial obstacles.  As they become more self-confident, they become agents of change themselves, ensuring that their children receive educations and organizing social programs in their neighborhoods." [Source]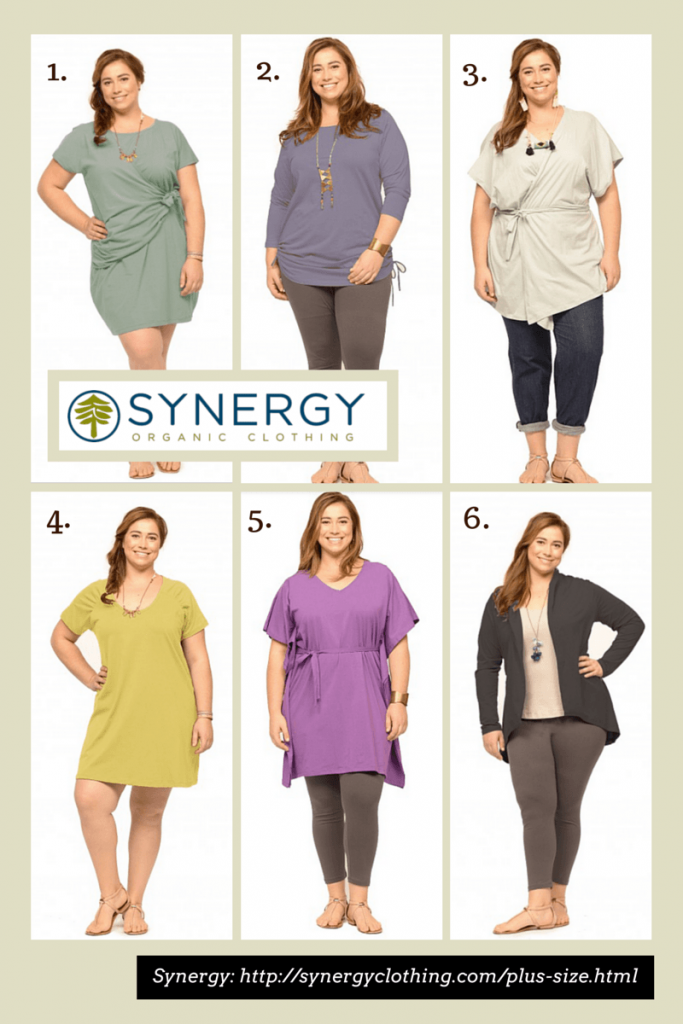 1. Melissa Tie Dress in Aqua 2. Jenny Boatneck Tunic in Cornflower 3. Midori Wrap Top in Dusk Blue 4. Piper Dress in Wheat 5. Breeze Tunic in Purple Orchid 6. Tissue Knit Summer Blazer in Graphite
What they make: A plus-sized (and straight-sized) line of ethical tops and dresses that are suitable for either activewear or everyday wear.
Their sizing: To a 3X.
Their policies: I love, love, love Synergy Organic Clothing's policies. They use Certified Organic Cotton, low-impact dyes, work to reduce water waste in their manufacturing process, adhere to the Global Organic Textile Standard, and hire a group of 150 Nepali women to make their clothes, paying them a living wage.
In their own words: "Supporting our Nepali Family is as important as supporting our team in America. We pay all our employees in Nepal a living wage and offer significant yearly bonuses. Through this program, we are empowering a group of over 150 women to rise above poverty by giving them the opportunity to work from home and support their families." [Source]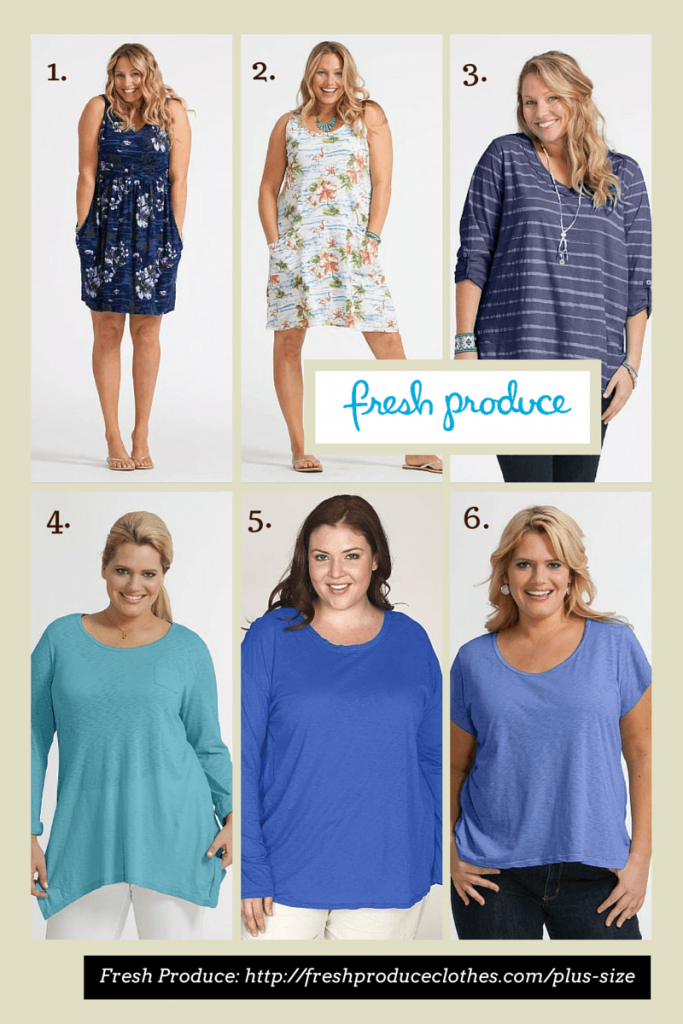 1. Flea Market Dress in Tropic 2. Drape Dress in Tropic 3. Take it Easy Top in Brushed Stripe 4. Long Sleeve Vintage Drape Top 5. Vintage Monterrey Shirt 6. Vintage Scoop Neck T-Shirt
What they make: Beachy, colorful clothing, most of which is made in the USA. This means that their factories and workers must adhere to American production standards for safety and fair pay.
Their sizing: Up to 3X.
Their policies: Mostly made in USA – all items indicate on the site whether they are USA-made or imported. All images above are of items made in the US.
In their own words: "For nearly three decades, Fresh Produce has delighted women as a lifestyle brand known for its original prints, vibrant color and stylish, comfortable clothing. Today, Fresh Produce designs, manufactures and markets a leading women's and children's lifestyle brand of clothing that is primarily made in the USA." [Source]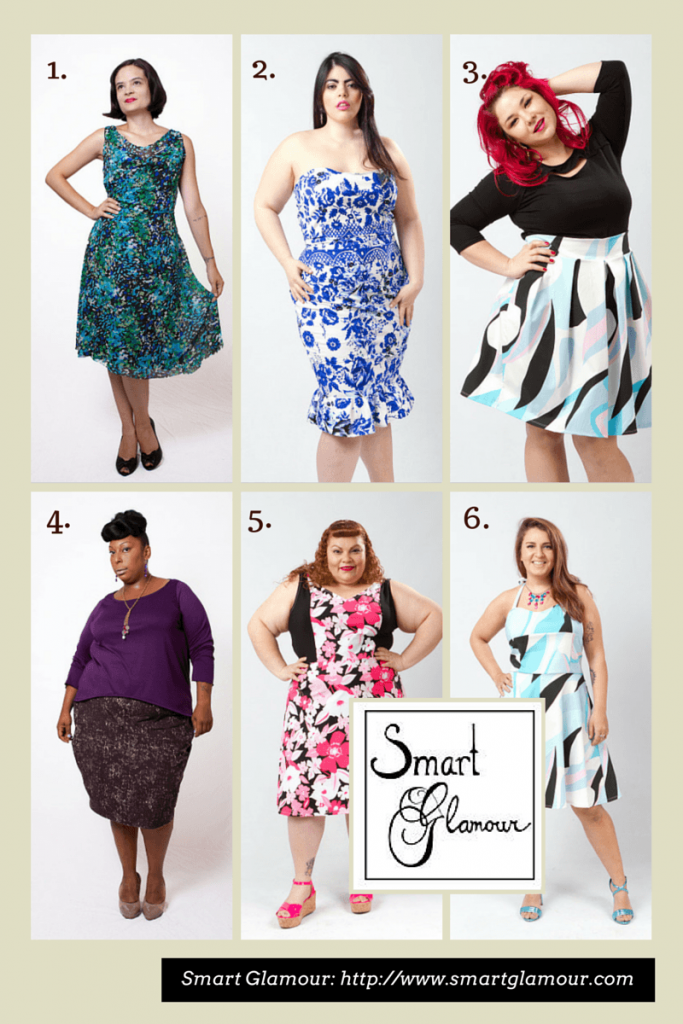 1. The Hope Chiffon Dress 2. The Rosa Ruffle Pencil Skirt 3. The Jessica Keyhole Top 4. The Annalise Swing Top 5. The Katie Colorblocked Dress 6. The Emily Halter Dress
What they make: Colorful, retro and modern clothing for all shapes and sizes.
Their sizing: Up to 6X.
Policies: Handmade in New York. As with Fresh Produce, this means that their factories and workers must adhere to American production standards for safety and fair pay!
In their own words: "SmartGlamour is an affordable, fashionable clothing line for women of all shapes, sizes, ages, and heights. We make plus size clothing, straight size clothing, petite clothing, tall clothing, and everything in between and beyond. Every piece is made in NYC with love – just for you." [Source]
5. Mewv Sustainable by Saffrona
This brand's plus collection is smaller than that of the others, so I was unable to make the same kind of college for their pieces. However, I truly love their commitment to sustainability, and what they stand for.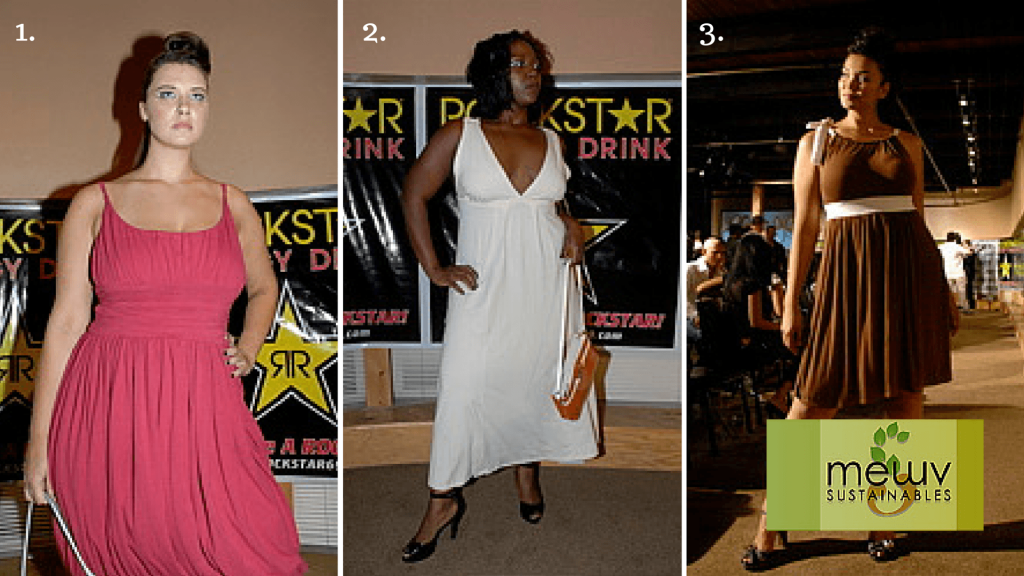 1. Ruched Dress 2. Triple Back Gown 3. Halter Neck Dress
What they make: Beautiful handmade clothing, especially dresses.
Their sizing: Up to a 4X.
Their policies: Made in USA, sustainable fabric and notions, and not just sized up, but made for plus sizes.
In their own words: "Mewv Sustainables is a pure take on the sustainable market, using no zippers, hooks, or buttons (so far metal and plastics are not sustainable) and focusing on fabrics made of organic cotton, bamboo, soy, tencel, and hemp." [Source]
How do you feel about these plus-sized ethical fashion collections? Which was your favorite company of the above?