Hi friends! Today is the sixth and final installment in the Summer guest post series, brought to us from Mikkaela over at The Southwestern Prep. She'll be talking with us today about the pros and cons of summer study abroad programs!
Hello! My name is Mikkaela and I blog over at The Southwestern Prepster, a college lifestyle and fashion-oriented blog! I am currently a rising sophomore at Arizona State University, and this summer I decided to study abroad in Prague, Czech Republic for one of my International Business and Marketing courses.
If you're in college, you've probably thought at least once about studying abroad! If you haven't, then you should definitely look into it. Did you know less than 2% of students study abroad? Studying abroad is a unique experience, definitely unlike any other.
Whether you have an amazing time that had you raving about travel and cultures or not, I truly believe it is something that everyone can benefit from. That being said, warning: not every experience is perfect, but that doesn't mean yours can't be. Preparing yourself, especially by picking the right program, is a huge piece of this puzzle!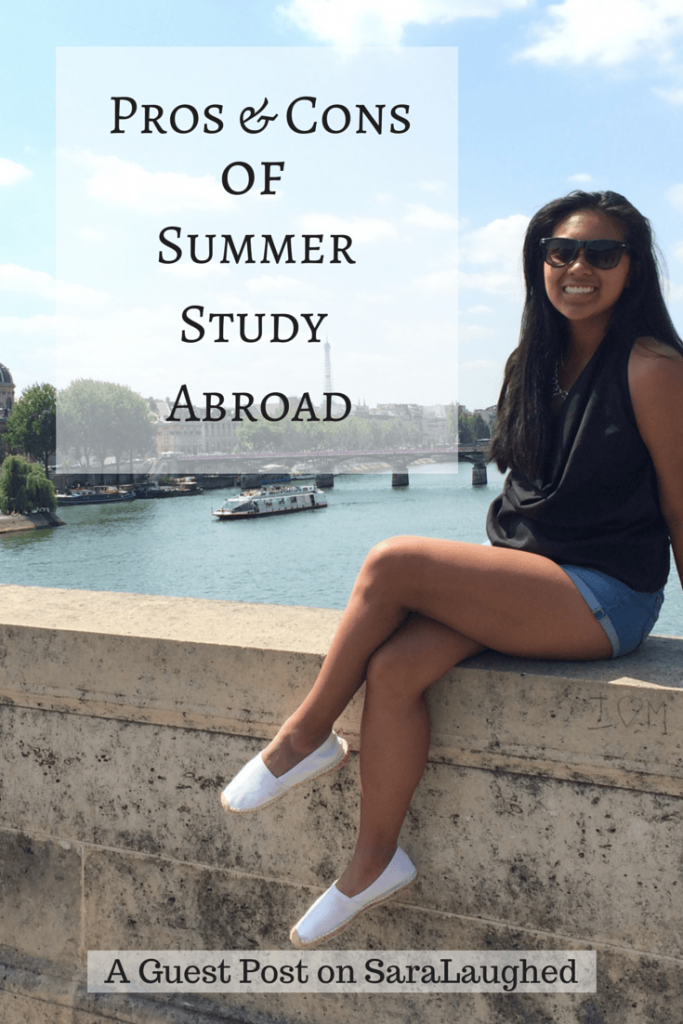 I studied abroad as a university freshman, which is really uncommon because most people try to study abroad their sophomore or junior year. On top of being a freshman, I chose a summer program!
Summer programs are a bit different than the typical study abroad programs, and they aren't for everyone. So let's go over some of the Pros and Cons I had to think about studying abroad over the summer!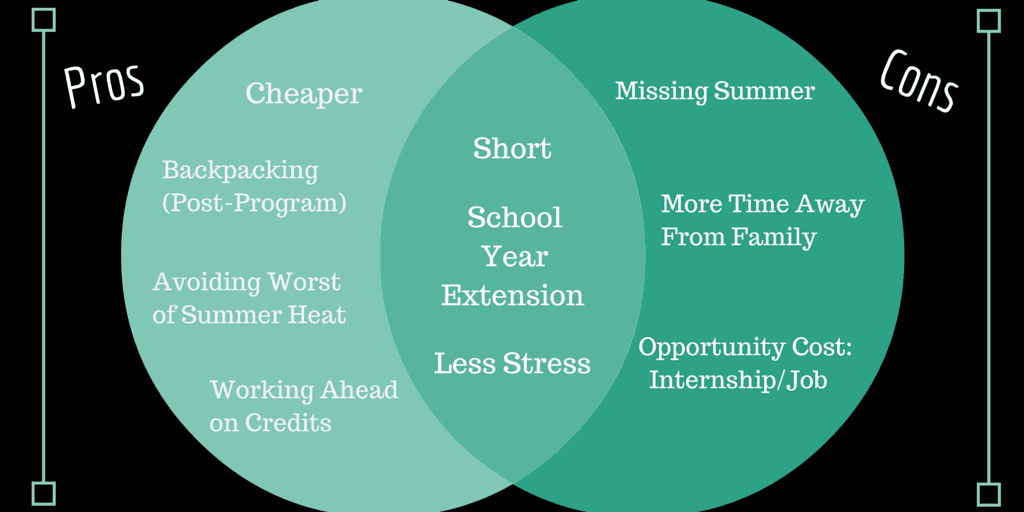 Most of these are pretty self-explanatory but let's do a quick rundown:
Pros
Cheaper | In most cases, summer tuition is cheaper than the regular semesters, especially because it is a shorter amount of time. Also, many universities and companies offer scholarships specifically for summer study abroad programs!
Backpacking Post-Program | This is the biggest reason I wanted to study abroad in the summer. A few weeks of school and weekend trips, and then hey, you already paid for the ticket across the globe, why not take the time to visit all of these amazing places before heading home?! Plus, being able to take on this experience with friends just makes it that much sweeter.
Avoiding Summer Heat | Okay, I know this won't apply in certain situations, but this is coming from a girl who's currently sitting in 130°F heat. SOMEBODY PLEASE TAKE ME BACK TO EUROPE. The weather in most areas of Europe may be slightly humid or rainy at the beginning of the summer, but after that, I only experienced beautiful temperatures from 70°F to 95°F.
Working Ahead on Credits | I'll admit this is a general "If you take classes in summer" pro, but hey, you'd be taking that extra course(s) in a different country with the added benefit of learning about a completely different culture!
Mixed
Short | This is such a blessing and a curse – if you love the program, it sucks that you have to leave (which can be solved if you are backpacking afterwards), but if for some reason you hated it or you just miss home too much, you don't have too long to 'suffer' before you can get on that plane!
Less Stress | Sometimes the class(es) you take are easier than if you had taken them back at your home university. And if you have three-day weekends, you're perfectly set up for a balance of school and weekend trips around the country, or even out of it. This is both good and bad, because while you have the opportunities, knowing you have time and can relax could make you become lazy and forget that you're technically there as a student. You know, to study.
Cons
School Year Extension | I personally only had 5 days with my family (only 2 of which were actually spent at my home) before I flew out for my program. I had friends already home from college two weeks before my Finals and it felt weird to think about how I was leaving to do more school and they were home, hanging out and doing nothing. Other programs may start in the middle of summer, meaning you get a taste of doing nothing and then have to go back to school. This one mostly depends on how you adapt and if you're comfortable giving up time for more school.
More Time Away From Family | If you don't live close to your university, this may be something to think about. You're already away from home a huge chunk of the year, this just extends it. A potential solution to this that a friend of mine used was that after our program, she traveled with us a little bit, then her family flew over and she took them around a few of the places we visited during the program.
Opportunity Cost | Summer jobs, internships, etc. – this may be something you need to figure out if you're willing to give it up. I had a friend who wanted to study abroad this summer, but pushed it back a year because they landed an amazing internship.
Hope some of y'all find this helpful! Feel free to hop on over to TSP or thesouthwesternprepster@gmail.com if you have any questions!