I blogged for about three years before anyone noticed. I had a handful of regular readers – family and friends, whom I love for being there since the beginning. But around this time last year, I decided to take my blog more seriously and try to bring it to a wider audience. I wrote more often, I added better photos, and I moved to a self-hosted space.
I never expected how well it would work.
In the last six months or so, my blog has really grown. Two days ago, I hit my biggest numbers ever – 100,000 page views in 30 days. And while I talk about blogging constantly to people in my real life (sorry, friends!), I've rarely written about it on here. I've shared some milestones and hinted around, but I've never discussed the process and the work that goes into growing a blog.
Many bloggers don't share that process. But there are some who do, and who in fact post their monthly statistics online, to share with and help educate others. I love reading those posts (Mostly Morgan and Domestically Blissful do some great ones!). They help me learn more about blogging and find new ways to grow my own site.
I know that most of my readers aren't bloggers, so posts like that may not be as interesting to you. There are, however, many readers who are interested in how blogs grow and what goes on behind the scenes. So for those of you who are curious, I thought I'd share a little bit about my process. Here's what went on behind the blog last month, and what changed as a result.
Blog Posts
I published 12 posts on the blog in the month of June, including one guest post by Alyssa J Freitas as part of my Summer Guest Post Series. Most of those posts were about college, but I also included a few life posts and one about Bible journaling. Because I only wrote once a week in May, my June articles are "up" by eight posts.
The Blog
I also did a little bit of tweaking to the blog, adding Google Ads for the first time and reformatting my sidebar to be prettier and easier to navigate. I redid the graphics for all my college posts so they would be more consistent across the board, and look nicer when put side-by-side.
Here are my old graphics. As you can see, the sizing of the box and the font are inconsistent, and the pictures above the text are different sizes:

Here are the new graphics, which have more appealing colors and more consistent sizing:

I also created graphics for my disclosure and privacy policy, and for a new subscribe option. You can see those in the sidebar on the right!
Social Media
I'm not great at social media – Twitter and Instagram totally elude me, so I didn't see a lot of growth there in June. I did keep up with Pinterest account and created a studyblr account on Tumblr, to join a new community and promote my posts there. Unexpectedly, the Tumblr account brought me a ton of traffic, and a masterlist of my college posts has since gotten 38,000 notes! There is a noticeable spike in my daily hits as a result.
Guest Writing
I wrote two guest posts and a freelance post in June. The first guest post was for my friend over at Dani Dearest, on how to organize your life over the summer. The second was for Summer over at Coffee with Summer, on finding peace in the every day. Lastly, I wrote a piece for Her View from Home about blogging and EDNOS. I didn't see a ton of growth from this, but I love freelancing and making connections with other bloggers, so I'm still very happy I did.
Results
Alright, and now to the results. Here are my statistics for the month of June: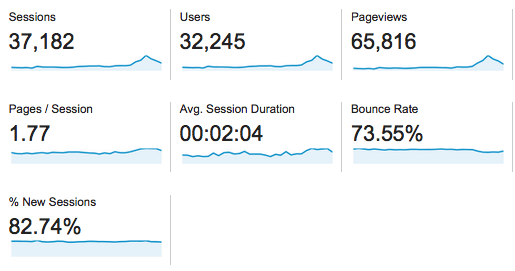 All of my statistics moved in the right direction from May. My bounce rate went down by 9% and my average session duration went up by 45 seconds. I attribute both of these to having a cleaner and more attractive sidebar, which makes it easier for people to find relevant posts and stay on the site longer.
My sessions, users, and page views are also all up, thanks to social media promotion and my guest posts. Most of my viewers came over from Pinterest (about 20,000 sessions) and then Tumblr (about 4,000 sessions). A combined 60 people came over from my guest posts and freelance piece. I also received around 100 people coming over from older posts I wrote for HerCampus and HelloGiggles.
What's next?
Many bloggers end their monthly reports with goals for the next month. I don't tend to make goals for traffic and readers, but I do have one exciting thing coming up – the announcement of my Big Secret Project this Wednesday! My goal is that the announcement and launch of the project go well!
Feedback
This blog is just as much about you and your experience as it is about mine. If you have any suggestions for what you'd like to see in the "behind the blog" series (like financial insights, a better breakdown of my traffic, or fewer statistics), please let me know! You can comment below or send me an email at sara@saralaughed.com.