I love Bible journaling. I've written about it before on this blog, and am also part of a Facebook group where people share their sketches and creations to inspire each other. It is through that community that I became inspired to use transparent projector sheets in my Bible. I don't feel comfortable covering up the actual words of the Bible with pen or marker, but the transparent sheets allow me to get creative without impeding my ability to do Bible study on that page later.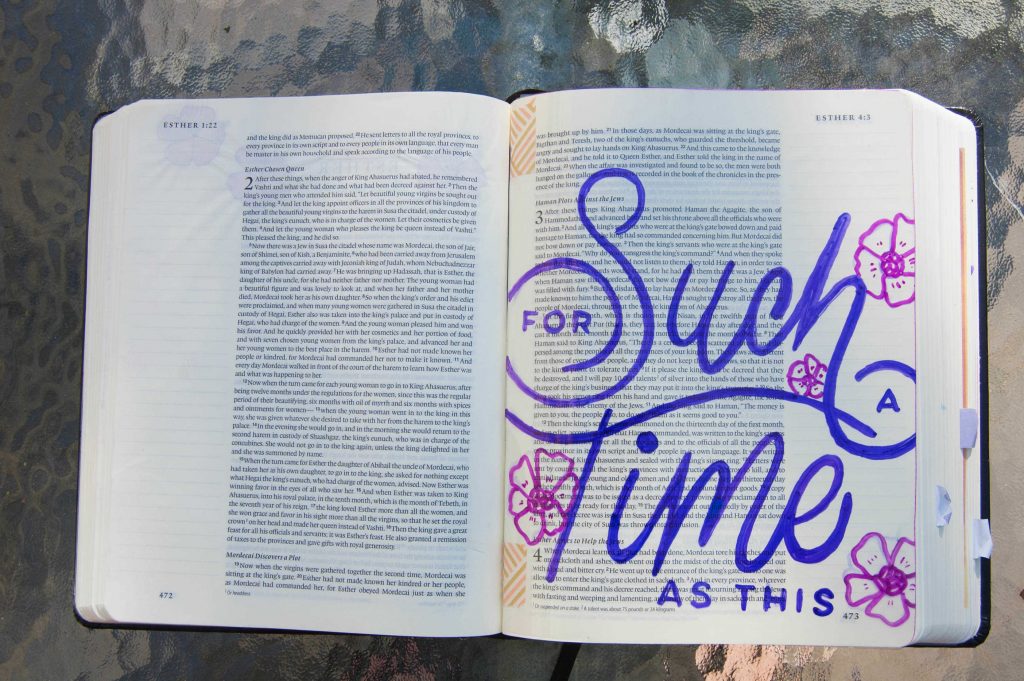 Bible Journaling Esther, inspired by lettering from She Reads Truth
 I like to use the sheets to do lettering, or to print paintings that I can lay over the text. Today I'll be showing you how! This is how to use transparent sheets in your journaling Bible.
How to use transparent sheets in your journaling Bible
Bible journaling Philippians, inspired by She Reads Truth
Here are the tools you will need:
Transparent projector sheets (I use these, which can be used for both writing and printing.)
Scissors
Sharpies in any color you like
A Bible
Tape – I prefer washi, because it peels on and off the page easily without damaging it
First, cut your sheets to size. Slip one of your projector sheets between two pages of your Bible and then use your scissors to cut the outline of the pages. Cut off about one centimeter from the binding-side so that you have enough room for the tape later. From now on, you can use that sheet as a template for the others, so you don't risk cutting your Bible pages!
Next, take one of your sheets and get creative! You can either do the lettering yourself by hand, or if you're not confident enough, trace a design you like. For this example, I'll be tracing so you can see how I make some of my examples. She Reads Truth's Instagram account is great for lettering inspiration, or you can search "Bible art lettering" in Google Images. Print out what you would like to use, and then take two small pieces of washi tape to secure your transparent sheet over the printed example.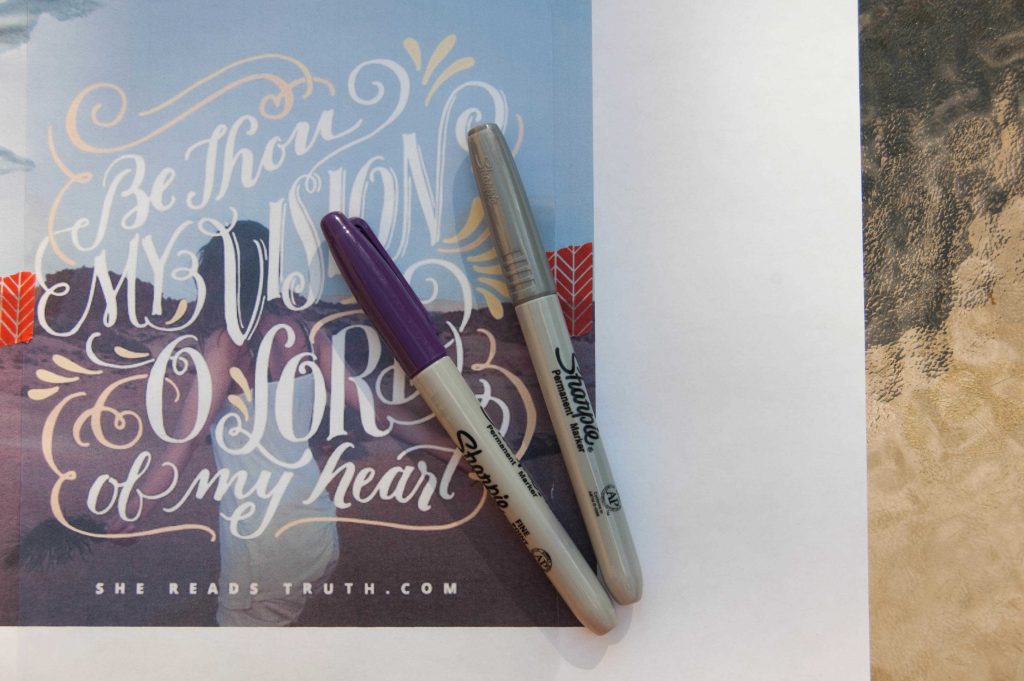 Now use your sharpies to outline and fill the letters you like. Here, I used the purple Sharpie for the letters, and the silver Sharpie for the swirls around the design.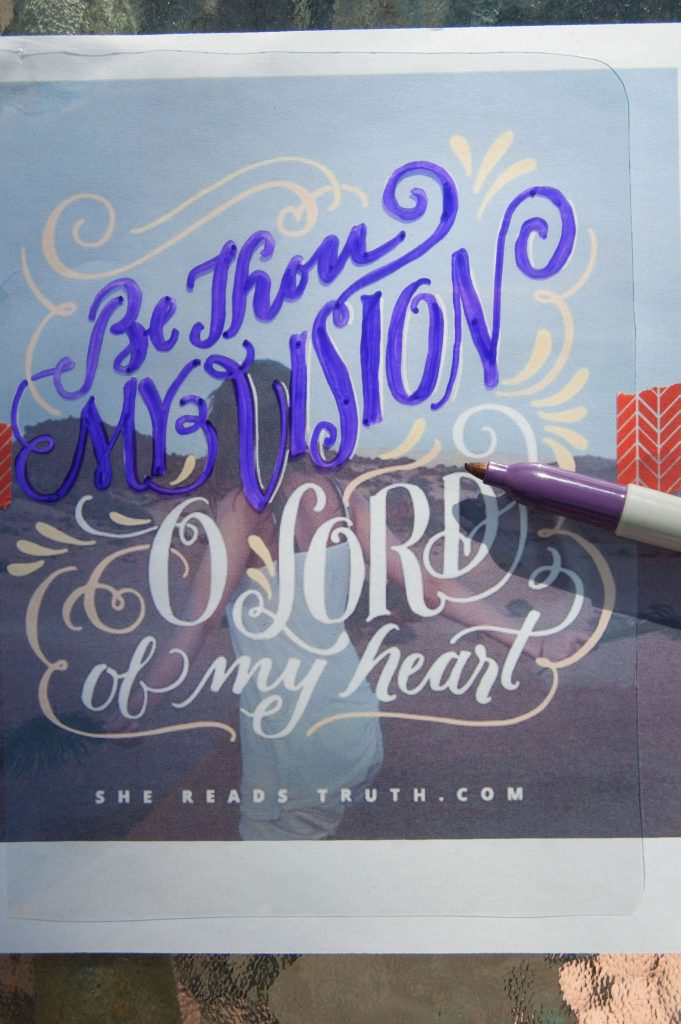 When you're done, reuse the washi tape strips to tape your sheet into your Bible!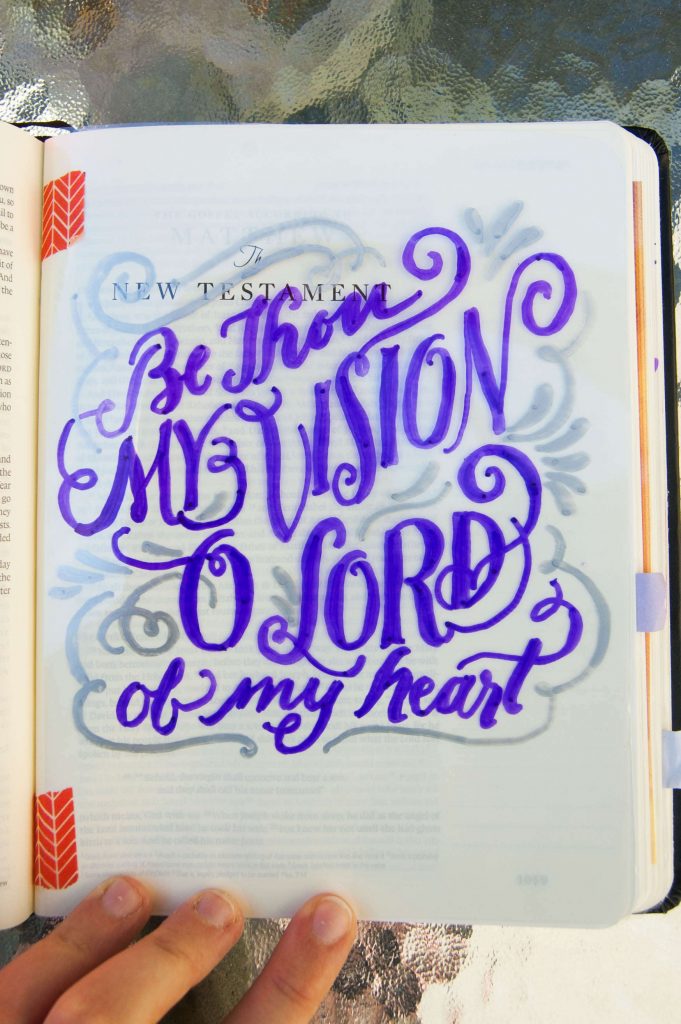 You can also print on the transparent sheets. Below, I printed a painting of Mary and Jesus and taped it over the beginning of the Gospel of Luke.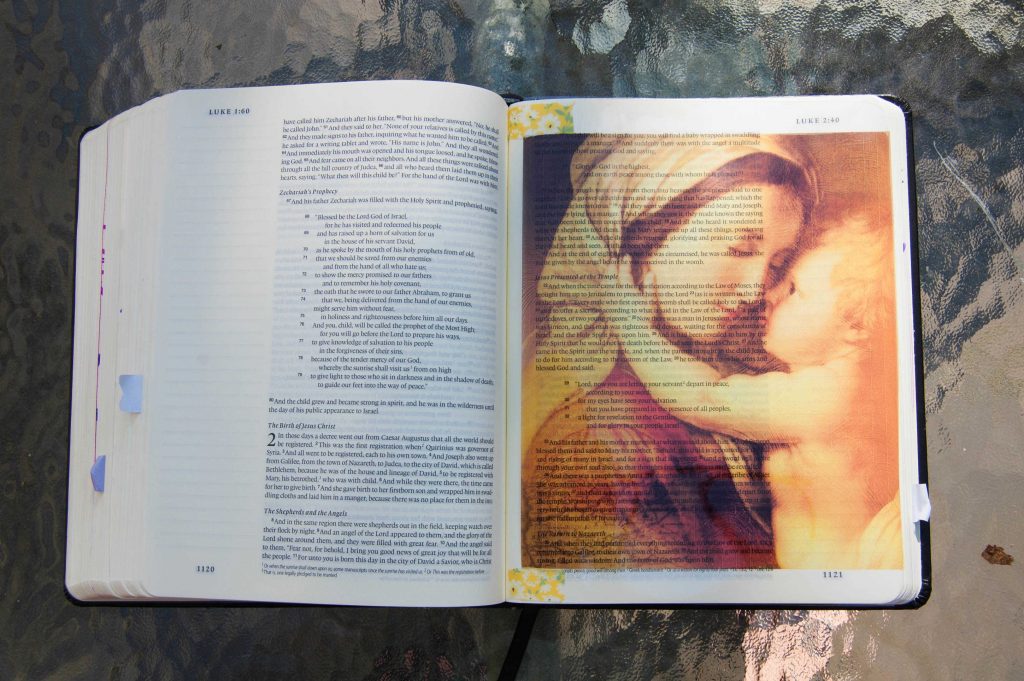 Not all transparent sheets can be printed on, so make sure the ones you buy are printer-friendly!
That's it! Super easy, and the results are often beautiful. Enjoy!