Every Friday, Ken and I have pizza-and-movie night. He has his favorite beer, and I have a glass of wine, and we usually watch a either a kid's movie (think Up) or something from the Star Wars universe. But last week was a little different.
Ken has been traveling a lot for work, and last week he had to commute to a city 1.5 hours away from us. Now that it's properly fall in the Netherlands, it's also properly raining. Every. Day. So when Ken got back from work last week, he was usually cold, wet, and not happy. On Friday morning, he told me that he couldn't wait for pizza night because it would be a nice way to end a hard week. So I decided to kick it up a notch. It was time to release my inner Pinterest Mom.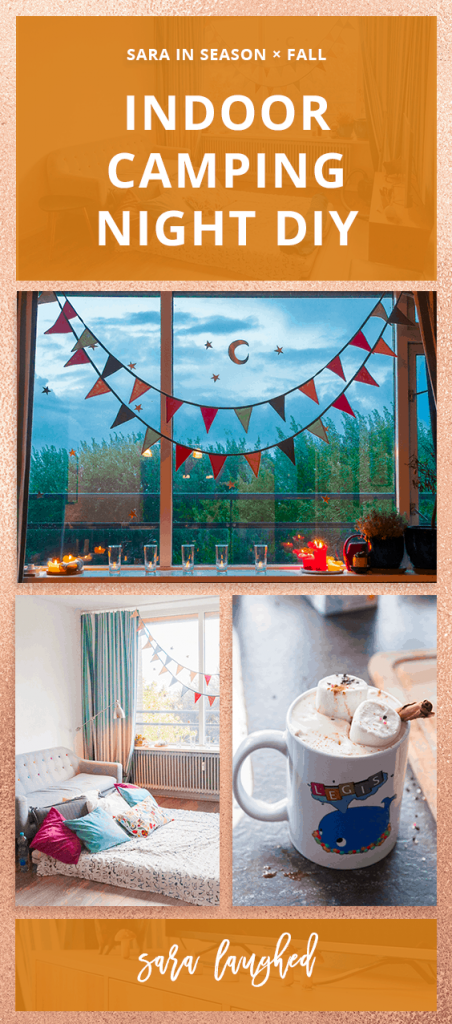 If you know me in person or have been reading this blog for a while, it won't surprise you that I love Pinterest. I got on Pinterest the day they stopped being invite-only, so my boards go back to high school (with the ideas to reflect it — somewhere on my home board is a house with an indoor slide). So when I decided to make pizza night into an indoor camping extravaganza, I turned to Pinterest and let the idea snowball.
I quickly came up with a laundry list of fun ideas. Candles, an indoor tent, stars on the ceiling, you name it! But Ken and I are trying to save money right now, which means that anything I did had to be as low-cost as possible. So rather than buy fabrics to make an indoor tent, or go out and buy a starry sky projector, I got creative with what we already had.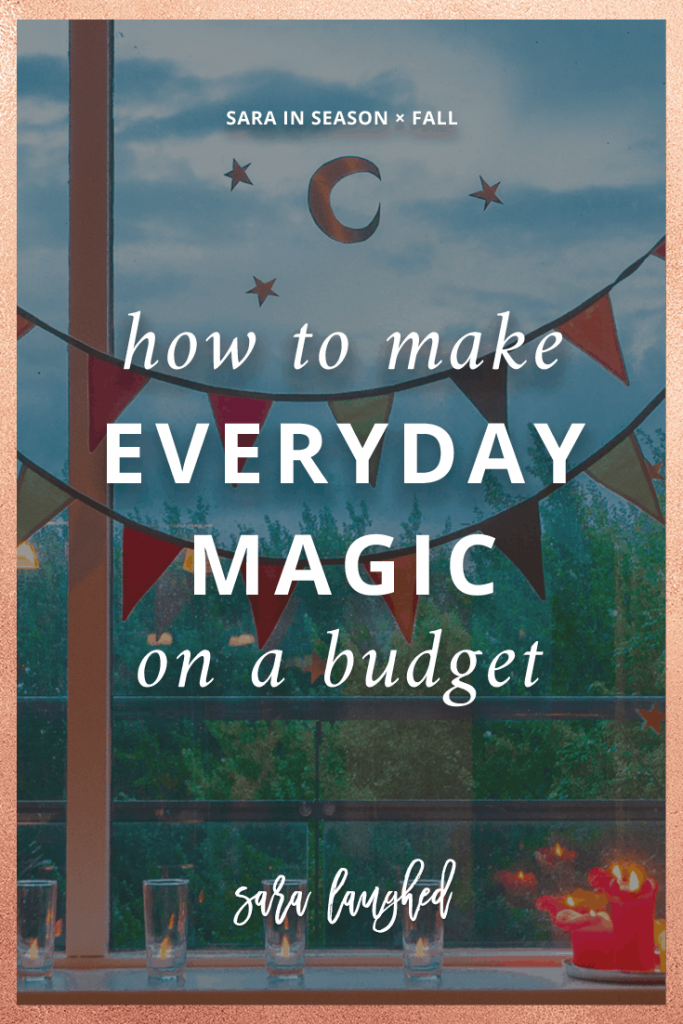 First, I took my two twin mattresses from the office/guest room and brought them into the living room to lay side-by-side. Then I got some blankets for on top, as well as all the pillows and throw pillows we have in the house. Next, I got out a throw blanket and rolled it up for the foot of the bed. While I couldn't create a tent, I could re-create some of the fun of the camping experience.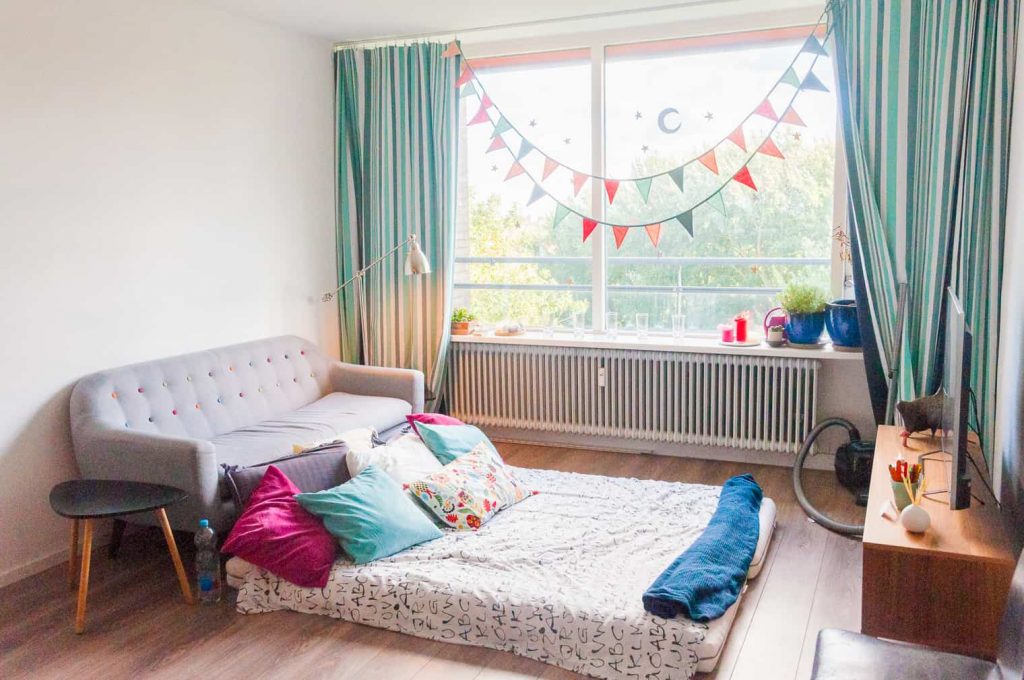 Next, I worked on decor. I strung up some fabric flags that normally hang in my office, and cut some stars and a moon out of metallic paper to tape onto the window. Using candles and LED tea lights that I already had, I put together some votives by placing each LED candle inside a drinking glass. I also put three of the little candles in front of the TV alongside some craft mushrooms I had leftover from a project.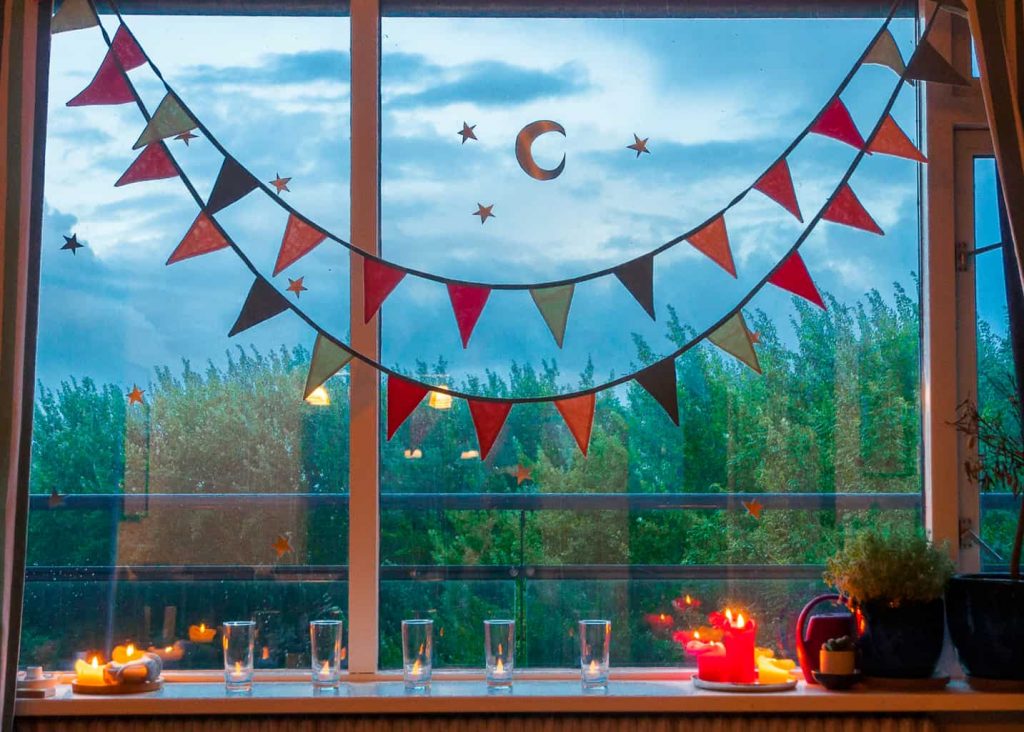 For ambiance, I found a soundtrack for the night — a 2-hour "Frog and Cricket Sounds" track on Spotify that I could stream to our TV to make it sound like we were outside.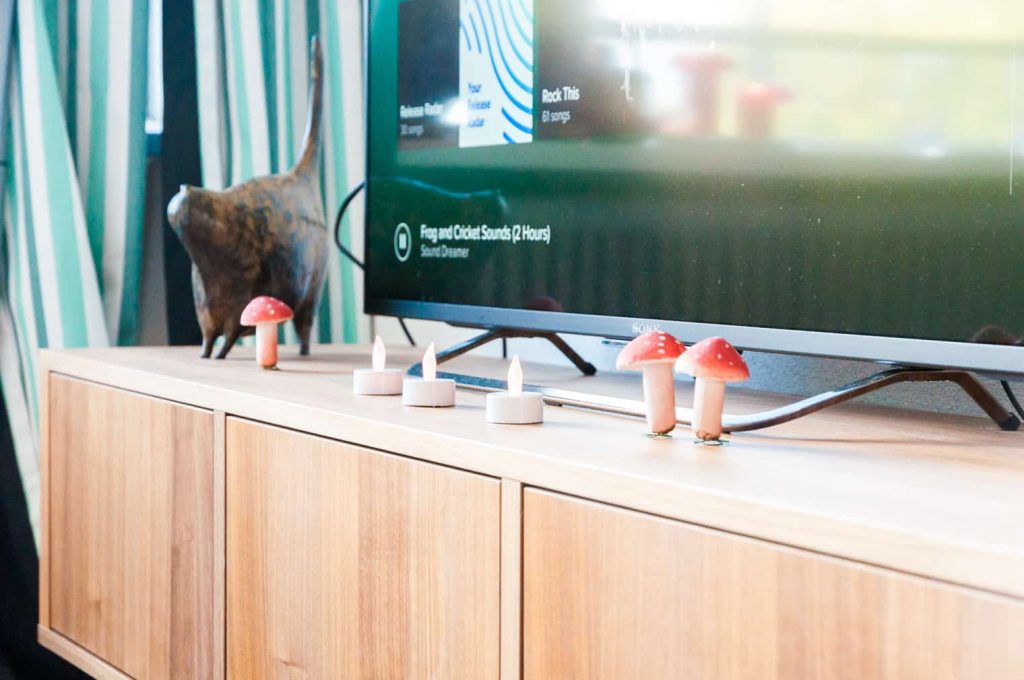 For food, in addition to our staple (pizza), I wanted to make something that felt a little magical. I searched Pinterest for some recipes that felt camping-themed. I settled on this recipe for homemade hot chocolate (warning: the website has a video that autoplays) and a s'mores dip recipe that I found, which was so yummy and easy to make!
Finally, I wanted to put together something cute for the entrance, so I made a sign on the door welcoming Ken to "Camp Foxway" when he came back from work. I also added a sign that read "Please feed the bear," because my nickname is Sara Bear or Little Bear, and at this point in the evening I was pretty hungry. To top it all off, I made some paper bear ears to stick to a headband I had lying around.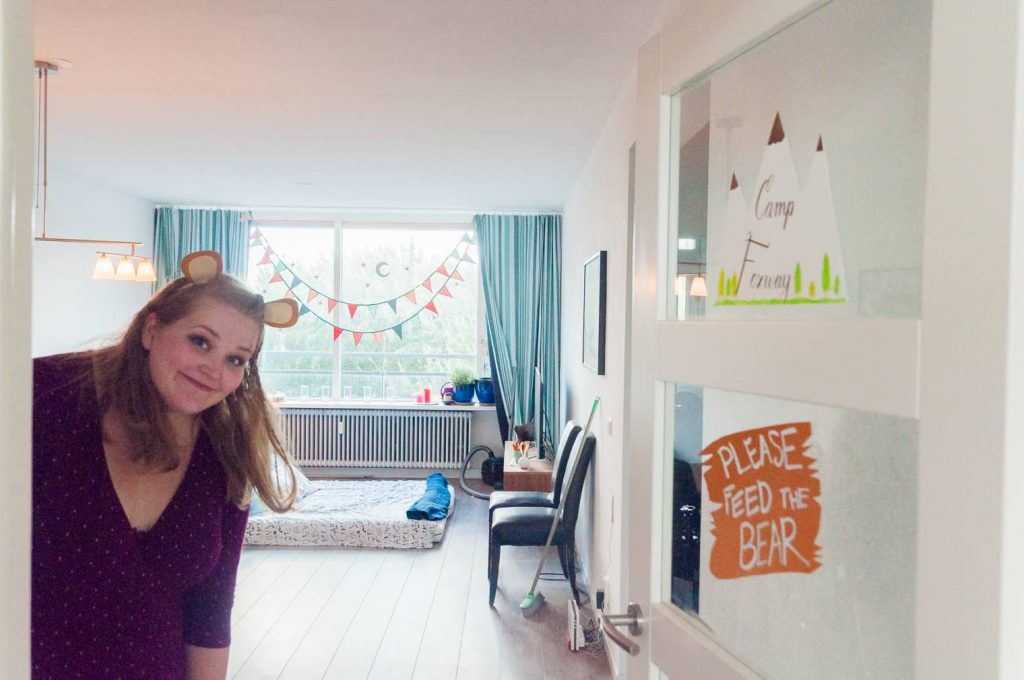 Ken was completely shocked when he came home, and has told me many times in the week since that it was one of his favorite surprises I've ever done for him. Best of all, the whole thing only cost me $5 for the chocolate and marshmallows — everything else was made from things we already had. What I love about this day is that it goes to show that you don't need a huge budget to add some magic to your everyday life — you just need a little creativity.
If you're interested in doing something similar for someone you love, here's are my tips for making some everyday magic on a budget.
Have a central theme or idea
Last Friday was so fun because I was able to tie everything into the central theme of camping. It made the little details, like the Spotify soundtrack or the fake mushrooms, "pop." Without an idea like this, there's less room to be creative with small details, so spend some time thinking about what your partner or friend likes, or what ties into the season. I chose camping because we're transitioning to fall, but a Star Wars-themed night (after Ken's interests) would have been just as fun.
Do some "research"
And yes, by research I mean Pinterest. I put together a Pinterest board for every party or event I put together, so this was no different. Luckily, there were tons of indoor camping decor ideas, party examples, and recipes to choose from.
Be flexible if you want to keep it low-budget
I kept our costs pretty low last week — just $5. If I had sprung for an indoor tent with hanging fabrics and a star projector, the night might have been more memorable, but it would have also been a lot more expensive. Rather than make a tent in the living room with pillows inside, I just moved some twin mattresses in to create a similar sitting area. Instead of the star projector, I cut out paper stars and taped them to the window.
Use what you have
We didn't have a tent, extra sheets, or much decoration to make our indoor camping night complete. Instead of buying new things, I tried to find creative uses for things I already had. I happened to find some metallic paper in a stack of craft paper that I got from Ken's parents, which lead me to the stars and moon idea. Between the stars, the signs on the door, and my bear ears, a lot of our decor was actually made of paper, because that's what we already had in the house. Work with what you have.
Enjoy the moment!
Remember that a surprise like this is memorable because it's unusual, and because of the time and effort you put in. That means that even without a big budget, you can put together something special and fun on the fly.
Have you ever done something like this? Let me know in the comments, and if you have an idea for another themed surprise I can do for Ken, let me know!