Two days ago, Ken and I went to Utrecht to work a little at our favorite café, Broers.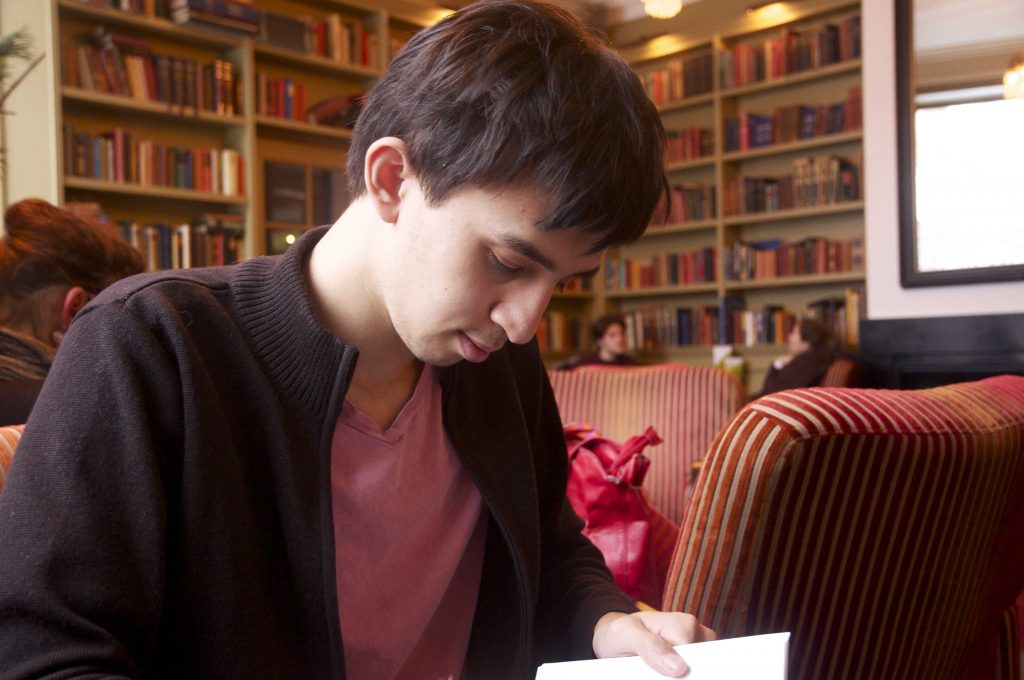 Broers is basically the coolest café in the world. Half the restaurant is walled with high shelves of books that totally fulfill my rich-person-library fantasy. Not to mention the enormous windows that give a view of the center of the city.
My cousin Felix (formerly referred to here as the Cameraman) lives in Utrecht with his girlfriend Eva. Ken and my cousin are best friends – which is how we met – so that evening, the two of us went to his apartment to have dinner. Here's a timeline of the next 24 hours:
8 PM: We invite Felix to come over in the next few days so we can cook. He's not sure on the day, and he doesn't think his girlfriend can come, but he says yes. He challenges us to top his meal from that night. Challenge accepted.
12 PM the next day: Ken and I haven't heard from Felix, so we assume dinner will happen another night.
4:30 PM: We get a text from Felix: Can he come tonight? We we don't know what we're making and the grocery stores close early on Sundays, but yes, of course! The more the merrier.
Dinner party size: 3.
4:45 PM: It turns out Ken's parents came home early from Leipzig!
Dinner party size: 5.
5:30 PM: Ken and I decide on a few recipes, including a ratatouille we burned the heck out of a few days earlier. I find out ratatouille is not a main dish, so I also pick out a couscous recipe.
Felix's girlfriend will be joining us!
Dishes: 2. Dinner party size: 6.
6:00 PM: I start chopping vegetables while Ken takes his longboard to the grocery store. We decide on garlic bread as a starter and ice cream bars for dessert. The grocery list grows – and Ken's brother will be joining us for dinner!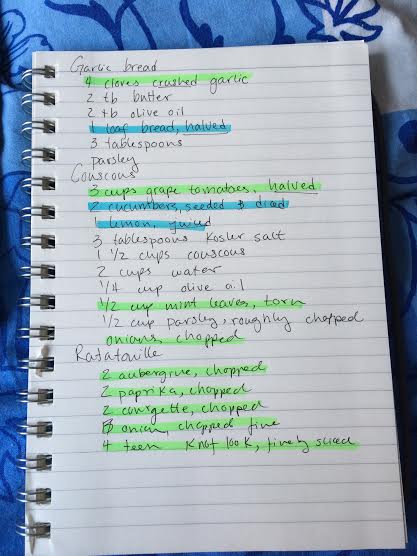 Dishes: 3. Dinner party size: 7.
6:30 PM: Ken comes back with tons of veggies and a stick of french bread. We chop so many vegetables that we need to put some bowls outside so there's room.
7:15 PM: We are shuffling around the corridor-sized kitchen cooking three things at once.
I am usually not a great cook: I choose too many dishes, forget ingredients, plan badly, and always underestimate the right amount of spices. But tonight is going really well. I'm playing music on my phone, dancing a little, and Ken and I are having fun. Miraculously, we have all the ingredients we needed and prepared them all just right.
7:30 PM: The guests arrive and start setting the table. Miraculously, all the dishes are finished at the same time. When I walk into the living room, the table is beautiful: tablecloth, matching plates, and even paper napkins (we are usually an informal bunch). We break out a bottle of wine.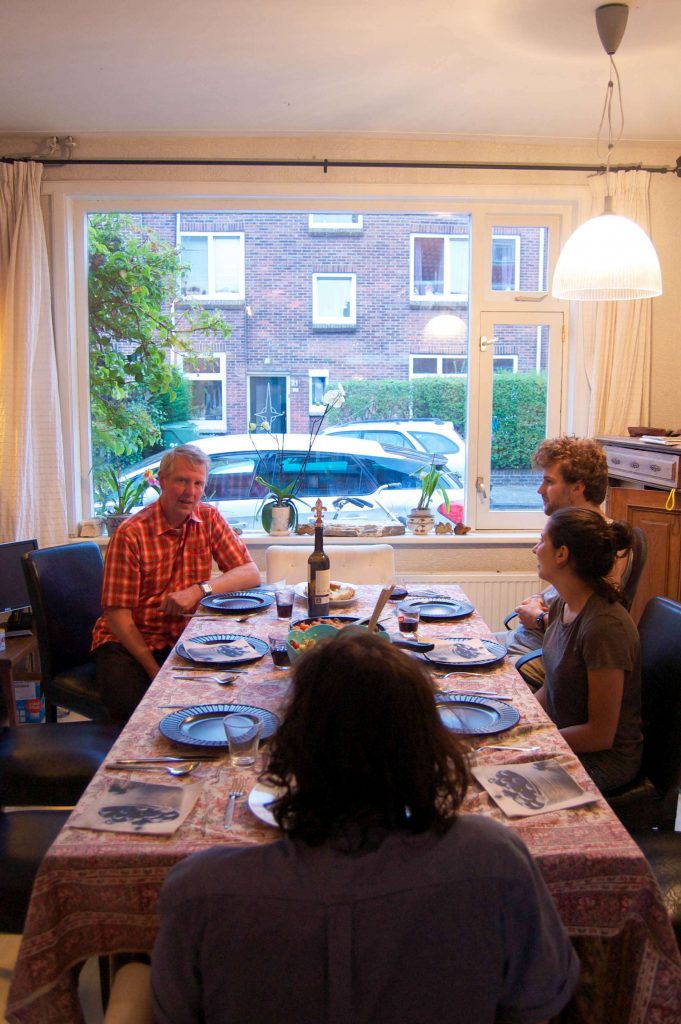 I've been saying yes to more things in life. I'm not always the best at unplanned things; I like my comfort and my routines. But my goal this year is to follow that little part of me that says, yeah, let's do it. Every good thing that's ever happened in my life is because, somewhere down the road, I said yes. Yes to a day at the beach; yes to sneaking out of my house to watch the sun rise over the lake. Yes to falling in love with the boy who lived 3,000 miles away. Yes to making new friends, seeing new places, and trying new things.
So here's to a little spontaneity; to dinner parties on two hours' notice; to good friends and good food and good wine.
Yes, yes, yes.
—
The meal ended up being awesome – so great that we plan on reusing all three recipes. I've shared them with you below – enjoy!
Couscous salad – 5/5. Really great and easy recipe (and I'm a huge fan of couscous). Super delicious. Highly recommended!
Ratatouille – 4/5. Great mix of vegetables with a little red wine. Very filling and easy to put together.
Garlic bread – 4/5. Guys. Homemade garlic bread. Enough said.