Since the advent (haha) of my new Bible journaling challenge, I've been receiving many more emails about Bible journaling. Many of them are questions about the book, or asking how to get involved in the challenge; but one of them stood out to me. It was from a woman named Penny Bennett, who makes beautiful, sturdy tote bags. Penny Bennett Totes (or PBTs) are made especially for Bibles. Penny's tagline is to "get the Word out!" by bringing your Bible with you to church, the school pick-up line, or wherever you wish to in a way that's sturdy and stylish. I expected good things, but I had no idea what was in store for me!
Penny offered to send me a bag that I could review, and throw in a giveaway for one of my readers – $20 off a purchase from her store. I bring my journaling Bible and notebook to church every week already; so said yes, and a few days later, I received the bag in the mail. And let me tell you, I was astounded.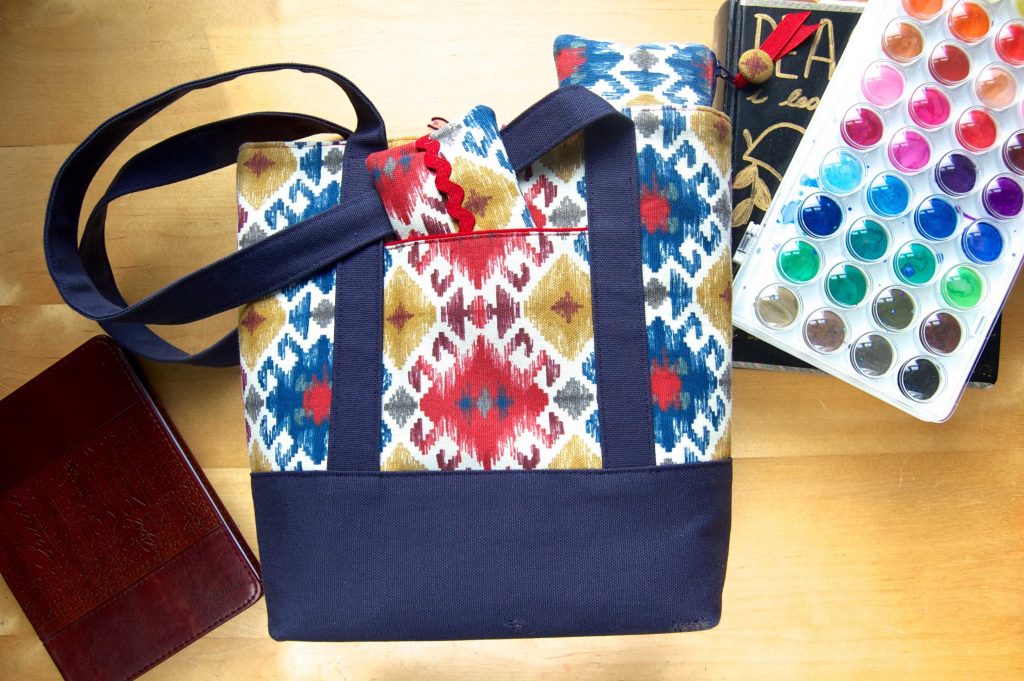 The bag is beautiful, sturdy, and impeccably made. First of all, my Penny Bennett tote came with a sturdy base. The bag was packaged with a firm, cloth-covered board that I can easily slip into the bottom of the tote to give it shape and let it stand up on its own. But more than that, the rest of the tote is also incredibly sturdy. It is made out of a thick canvas material that I saw immediately would not wear through quickly. I can really bring this bag anywhere, and I know it will stay just as pretty and strong as the day I got it!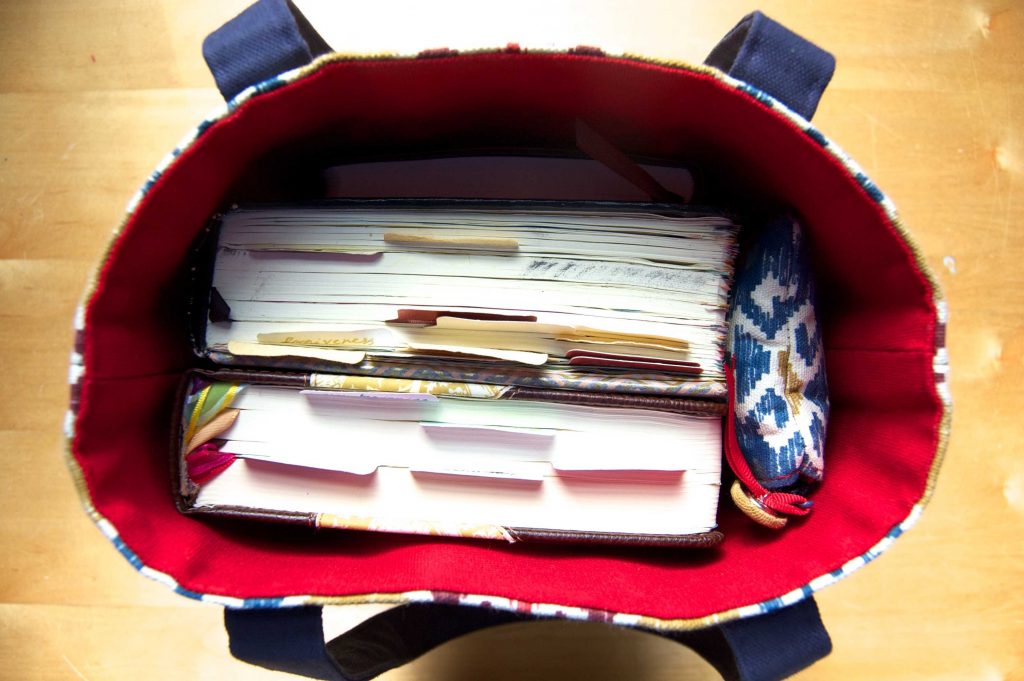 Penny sent me her small size tote in this gorgeous pattern, which I thought would be big enough for my Bible and a cute pen pouch (more on that later). Well, imagine my surprise when I saw that this small and sturdy tote fit not one, but two journaling Bibles, plus a notebook, and two slim books. If you've read my "What's In My Backpack" post, you'll know that's a win for me! I imagine that those of you bringing paintbrushes, watercolor pallets, or a book on lettering will have no trouble fitting your items in this bag – and if you do, you can always size up to her larger size!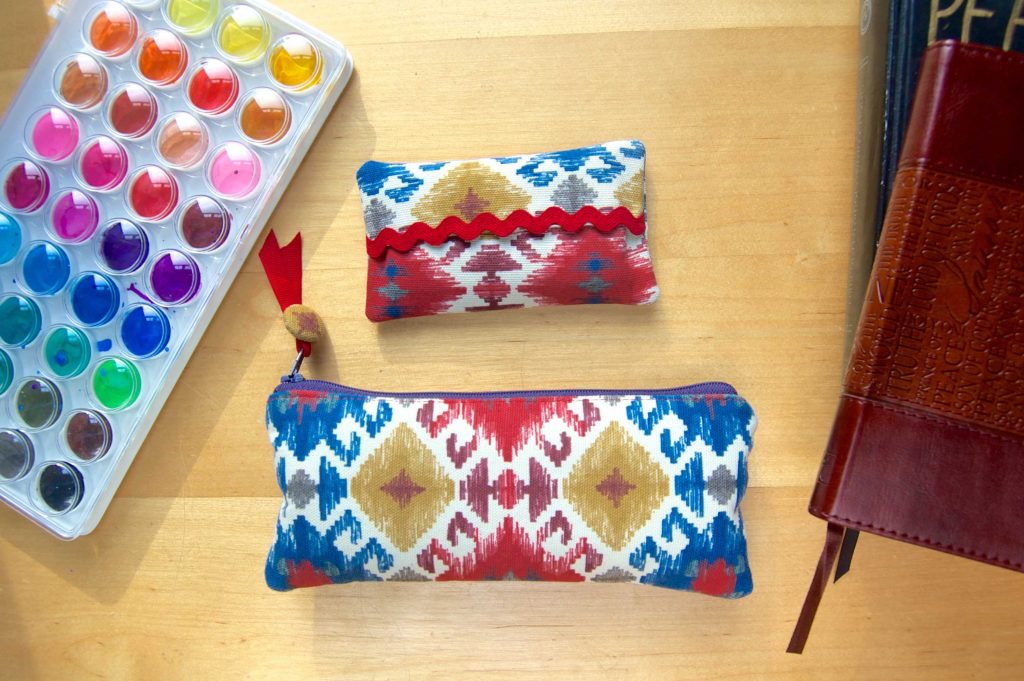 The tote also has a small pocket on each side, where you can slip in your pen pouch, cell phone, or something similar. When I received the tote, those pockets were already stocked – one with a gorgeous pen pouch made out of the same material as the tote, and the other with a little tissue pouch, already filled with tissues.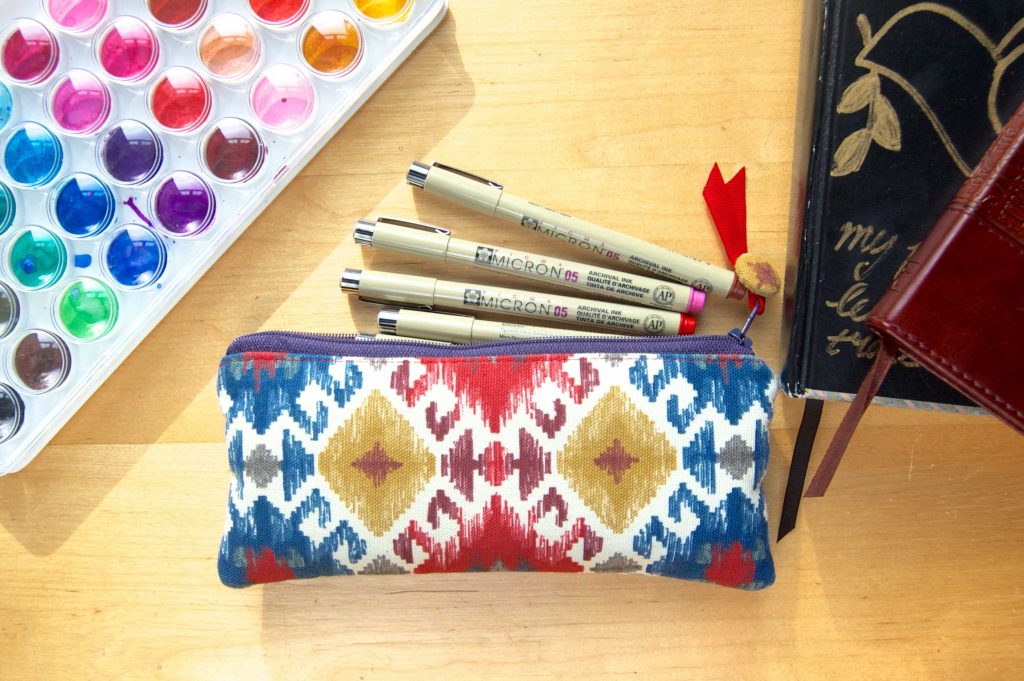 Guys. This pen pouch. You all know that I have a mild obsession with pens. (And by mild, I mean deep and unabiding.) Well, then it should not surprise you to hear that the pen pouch may be my favorite thing about the tote package. It is made out of the same beautiful patterned cloth that the tote is made from, but it is softer, with what feels like a thin layer of cotton fluff between the inner and outer cloth. That means that if a pen breaks or leaks in the pouch, it will have a hard time leaking to the outside. It also means that I sometimes pick up the pouch just to squeeze it, which is definitely normal behavior…
When Penny reached out to me, I expected a cute bag that I could buy for a similar price at a local retailer. I was dead wrong. This tote, and the accompanying pen pouch and tissue pocket, is above and beyond the quality that you will find virtually anywhere else. The stitching is tight and superb; the cloth quality is sturdy and still totally beautiful; and the attention to detail that Penny puts into every aspect of the tote's presentation is breathtaking (stickers, patterned tissue paper, little cards… It came packaged as a gift already!). I could not recommend this bag highly enough to fellow Bible journalers, or as a gift to a loved one who Bible journals.
My love for this product is one of the reasons that I'm so excited to be sharing a giveaway with you! Penny has been kind enough to offer $20 off of a purchase to one lucky winner who purchases from her PBT shop. You can win entries by commenting on this post, liking her Facebook page, and favoriting her Etsy shop! Enter below! (For favoriting her shop, just write "I did!" in the slot!)
Thank you so much Penny, for this beautiful bag and for gifting my readers with a giveaway to your shop. I am so excited to be helping you "get the Word out" about wonderful products like these!