Hey guys! As you may know, depending on how long you've been reading here, Ken and I are getting married next summer. t's been a little while since I wrote an update on our wedding, and a lot has changed since my last post! I thought it would be fun to bring you all into the loop share some of what we know now. If you want to get up to speed, check out my posts about our international, intercultural wedding and how I asked my bridesmaids.
The Venue
Ken's and my first priority was finding a venue we loved, and shaping our other choices around that. Luckily, that wasn't too difficult — from the beginning of our search, one particular place stood out to us. It's a small castle not too far from where Ken's parents live, where Ken and I had gone on winter walks in the early years of our relationship. While we also looked at churches and a few other venues, this one just made the most sense for us: it was in the city where we met, fell in love, and moved in together, and it included a hotel on the premises as well as space for the ceremony, dinner, and reception. We met with them in June to make plans for next summer, and after we made everything official and picked a date, I could start to think about next steps.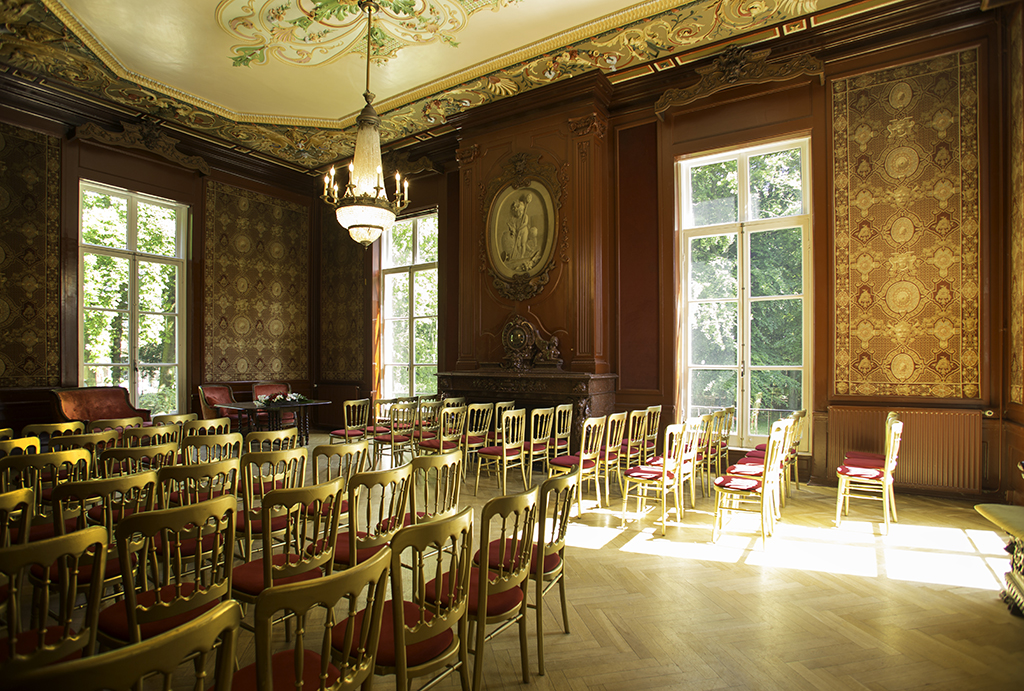 Our venue, courtesy of the venue and MKB Fotografie
The Vibe
I had a chat with my wedding photographer friend, Sandra, around the time we chose the venue, and she suggested that my next step should be choosing a theme for the wedding. I hadn't even thought of that; to me, the theme of the wedding was Ken-and-Sara are getting married. But apparently weddings can also be bohemian or beachy or formal or rustic, and I didn't know what Ken's and mine would be.
I started making mock-ups for wedding colors, but Sandra had been right — without knowing what sort of feeling we were going for, it was hard to choose something that felt right. Choosing colors was also complicated because the castle had very different colors throughout; the ceremony room, shown above, was red and gold, while the room where we'd be having cake was white, and the reception hall  was white and blue. To me, these colors didn't tie together at all.
I tried a jewel-tone color scheme that I thought would be pretty,  but I was worried that the colors would have to match the venue perfectly in order not to clash. A friend of ours suggested going more neutral in tones. Neutral is not exactly my style (I'm more of a loud and bold person myself), but I decided to give it a try and see how I liked neutral tones next to pictures of the venue. They ended up being beautiful and feeling just right, which is how we settled on a romantic theme with a neutral rose and slate blue color palette.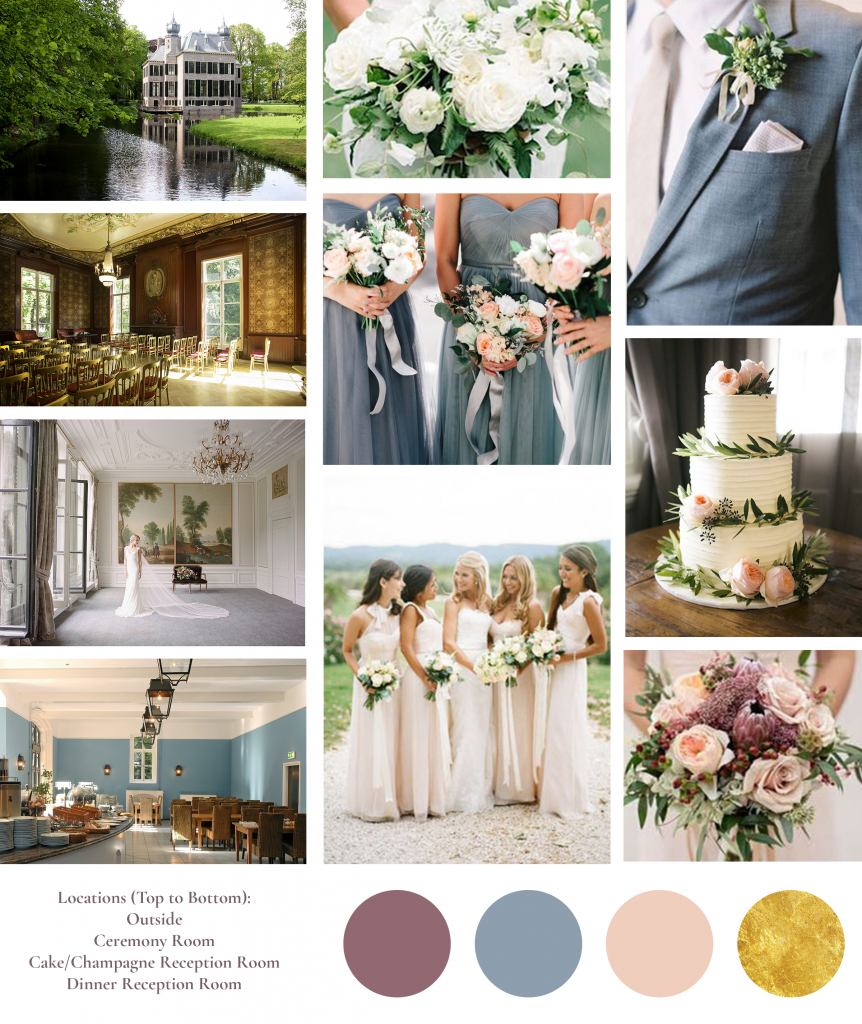 I got the sample wedding photos from Pinterest. From the top: bouquet, suit, dresses, cake, bridesmaids, bouquet. The venue photos on the left are courtesy of our venue.
The Website
Next up was putting our wedding website together. Again, this was harder than expected — we looked around at a lot of services, but didn't find any designs that we just loved. We also had concerns about privacy — we wanted some of the pages on our site to be visible to the public, while others would be password-protected for guests only. In the end, we decided to work together to make our own site, including password-protected pages and a customized RSVP/save the date system. I made the design and coded the website, and Ken is currently working on password-protection and the RSVP process.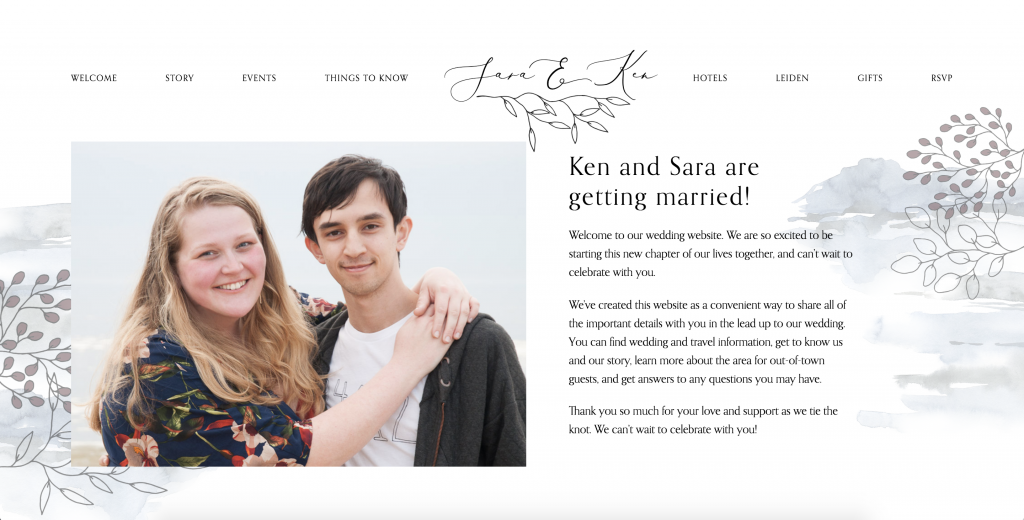 & Other Details
We've also chosen our wedding photographer, my incredibly talented friend Shannon May Brown (how beautiful is her site? I had the pleasure of redoing her logo and brand a few months back and she redesigned her site around the color scheme. I'm in love!). Shannon is one of my favorite people and I know she'll do an incredible job of capturing our wedding day.
In addition, we have our officiant. Because she'll be coming from America, we'll be having a legal ceremony for the Dutch government with just family and closest friends, and then the larger celebration soon after. It was a tough choice to have two ceremonies, but I love this minister and would have done anything to get her to marry us. We've also decided to have an unplugged ceremony (no phones/iPads/etc during the ceremony), so no hashtag (although #KenYouFeelTheLoveTonight and #LoveMeansNeverHavingToSayYoureSara were almost oo good to pass up).
That's all I've got! If you have any questions about the wedding or wedding-planning process, please ask away in the comments. Thanks for your love and support!