It's college move-in season, and many people are figuring out which clothes to pack for college. If you find yourself looking for a college clothes packing list, or asking "How many clothes should I bring to college?", then you've come to the right place! In this post I break down my top things to avoid, give you my general pointers, and show my college clothes packing list. But it goes beyond that! I've polled 40 college students around the country to ask for their top tips on which clothes to pack for college in their regions. Are you ready? Let's dive in!
Before I came to college, I spent hours scouring the internet to find out what I needed to pack. One of the areas I especially wanted to 'get right' was my closet. College was a chance to start over, and I wanted to make a good impression by looking cute and put-together — but I had no idea what to bring, or how much. How many pairs of underwear or socks should I pack? (Two weeks' worth.) Did I need a rain jacket? (Yes.) Should I invest in a whole new wardrobe? (NO!)
Here's what we're covering today:
Three Don'ts for Packing College Clothes
Three Key Factors When Packing Clothes for College
The Ultimate College Clothes Packing List
Three Don'ts for Packing College Clothes
It's easy to get swept away in the excitement of college planning. When you ask yourself "how much clothes should i bring to college?" it may be tempting to bring it all! So before you grab the entire contents of your closet and dump it into a bag, keep these three gentle "don'ts" in mind.
Don't bring too much. Figure out how often you'll be coming home, and plan accordingly. If you'll see your parents at Thanksgiving, leave your winter clothes at home and just bring some summer and fall clothes when you first arrive. If you won't go home until Winter Break, bring some summer, fall, and winter clothes. If you won't be home all year, bring it all.
Don't bring things that don't "fit" you. College is a time to start fresh, but you're still the same person. If you don't feel comfortable in a certain outfit, or you just can't be yourself in a dress, don't bring them. They'll end up hanging untouched in your closet anyway.
Don't forget the basics. It's nice to dig out your favorite rain boots, or buy a winter coat for the first time. But don't get so swept up in the exciting items that you forget basics, like bringing enough socks, shoes, and underwear. My guideline is to bring enough socks and underwear for two weeks.
Alright, so now we know what not to do. But what should we know or plan before we start packing?
Three Key Factors When Packing Clothes for College
Time frame. Are you packing for the first two months of the semester, or for the whole year? This depends on how often you can go home to see family and switch out clothes.
Climate. Think about your college's environment and climate before you pack. Will you need clothes for hot, arid weather? Snowy days? Lots of rain? Consider taking a look at this week of weather at your college, or reaching out to a current student you know to ask what kind of weather to pack for.
Occasions. An athlete who likes to go party the city on the weekends will need to bring different clothes than a college student who prefers to stay in or explore a museum. Think about the kinds of occasions you'll experience at college. Will you need a lot of work-out clothes for early-morning jogs? Party clothes for the weekends? Professional outfits for your internship? Try to be realistic. If you don't like to party, you won't need to bring two backless sequin dresses.
The Ultimate College Clothing Packing List
Sometimes what's most helpful isn't just a list of principles, but an actual college clothes packing list. For that reason, I've put together the list below. Before you read it, please remember that everyone is different. You certainly don't need all these things to fit in at school or be prepared for the year. In fact, I brought significantly less to school when I moved in! But I wanted to make a comprehensive list that you could cut and customize to your needs. When in doubt, go with the cardinal rule: pack enough clothes for two weeks and weather conditions.
Before we get to the college clothes packing list, I wanted to let you know that I made the list into a cute and easy-to-access printable with my suggestions and recommendations for which clothes to bring to college. The printable is accessible in my free resource library.
College clothes packing list: Basics
Underwear and bras
Socks
Athletic shoes
Casual shoes
Shower shoes
Formal shoes
Rain boots
Snow boots
Riding boots (optional)
Casual clothes
Jeans
Shorts
T-shirts and tank tops or camis
Casual tops or blouses
Sweaters or cardigans
Lounge clothes
Leggings
Sweatshirts
Casual, comfy t-shirts
Pajamas
Exercise/running clothes
Occasion clothes
An interview-appropriate outfit
A formal outfit or dress
Clothes for going out
A costume for Halloween or a party
Outerwear and Other
Light jacket
Rain jacket (for colleges in rainy climates)
Winter coat (for colleges in cold climates)
Vest (optional)
Swimsuit (optional)
Accessories
Jewelry
Watch
Wallet
Belts
Scarves
Winter accessories – hat, scarf, and gloves (for colleges in cold climates)
Umbrella (for colleges in rainy climates)
Backpack
Medium-sized purse
Tote or duffle bag
Sunglasses
Tights
College clothes packing list and tips by region
Connecticut
Maine
Massachusetts
New Hampshire
Rhode Island
Vermont
The Northeast can be a challenging place to pack for, especially if you come from somewhere warm. With vivid seasons (sweltering summers, freezing cold winters) and weather that changes daily, it's hard to know what to expect! That's why I polled forty college students and bloggers to ask them what their most important must-haves are for attending school in the Northeast. If you're asking "how much clothes should I bring to college," check out these essentials!
Factors to Consider when Packing for College in the Northeast
There's a lot of variability in Northeastern weather, so if you're packing for the whole year, bring lots of layers and variety! Take a look at the average temperatures during the fall semester below, as well as some advice on what to think about when packing.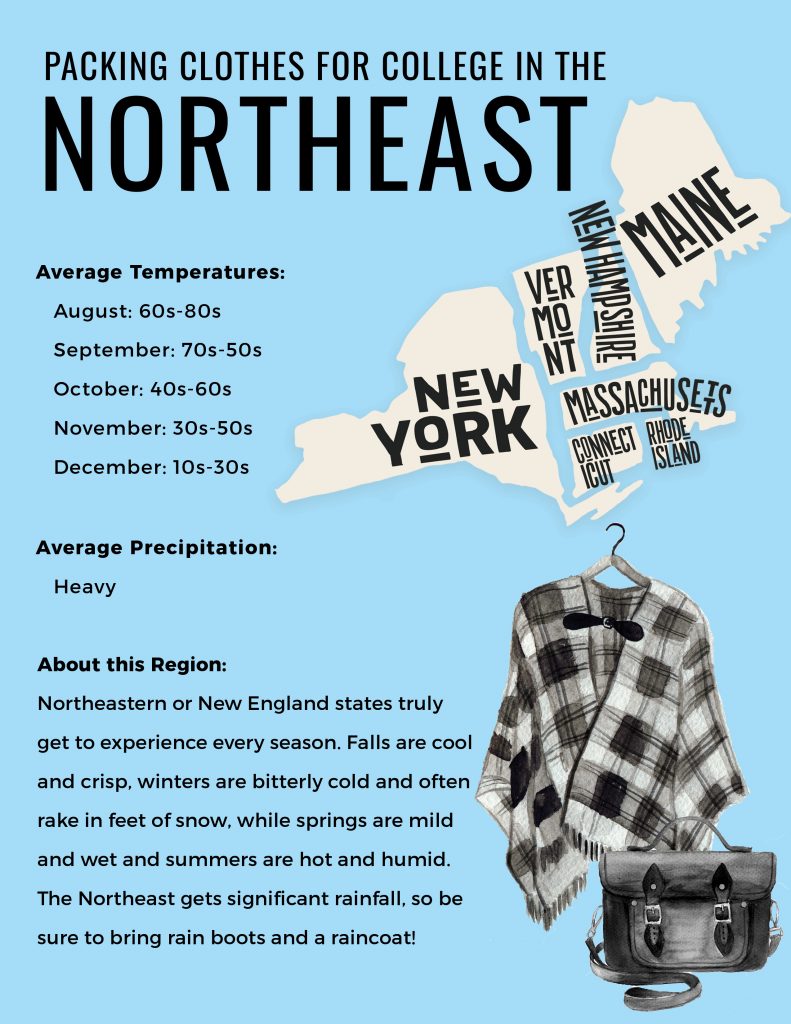 College clothes packing list: Must-Haves for the Northeast
I polled a group of 40 college students and bloggers to ask for their opinions on the "must haves" to pack for a college in their area. Of the Northeastern responders, 75% said rain and snow boots! With the amount of rain and snow that the Northeast gets, it's important to make sure your feet are outfitted for the cold and the changes in weather.
I personally attended college in the Northeast, and for me the best option was a duck boot, which can withstand both rain and snow. Though they may seem pricey, you're saving on the cost of a second pair of rain or snow boots by getting a pair that can handle both!
Other responders emphasized how important it is to have a versatile and layered jacket. I can't agree more! I got a two-layered coat so I could wear just the inner shell in the fall, the outer shell when it rained, and both together for cold weather. Again, they're pricey but they'll last you all four years (and some after that, as well!).
Other essentials for me included general outdoor weather gear: gloves (the kind you can use with a touchscreen phone are a great investment), a hat and scarf, and warm socks. The winters are famously frigid in New England, so be sure you come prepared — especially if you come from somewhere warm!
If You're on a Tight Budget
A solid winter coat and a nice pair of waterproof boots can really add up. If you're on a budget, there are always cheaper options of everything available, and you don't need the most expensive option to get a choice that lasts. However, don't go for the very cheapest, as you'll save more money in the long run with one good pair than if you ended up needing to replace a cheap pair of boots every year.
I asked a close friend of mine what she did when moving to New England from a warmer climate while on a budget. She said, "I bought the cheapest options within what was new, but I basically decided that those two items [boots and a coat] were the most important and were worth spending on… because I also realized that was the coat I'd be wearing every day for months for 4 years."
If you're having trouble getting together the money, you could ask for multiple people to pitch in as a birthday or early winter gift for you. If that's impractical, Goodwill and other second hand stores in the area where you'll be attending school will probably have options appropriate for the weather there. My school also had something called the Student Aid Society, where students could donate unwanted clothing to each other. If your school has something similar, see if they have any winter gear available in your size.
What Students Say on Packing Clothes for the Northeast
"Always pack for the season… rain boots are a must when walking to class in Connecticut!." – Kara (Fit Chick Next Door)
"I went to school at the University of Maine where it's cold for what feels like half of the year! Warm socks, Hunter boots or L.L. Bean boots, and a really good coat are essentials for when you're trudging to class in the snow and wishing that a snow day got called. Layers are absolutely KEY as you often walk to class in 30 degree weather and then sit in a 70 degree classroom." – Mackenzie (Brunch on Sunday)
"Pack few clothes that can transition through the seasons! There isn't too much "summer weather" so don't bring seasonal wardrobes." – Alexandria (AM Eisenhardt)
New Jersey
New York
Pennsylvania
Virginia
West Virginia
With beautiful, rich falls, cold winters, and wet springs, the Mid-Atlantic can be hard to pack for. I reached out to 45 college students and bloggers to ask them for their recommendations and must-haves for attending college here. In addition to the clothes I recommend to bring to college in general, check out these essentials.
Factors to Consider when Packing for College in the Mid-Atlantic
The weather in the Mid-Atlantic is a little more mild and a lot more humid than in the Northeast, but it changes just as frequently — one of our responders said you'll get "spring, fall, and winter in one week." Here's an overview of average temperatures throughout the fall semester for you to keep in mind.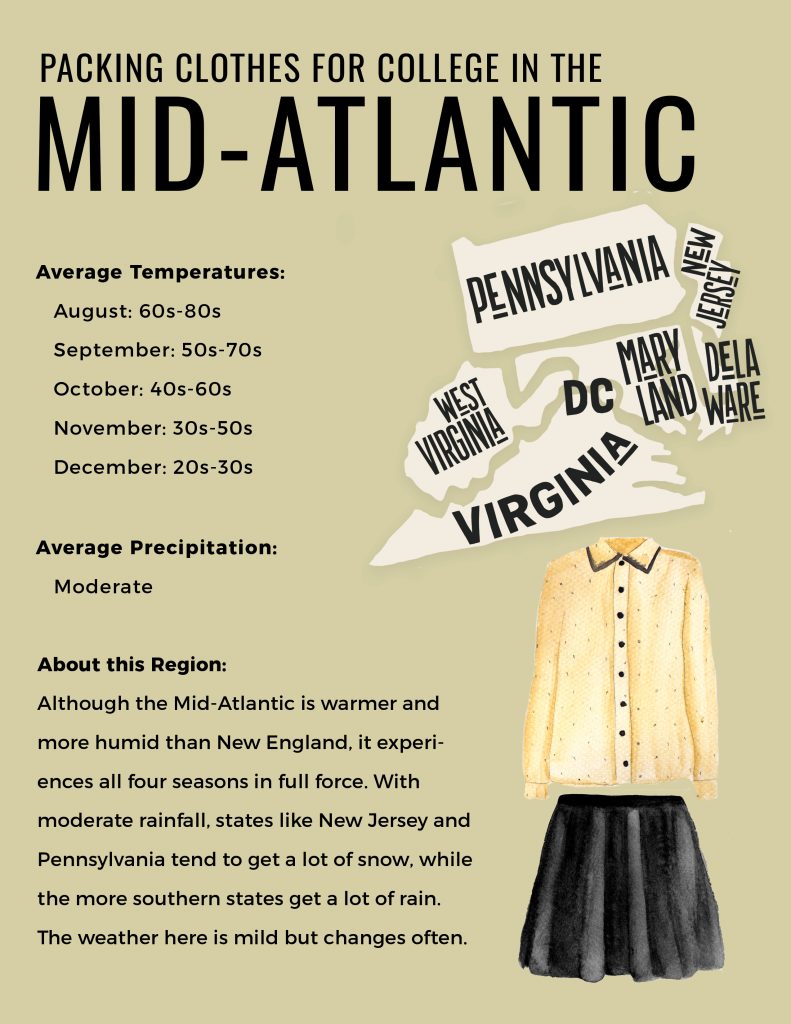 How many clothes should I bring to college?: The Mid-Atlantic
College clothes packing list: Must-haves for the Mid-Atlantic
Of the 45 college students and bloggers we polled, almost 50% of Mid-Atlantic responders said a good pair of rain or snow boots was their number-one must have item for attending college here. I grew up in the Mid-Atlantic and I can agree; while the winters aren't as extreme as in the Northeast, Mid-Atlantic falls and winters definitely require a good pair of boots and other cold-weather gear.
And for cold-weather gear, I recommend a scarf and gloves, and a sturdy pair of jeans will get you far in every season, even winter.
You won't need quite as heavy a winter coat for Mid-Atlantic winters as for in the Northeast, but getting a versatile goat is, again, a good idea. The nice thing about a 3-in-1 or interchangeable coat is that you can wear just the rain layer or just the inner shell on cool fall days, but when winter rolls in you can wear both layers together for extra warmth. I got a 3-in-1 jacket from Columbia for my college years and it served me really well when I got home to the Mid-Atlantic, too.
If You're on a Tight Budget
It's not too hard to find jeans and cold winter gear at second-hand stores or Goodwill, but a solid pair of boots will be harder to find second-hand. If you invest in just one clothing item before you go to school, boots are probably the one to go for. While you can find a winter coat for cheap online or in discount stores, cheap boots are likely to split after just one winter. If you're struggling to save up the money for boots yourself, you can always ask a few people to pitch in for a birthday or winter gift, or you can see if you can buy them second-hand on your college's Free and For Sale group or the equivalent.
Because winter sets in a little later in the Mid-Atlantic, you also don't need to buy these immediately. You can always get there first and spend some time saving or searching for a low-cost pair before you invest.
What Our Students Say on Packing Clothes for the Mid-Atlantic
"Snow boots are a necessity! … The last thing I would say to pack is warm going out clothes!" – Kenzie (Sincerely Kenz)
"Clothing for ALL extremes." – Rebecca (Strength and Sunshine)
"Pack for all 4 seasons. The summers are really hot and the winters a very cold. I went to school on the coast so the wind chill and rain was really intense too. Also the humidity can be really intense if you're not use to it. If you have kinky/curly hair don't bother straightening it in the summer." – Jennifer (ADLT101)
"Bring clothing that can be worn in spring and fall weather if you can't go home too often and get a ton of cute sweaters to put over your tank tops when the temperature drops!" – Dana (The Whisper Box)
"Bring clothing for all 4 seasons because you will definitely experience each of them during the school year. Try to find versatile pieces that can work for multiple seasons so it lessens your load. Also make sure to have a good winter coat, rain coat, and a pair of boots that can be worn in both the rain and the snow (I recommend Hunters and then using their boot inserts for the colder weather/snow)." – Kristin (The Blush Blonde)
"Be prepared for all seasons and unpredictable weather (aka spring, fall and winter in one week)." – Christine Celine (Christine Celine)
Tennessee
Alabama
Georgia
Florida
South Carolina
North Carolina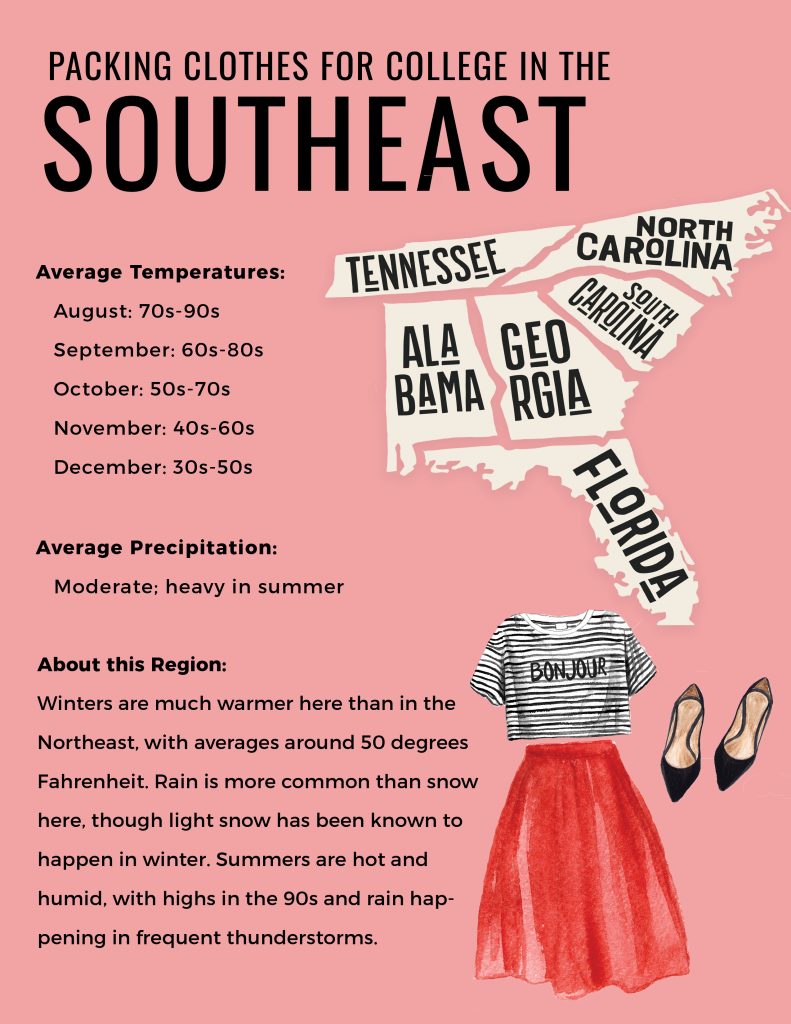 What Students Say on Packing Clothes for the Southeast
"Yoga pants and t-shirts are a must, as are birks." – Beth
"I go to college in Florida, and though it's called the Sunshine State, there are a lot of storms! Rain boots and an umbrella are a must!" – Samantha (Samanthability)
"Lots of layers! The weather is only cold enough for a big winter coat 1-3 months out of the year. You'll want some versatile sweaters and light jackets to layer the rest of the time." – Kirsten (Organized Charm)
"Bring cute game day dresses! Dressing up for college football is huge in the south. Comfortable tennis shoes… pretty much goes for any college, but you're feet will thank you after walking around campus all day." – Amy (Pastel N Pink)
---
Texas
Oklahoma
Arkansas
Louisiana
Mississippi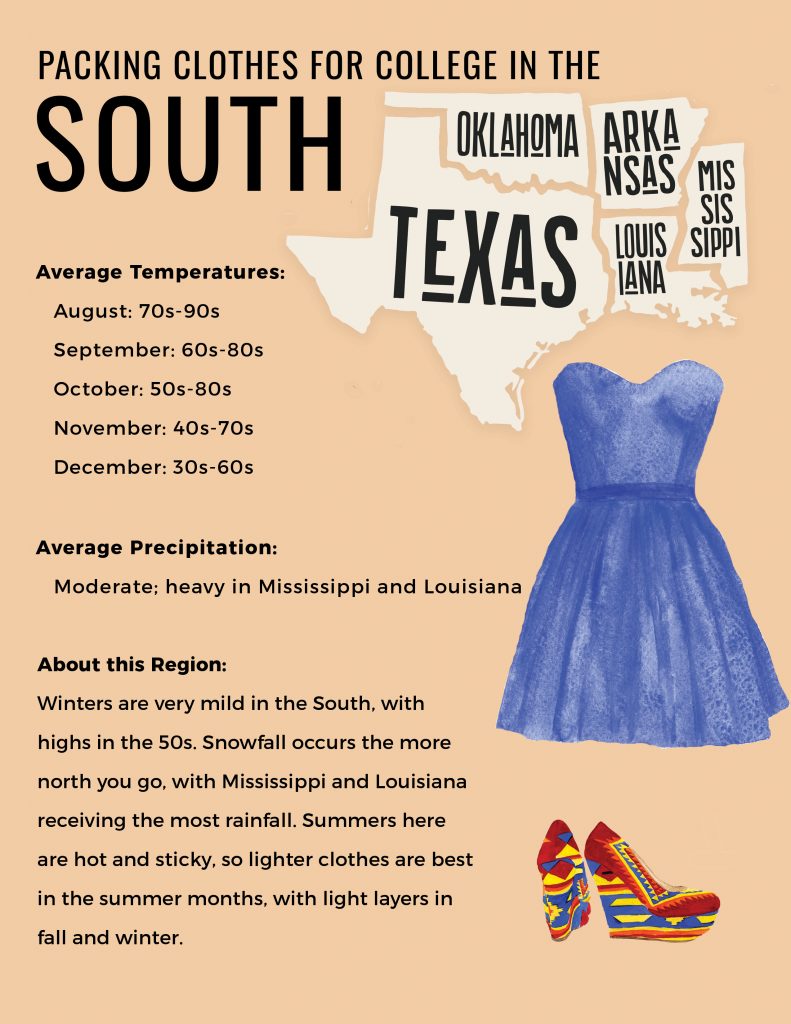 How many clothes should I bring to college?: The South
What Students Say on Packing Clothes for the South
"You HAVE to have a weather radio. So many tornado warnings during the spring not to have one!" – Nicole (Chronicling Home)
"Bring outfits designed for the warm weather. The last thing you want to get is sweaty when walking from class to class in the heat." – Rebekah (Rebekah Blogs)
"An umbrella, just in case. A baseball cap to protect your face from all that heat. And a light cardigan for those days when it gets super chilly in the morning." – Madeline (Read Study Repeat)
"Depends on what type of college, but schools in the South have a lot of school spirit, so lots of clothes in your school colors!" – Molly (Molly on the Move)
California
Nevada
Utah
Arizona
Colorado
New Mexico
How many clothes should I bring to college?: The Southwest
What Students Say on Packing Clothes for the Southwest
"If you're out from early in the morning to early afternoon, be prepared for the temperature to change dramatically. In the Fall/Spring for example it can be 30 in the morning (wear a light jacket) and 85-90 in the afternoon. If you have an early class, a good bet is to leave in the morning in jeans, a tank top, and a light jacket you can take off later. Also, be prepared for the early Fall (August-November) to be hotter than the summer months." – Dani (Dani Dearest)
"Bring any light clothing, especially in Southern California! It's warm for most of the year and won't get too cold until December." – Adriana Renee (Adriana Renee)
"Keep a few pieces in your closet that aren't "seasonally appropriate." Weather changes so quickly in the South; there will be days in February where you want those denim shorts and days in August where you'll be so thankful for that big wooly sweater. Also, pack a business professional outfit. You won't need it much, but you'll be glad that you have it!" – Dana (Seersucker Sass)
"You never need as many clothes as you think you will! Stick with the basics." – Hannah (Practically Imperfect)
"I go to school in Southern California and the heaviest item I wear throughout the year is a hoodie! Dresses, shorts, and sandals are worn year-round!" – Sami (The Classic Brunette)
Minnesota
Iowa
Missouri
Wisconsin
Illinois
Michigan
Indiana
Kentucky
Ohio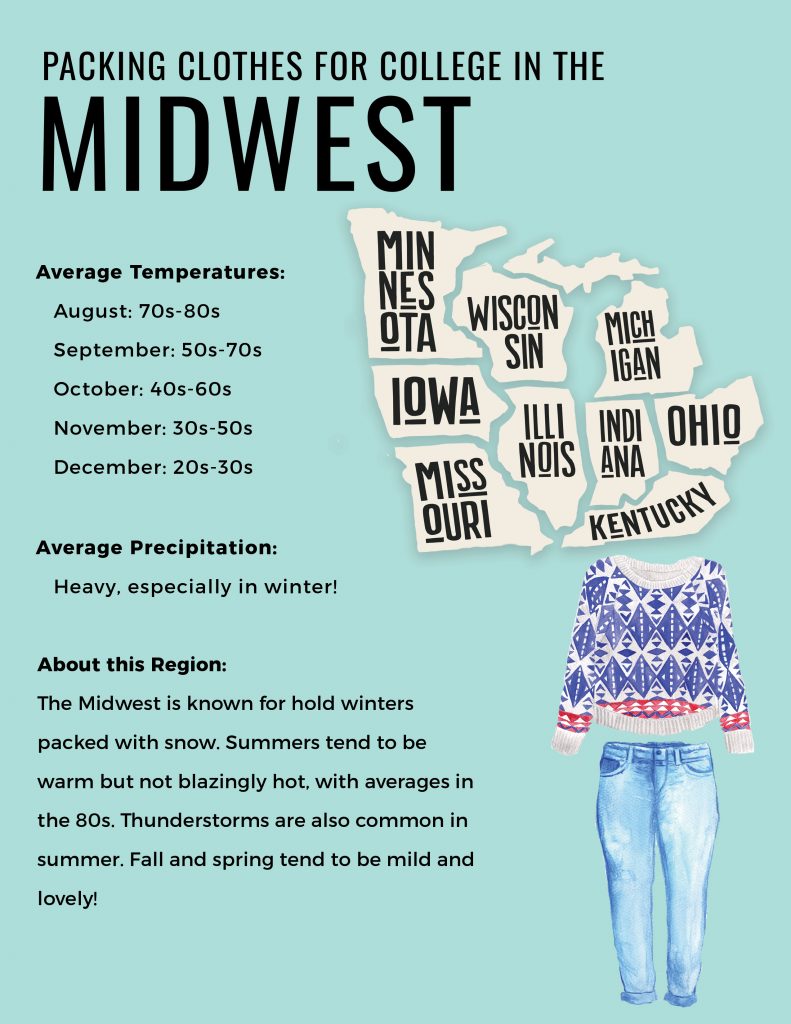 How many clothes should I bring to college?: The Midwest
What Students Say on Packing Clothes for the Midwest
"Layers are your best friend. Midwestern weather is ridiculous and wildly unpredictable so it's important to plan for that unpredictability as much as possible." – Kristine (My Little Box of Tricks)
"Wear layers all the time. In Michigan, you can wake up to a 32 degree snowy day and have it be nearly 70 by the late afternoon." – Lizzie (October June)
"It's very seasonal so the first half is very warm, while the second half is super cold. If you have the option to switch out clothes each semester, I would do that! You will get every kind of weather in the book! Especially rain. If not, pack a little of everything." – Bryanna (Coming in Clutch)
"Be prepared for lots of weather changes. It can change in the blink of an eye, so always be prepared with an umbrella and layers!" – Alyssa (Living in Full Bloom)
"Bring a warm long jacket for the winter! most people have parkas." – Haley (Honestly Haley)
"Layers are your friend – Indiana weather can change drastically within an hour. being able to take off or put on clothing is a must!" – Caitlin (Sophisticaition)
"Bring clothes for all weather – you seriously experience temperatures anywhere between subzero and up to 95 degrees!" – Anna (Five Foot and Fabulous)
"Layering is your best friend because in the morning it's cold, and then 3 hours later, it is sweltering hot!" – Kelsey (Kelsey Lynn Blogs)
"A WARM winter coat! And hoodies so you can go to class without a bra lol!" – Cailyn (Lattes and Sundays)
"Layers are [your] best friend. In the spring it can be freezing one day and 70 degrees the next. A nice long walking jacket helps you look out together even if you are in sweats underneath." – Renae (Tealaholic)
"Chicago/midwest weather can be all over the place- be sure to pack a variety of layers! A thick winter jacket and duck boots are so important for fall-spring!" – Emily (No Repeats or Hesitations)
"Always pack for every season. Weather in the midwest can go from spring to summer to winter to summer within a couple days, if not hours. Always have a piece you can pull out just in case the temperatures drop or rise dramatically." – Caitlyn (College With Caitlyn)
---
North Dakota
South Dakota
Nebraska
Kansas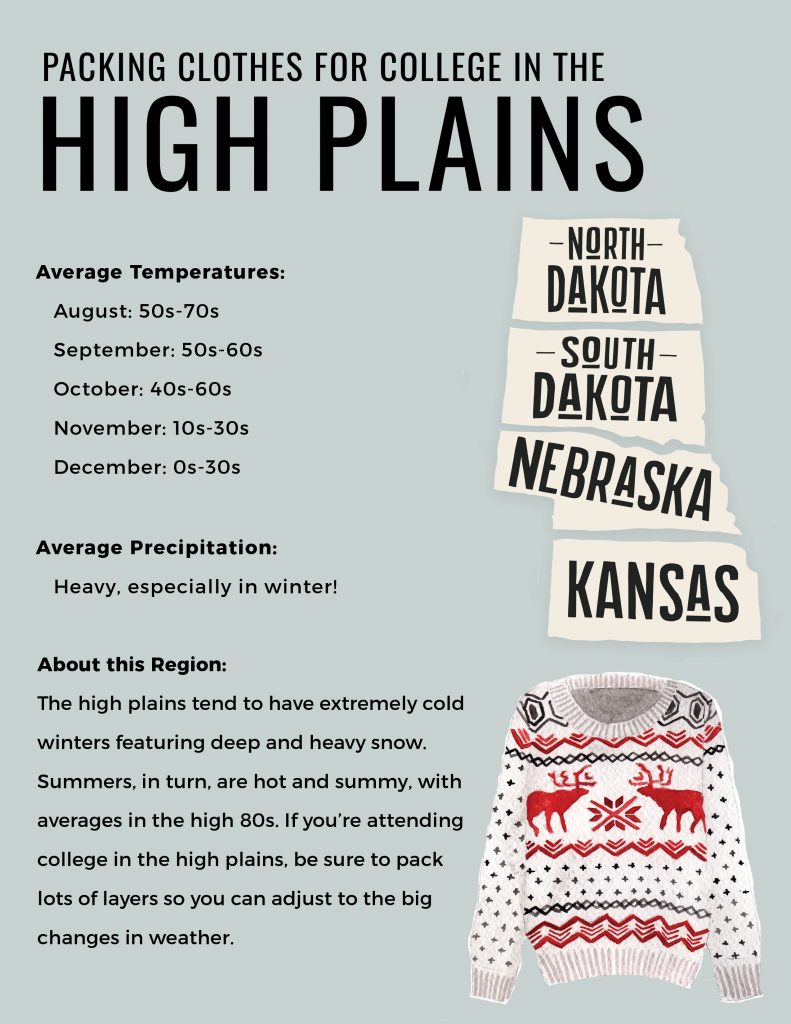 How many clothes should I bring to college?: The High Plains
---
Washington
Oregon
Idaho
Montana
Wyoming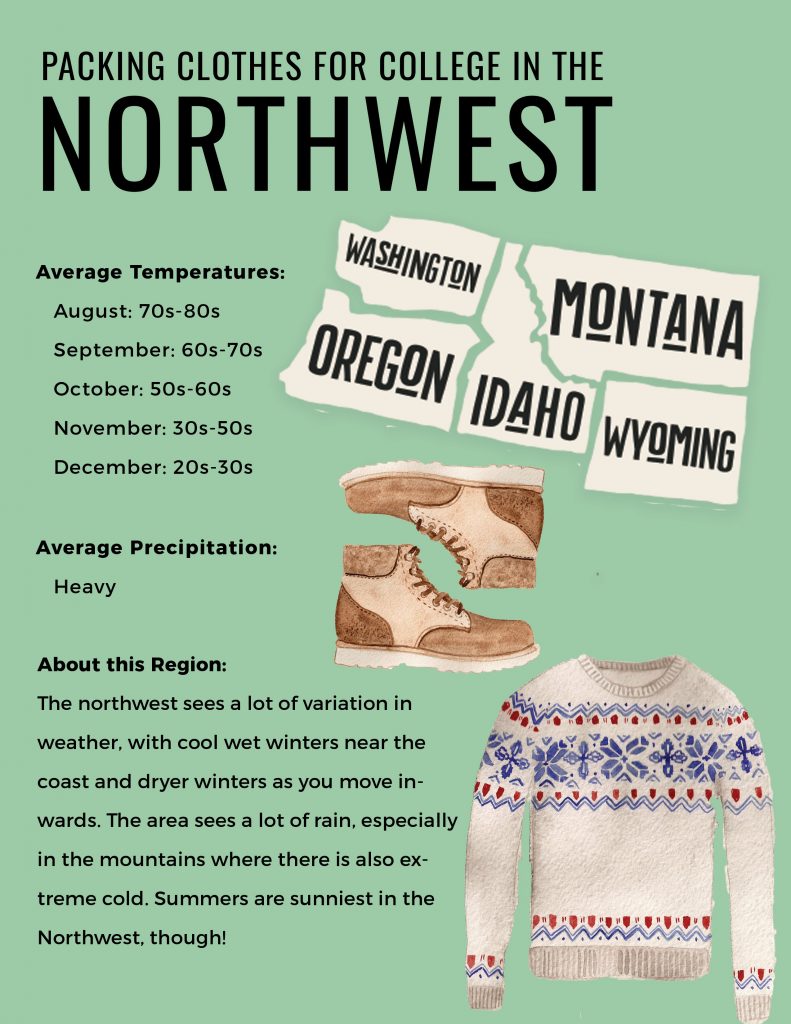 How many clothes should I bring to college?: The Northwest