I went wedding dress shopping a few weeks ago. My best friend since 8th grade, Maya, had come to the Netherlands with her mom to visit me as a graduation gift for finishing her master's. One of the things I was most excited about (other than her bringing me the 13 sewing patterns I sent to her house) was finding The Dress.
Funnily enough, I wasn't even sure that I wanted to buy my wedding dress when I went looking for it. I love to sew, and for the last few months I'd been working to get my sewing skills up to par so that I could make my own dress if I wanted to. My mom sewed her own wedding dress in the late 1980s — a silk knee-length dress in red dupioni silk that would never fit me in a million years. Sewing my own would be a fun way to pass down a tradition, since wearing my mother's dress wouldn't be something I could, or wanted, to do (red silk is pretty ballsy, but I'm a little more traditional myself). I loved the idea of sewing my own wedding dress, in the exact style and feel that I wanted. But, even if I were to make my own, I still wanted to know what I liked and what looked good on me. So, I made an appointment at a bridal boutique that had been recommended to me in Alphen aan de Rijn, the next city over from where I live in Leiden.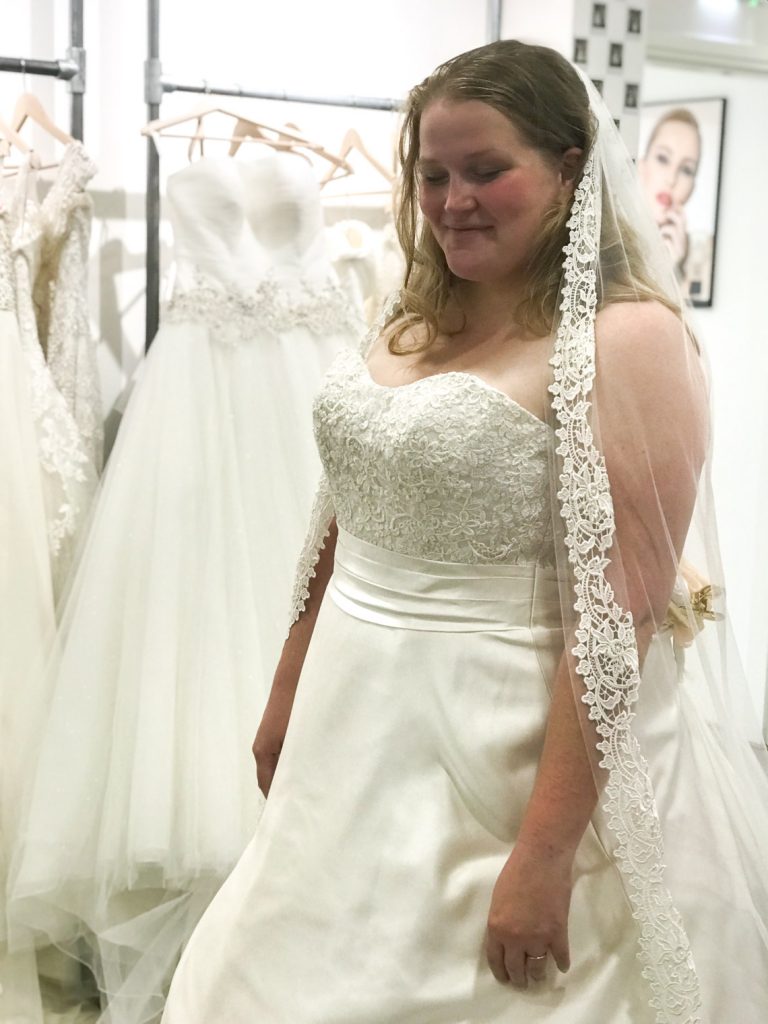 This wasn't the dress I chose, but I loved this veil.
Trying on wedding dresses for the first time was surreal. I've always been a romantic, and while I didn't play "Barbie wedding" in elementary school, I did start making wedding vision boards in junior high. When Pinterest rolled around, I was one of the earliest people on the site, and my wedding board was one of the first that I made (at the time, I called it "Party" so none of my friends would judge me for planning my dream wedding at 17 years old). I've watched wedding movies and the typical wedding-themed TV shows like Say Yes to the Dress, wondering what my own wedding would be like one day.
Trying on a dress made it all suddenly feel real. Ken and I didn't have a big public proposal and we opted for a simple and minimalistic engagement ring, so this was the first time that I really felt like a bride in the traditional sense. The first dress I tried was a total miss, but I teared up anyway, just because this was really it. I was really standing in a bridal shop with my best friend, trying on wedding dresses so I could marry the man I'd loved for the last six years.
I sometimes feel self-conscious for getting so excited about things. I love about reading, which doesn't exactly make me cool. I enjoy baking and sewing, which, again, are not the most popular activities for girls my age (maybe in the 1800s, but not today). And while I also love learning to code, working on graphic design projects, and working out, I often feel like I need to temper down my excitement around other people, even for the subjects that are more interesting to others. This has also been true with the wedding, when I don't want to overwhelm my friends with color palettes and photos. But trying on dresses wasn't one of those times.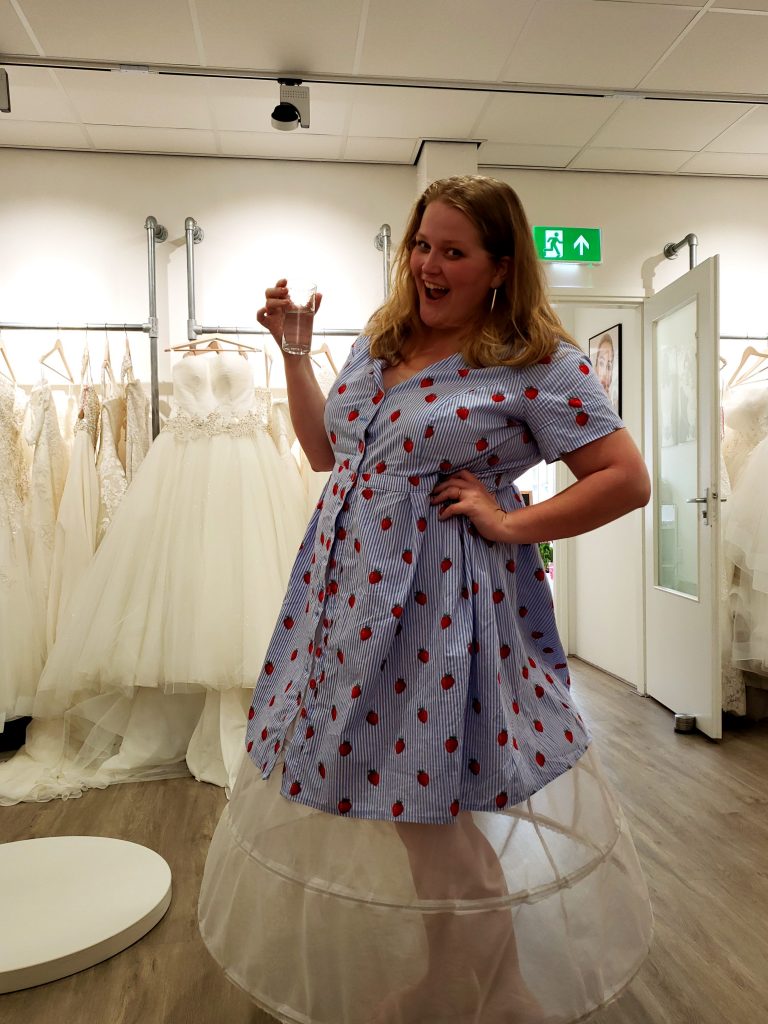 Prancing around in my day clothes and a hoop skirt.
Standing in the middle of the room, surrounded by lace and tulle and wearing the most beautiful and expensive dresses I'd ever put on in my life, I felt giddy with excitement and joy. In the end, I tried on eight dresses, and wavered between two that both made me feel absolutely beautiful. As my friends and the shop owners talked about the dresses, I stood on a little wooden podium, staring at myself in the mirror, and I started to cry. Watching dozens of wedding TV shows in the past, I never quite understood why a dress could bring you to tears. But I realized that day that you're not crying because of the dress; you're crying because of all the gowns that make you feel like you're playing dress-up, there's one that makes it all feel real. It makes you feel like a bride. It reminds you that you're actually going to marry the love of your life.
As cheesy as it all sounds, that was an important moment for me. In the midst of the wedding planning process, where there's so much stress and compromise, this was a moment where I felt celebrated and, unequivocally, happy.
So… I'm buying, not making, my dress. I've decided not to show Ken (or the internet) the dress I chose until the day of, but the final choice made me feel so happy that my photos in it are by far my favorite. Here's as much as I can show you: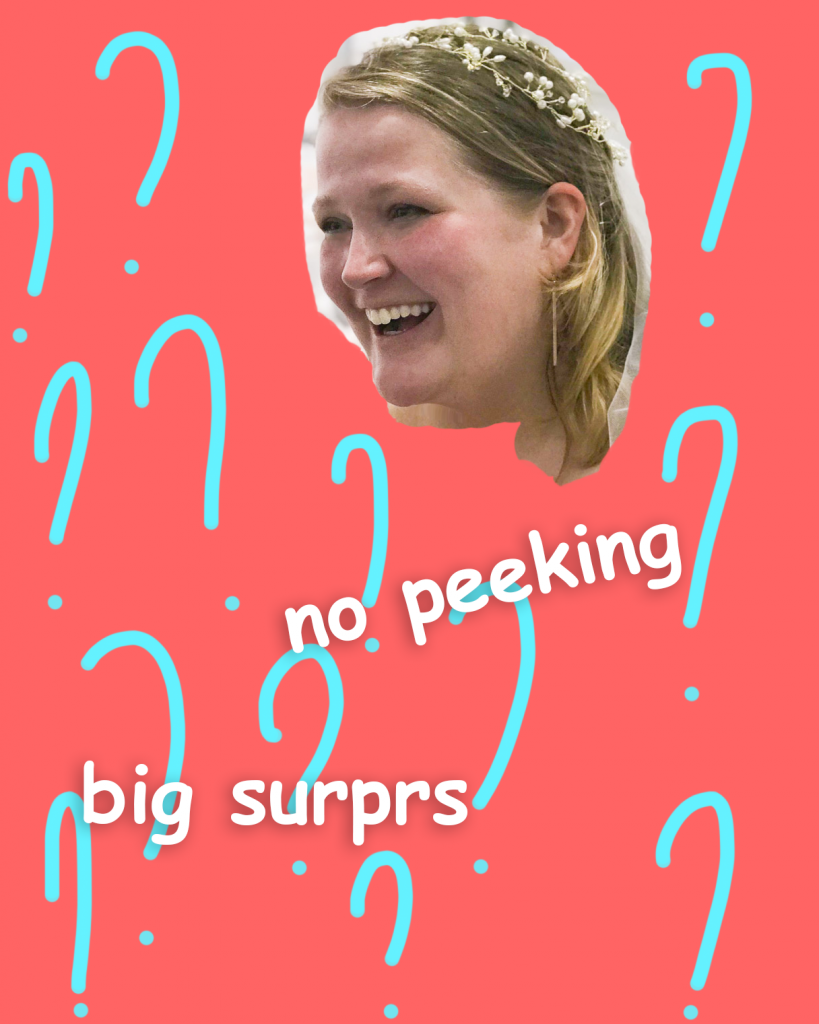 For the real thing, I guess you'll have to wait 'til next June. (: