Welcome to the first day of Blogmas with Sara Laughed, where I'm blogging every day 'til Christmas Day. Head over to my Blogmas calendar to see the full collection, or click on the gift tag below!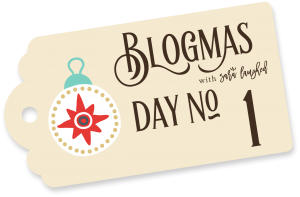 A few days into my relationship with Ken, I took him out to buy flowers that we could hand out to strangers. Ken is an introvert, so this was a bit of a disaster for him. While I skipped up to strange men and women to offer them roses or brightly-colored daisies, Ken hung back with the rest of the bouquet. But while our energies about the whole thing were a little different (and he may have been playing along just to make a good impression), it became a recurring date idea for us. It's one of my fondest memories now.
If there's ever a month that this kind of do-goodery is perfect for, it's December. I hear people talk about the "Season of Giving," but that giving is usually referring to physical gifts, and not spiritual and emotional gifts that we share with each other. That's why I put together a challenge of sorts for myself, and for you if you'd like to join me: Do Good December.
Do Good December is a challenge of 25 acts of kindness you can complete without too much cost or difficulty. Some are small, like smiling at a stranger, or big, like forgiving someone you've been resentful towards. It's my hope that this kind of calendar will encourage you to be a little kinder to the people in your life, whether those are people you love or people you've just met.
You can see the calendar below, or download the Do Good December PDF here.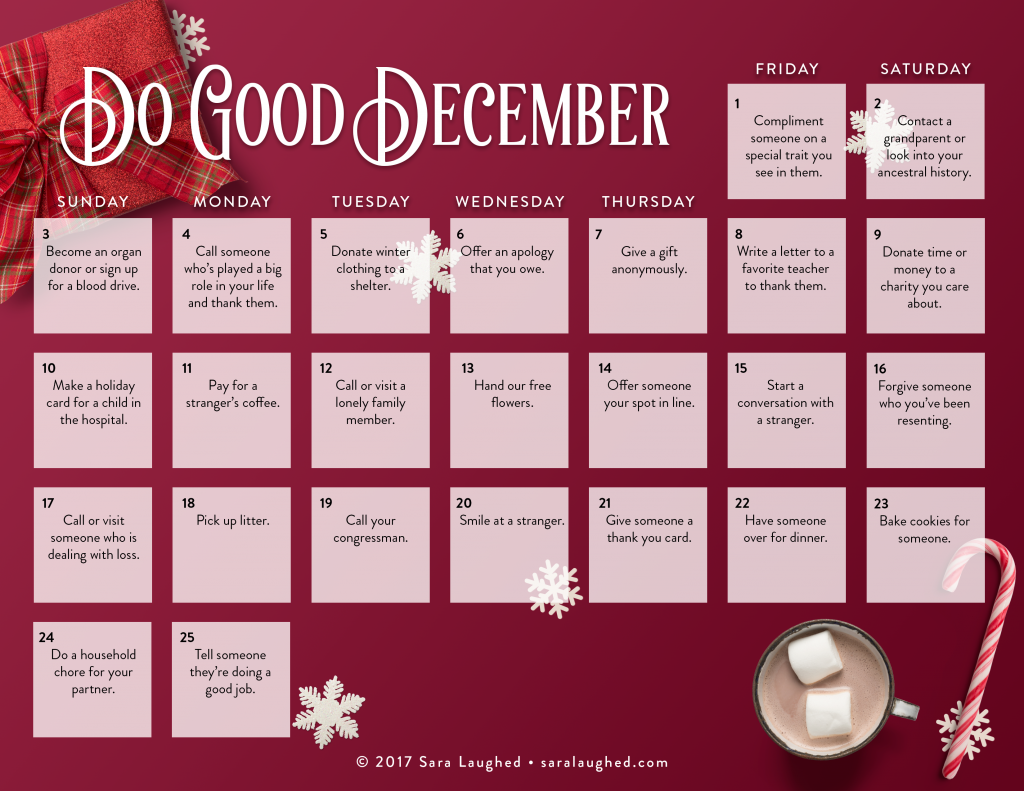 Here are the daily challenges!
Compliment someone on a special trait you see in them.
Contact a grandparent or look into your ancestral history.
Become an organ donor or sign up for a blood drive.
Call someone who's played a big role in your life and thank them.
Donate winter clothing to a shelter. Here's an article on the best items to donate to shelters, or you can check out One Warm Coat if you're interested in hosting a coat drive.
Offer an apology that you owe.
Give a gift anonymously.
Write a letter to a favorite teacher to thank them.
Donate time or money to a charity you care about.
Make a holiday card for a child in the hospital — Cards for Hospitalized Kids is always looking for submissions!
Pay for a stranger's coffee.
Call or visit a lonely family member.
Hand out free flowers.
Offer someone your spot in line.
Start a conversation with a stranger.
Forgive someone who you've been resenting.
Call or visit someone dealing with loss.
Pick up letter.
Call your congressman — read my article on calling your representatives for tips.
Smile at a stranger.
Give someone a thank you card.
Have someone over for dinner.
Bake cookies for someone.
Do a household chore for your partner.
Tell someone they're doing a good job.
If you're interested in joining me, please save or print out the calendar and follow along! You can also share about your experiences on Twitter and Instagram using the hashtag #DoGoodDecember. And please let me know in the comments: what's your favorite good deed for the holidays?