If you've been reading my blog for a while, you know this story already. If not, it goes like this:
Years ago, I was an awful student. I didn't work and I didn't try. Then from one day to the next, my whole attitude changed. In the years since, I have worked hard to make something more out of myself. The story is still being written, but as of today I have a scholarship at a great college, have finished my year abroad at Oxford, and am truly happy.
As you can imagine, the change wasn't easy! It took years of hard work and the formation of an entire new mindset and lifestyle. A few months ago, I realized that that information – the story of how I did it, and all the advice and lessons I could give – could be worth something. It could actually help someone who might be where I used to be. So I wrote it all down – every single piece of academic advice I could think of, every step of my process – and put it in an eBook. And today, I am so thrilled to share that that eBook is available!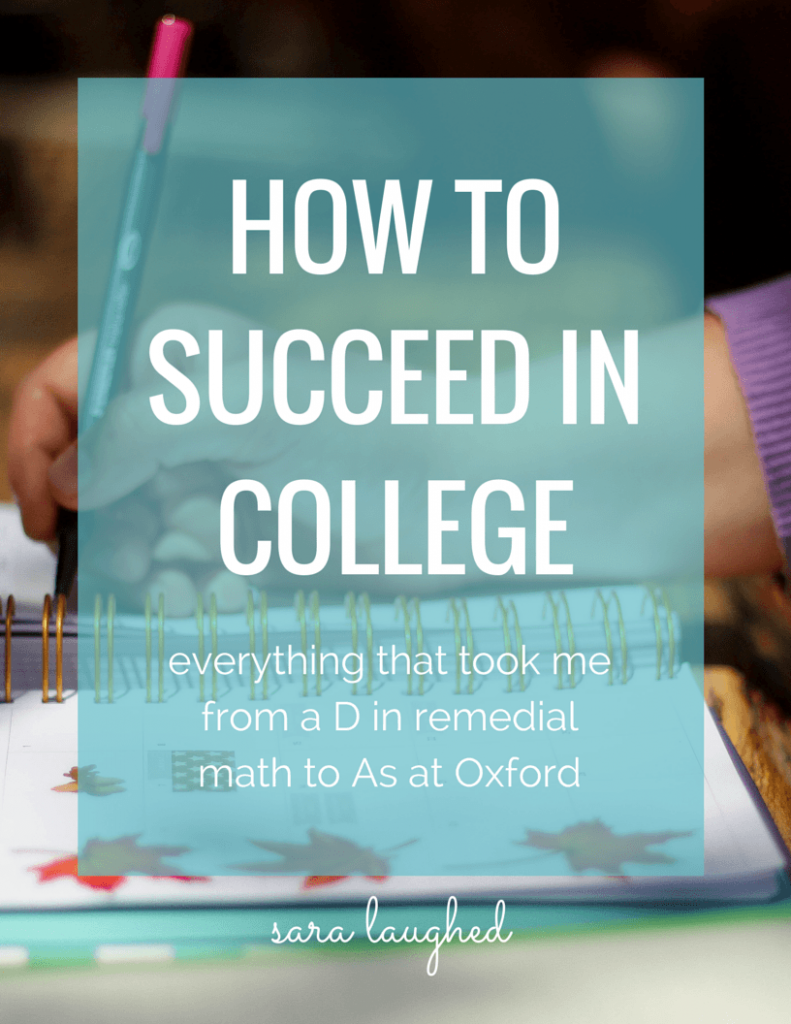 Over at the launch page, you can read more about the book, see what's included, and download a free sample chapter. I hope you do – I have put so much love and hard work into this book, and I am so thrilled to share it with you.
Here are a few reviews from some of my fellow college bloggers:
"Honestly, I don't think that there is anything that she missed regarding academic success in college, and the takeaways prove it. Sara is a superstar and I definitely gained a lot that I hadn't even considered before reading her book… You all know I don't promote something that I don't support – so believe me when I say that this is the best resource I've found all in one place for achieving academic success." – Morgan at Mostly Morgan
"Besides giving me a few new tips for my academic toolbox, [Sara's] Ebook emphasizes how possible it is for anyone to not only survive, but thrive at college. In class, in clubs and with the crew. And that's no laughing matter." – Casey at Casey the College Celiac
"I loved this eBook. Honestly, one of the best books about college and how to reach academic success (and I've read many)." – Ally at Preppy Little Lesbian
"Do I think Sara's advice works? I know it does… Every time I reference it, the positive energy inside makes me feel like I could climb a mountain, or run a marathon… She strikes just the right balance in her writing, and all her advice is rock solid." – Megan at Living Between the Lines
Do you want more information? Head over at the launch page!