Welcome to the second day of Blogmas with Sara Laughed, where I'm blogging every day 'til Christmas Day. Head over to my Blogmas calendar to see the full collection, or click on the gift tag below!
This is the first year that my partner Ken and I are celebrating Christmas on our own. One of the things we (okay, I) was most excited about this holiday season was starting new traditions together. For Advent, especially, I wanted to find a way to mark the days until Christmas that would also leave us with lasting memories for years to come. That's the idea behind our Advent memory calendar.
The Advent memory calendar is a set of 25 envelopes which contain questions, challenges, and prompts to reflect on the past year and look forward to the year ahead. It's reusable, and the idea is that every year, you add an answer to the daily envelope and can look back at answers from previous years, similar to one of those sentence-a-day five year journals.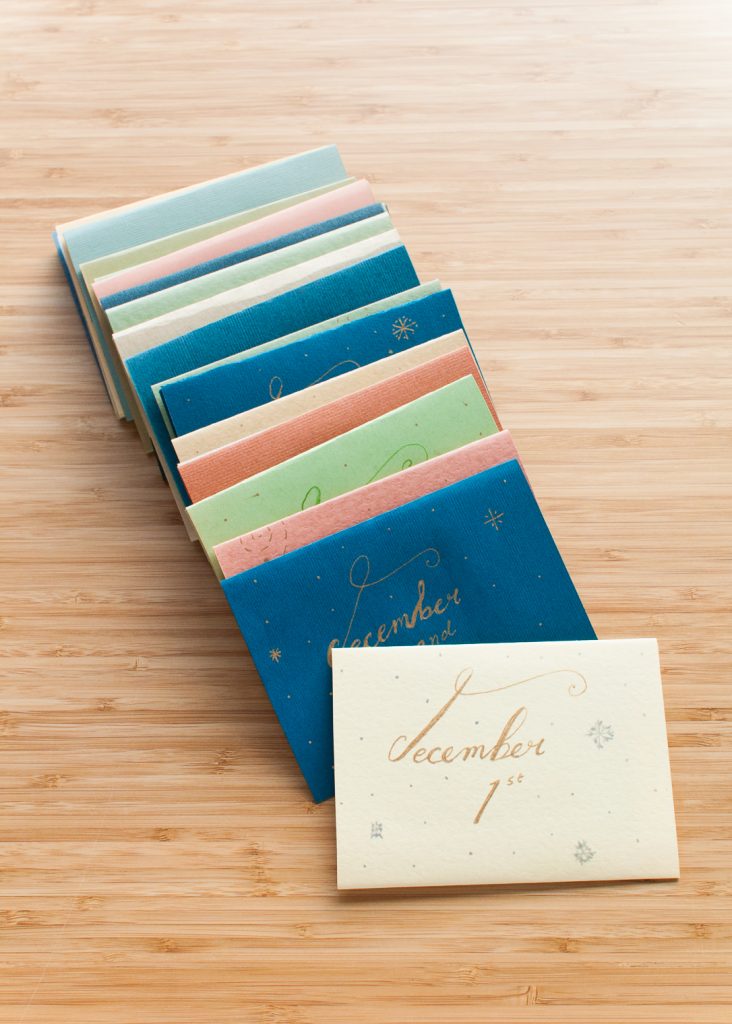 How to Make an Advent Memory Calendar
Ken and I sat down to come up with our questions together. They include things like journaling prompts ("how is this Christmas different from last year?"), doodle challenges ("draw the Christmas tree"), and collecting favorite recipes, songs, and photos from this year to store in the envelopes. If you'll be making this Advent calendar with a partner or with your family, I recommend trying to come up with your own prompts or questions, just to infuse them with some extra meaning. But feel free to use ours as a template or starting point! I've included our full list below.
To make this calendar, you'll need:
25 sheets of colored paper, or 25 envelopes.
Several sheets of white paper to create the cards that go in the envelopes.
A black felt-tip or ballpoint pen.
Gel pens or markers for decoration.
Something to keep your envelopes in.
Making the Envelopes for your Advent Memory Calendar
Though you can use any kind of envelopes you like, the envelopes I made have a flat section and a pocket to hold each year's answers. If you're interested in making the same kind of envelopes, feel free to print out a copy of my template, and trace it onto your sheets of paper.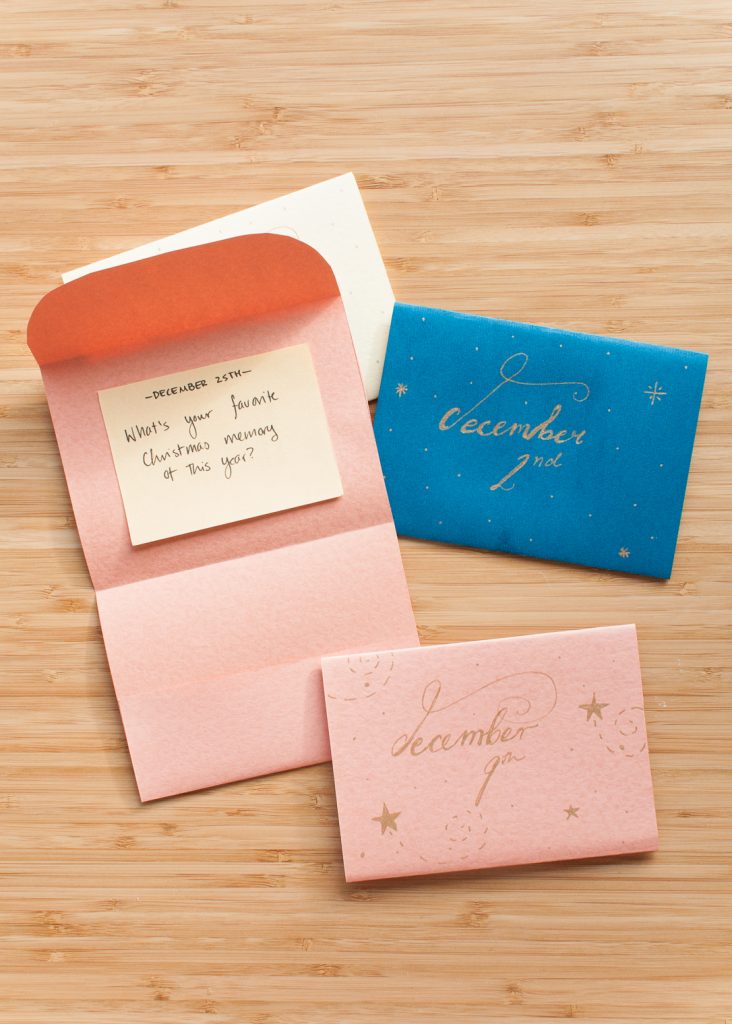 Cut out the 25 envelope templates and fold along the dotted lines. To save time, I cut out one template from a thick card stock, and would place the envelope sheets inside the card stock template and fold it, so it would create indents in the envelopes. This kept all my envelopes a uniform size.
Using a glue stick, create a line of glue on either side of the bottom-most flap of the envelope, and then fold the flap up so that it creates a small envelope-section.
Now cut out 25 question squares — again, feel free to use my template. Glue one on the flat inside section of each envelope. I wrote my questions on these squares.
Finally, if you like, you can decorate the outside of the envelopes with markers or gel pens.
Questions and prompts for your Advent memory calendar
Ken and I came up with the questions for our Advent calendar together. I think that making up your questions with your partner or family could be a really fun way to kick-off this tradition, but if you're interested in borrowing ours, that's fine too! If you want a PDF, here is our template.
Here's what we came up with:
December 1st: What's the best book you've read this year?
December 2nd: What's your favorite recipe of the year? Include the recipe.
December 3rd: With a million-dollar budget, what Christmas present would you give each other this year?
December 4th: What's the best or funniest mishap from this year?
December 5th: Write a silly poem for each other.
December 6th: What's the best and worst purchase of this year?
December 7th: What's one thing you're looking forward to next year?
December 8th: What's one thing on your wish list this year?
December 9th: What's your proudest moment from this year?
December 10th: What's one piece of advice you wish you had at the beginning of this year?
December 11th: Make a five-song "playlist" from this year.
December 12th: What's the best photo from this year?
December 13th: Draw the Christmas tree.
December 14th: What's one lesson you learned this year?
December 15th: What's one tradition or habit you'd like to carry forward?
December 16th: What's one tradition or habit you'd like to give up?
December 17th: What's one way this Christmas is different from last year?
December 18th: Favorite (Christmas) movie of this year?
December 19th: What's one thing from this year that you'd take back?
December 20th: What's one thing you're grateful for today?
December 21st: What's one thing you would like to work on this year in your relationship?
December 22nd: What's one thing that you did really well this year in your relationship?
December 23rd: Draw a picture of each other this year.
December 24th: What's one catchphrase from this year?
December 25th: What was your favorite Christmas memory from this year?
Be sure to also cut out some sheets of paper to include in each envelope for your answers. I added the years to the tops of each sheet of paper, and left questions like "your favorite photo" or "the best recipe" blank so that I could print them and add them myself each year.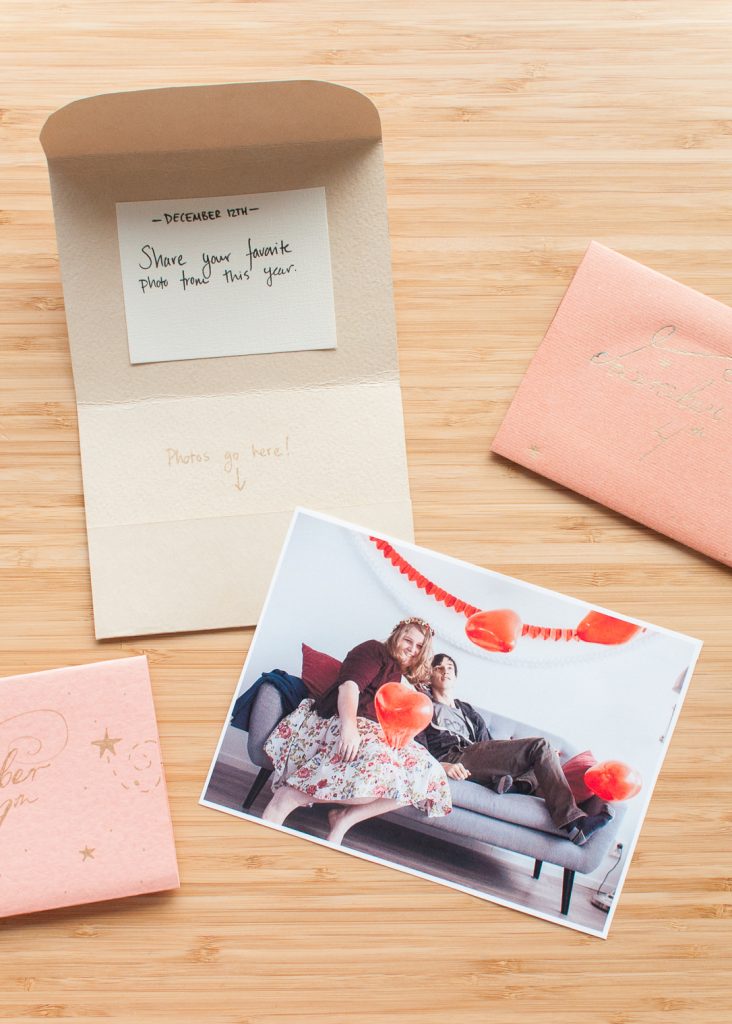 What Advent traditions do you have in your family? Let me know in the comments below!