One of the questions I'm asked most often for this blog is how I take notes. That makes sense; note-taking helps process and absorb information, and I honestly think I'd be a much worst student without a note-taking system! Today I'm going to take you through my in-class note-taking process (including tips from my eBook How to Succeed in College), and show you how I use my Bamboo Spark by Wacom to help me.
My class note-taking tools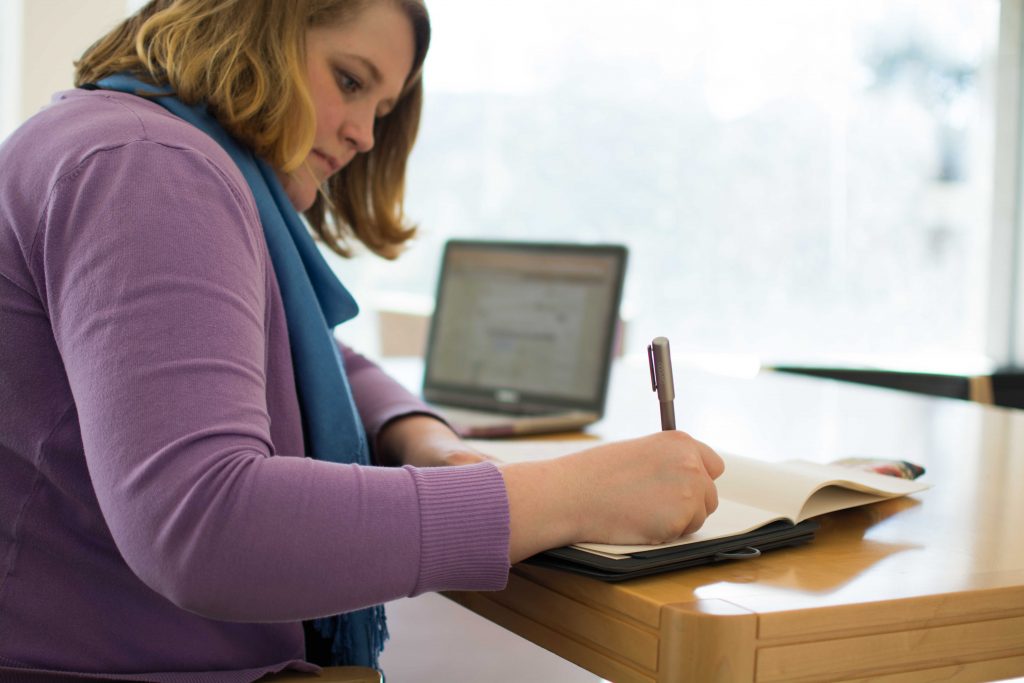 I prefer doing my written note-taking on a computer. I type very quickly (faster than I can take notes by hand), and computer note-taking makes it easier for me to review the information when I'm studying. However, taking notes by hand has been proven to be more useful for consolidating and remembering information, and for a long time, I struggled to internalize my class notes while I was writing them because I was only using a computer.
Another struggle that I had with taking notes was that I prefered to type my notes and make drawings and diagrams. While it's easy for me to save my typed notes, it's hard to keep them linked to my diagrams unless I print my typed notes and add the diagrams later. This didn't used to be a huge issue, but now that I'm taking a science class (which involves lots of drawings and illustrations to help understand the information), it's become more necessary to do both kinds of note-taking. That's why I really enjoy using my Bamboo Spark, which lets me digitize my notes and learn my way.
Here are the tools I use to take great class notes:
A laptop for typed notes
My Wacom Bamboo Spark for diagrams and drawings. The Bamboo Spark comes with a smart folio, a note-taking pad, the Bamboo Spark pen, two replacement cartridges, and a USB charging cable. It works with any Bluetooth Smart ready devices, including iOS and Android!
A notebook and pen for any overflow
Computer plug-ins like SelfControl to keep me focused when I'm on my laptop!
How I use these tools to take notes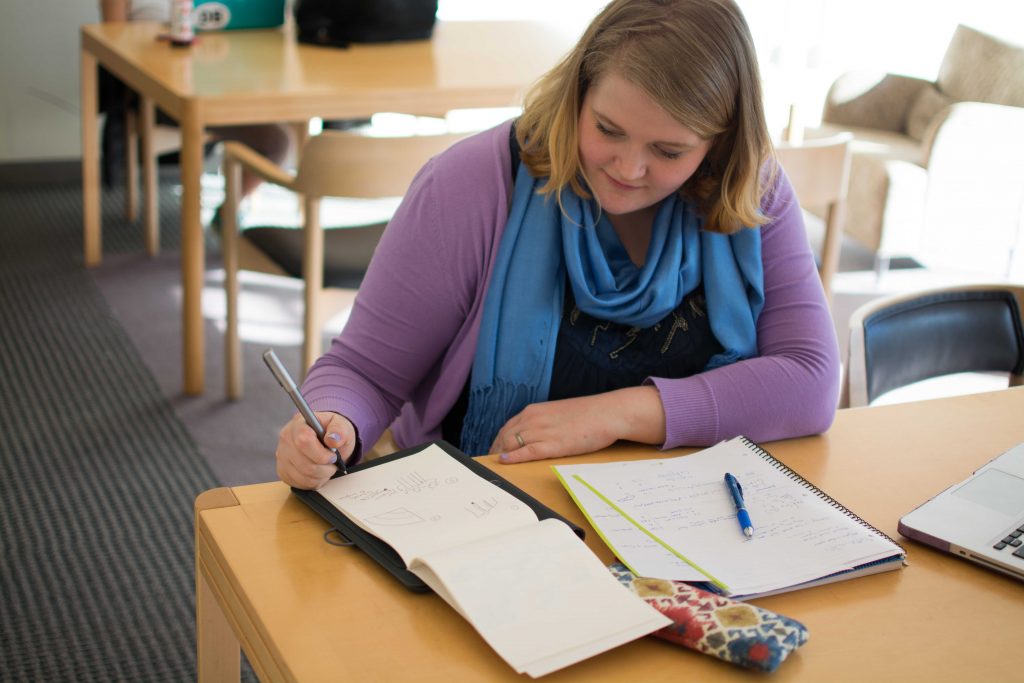 Typing my class notes
During a lecture class or seminar, I type up notes on what the professor is saying, or the questions and comments that my classmates contribute. I especially focus on things that are written on the board, repeated, or emphasized.
Including diagrams, flow-charts, and other notes
Whenever a diagram is made on the board, or if I need to make a Venn Diagram or flow chart so that I can better understand the information, I turn on my Bamboo Spark and use the special pen to make the drawing. At the end of class, I can easily transfer these doodles to my phone and laptop with the touch of a button. (Here's a video where you can see how this works!) The Bamboo Spark can record and even transcribe my handwriting, and connects with cloud-based drives like Evernote and DropBox.
Dealing with overflow
If the class breaks off into discussion groups, or if I struggle to stay focused on my computer, I'll shut my laptop and go over to handwriting all my notes on either a large notebook or the Bamboo Spark. The notebook is useful if I need to turn in the notes or assignment at the end of class, but what I prefer about the Bamboo Spark is that I have a digital copy and a hard copy available to me.
Digitizing my diagrams
I can easily transport the notes from my Bamboo Spark by Wacom over to my laptop or phone, because with Cloud sharing, all I have to do is press the button and watch it download. To include these diagrams in my notes, I can crop or screenshot the image from the Bamboo Spark and drag-and-drop them to my notes!
Tips for effective note-taking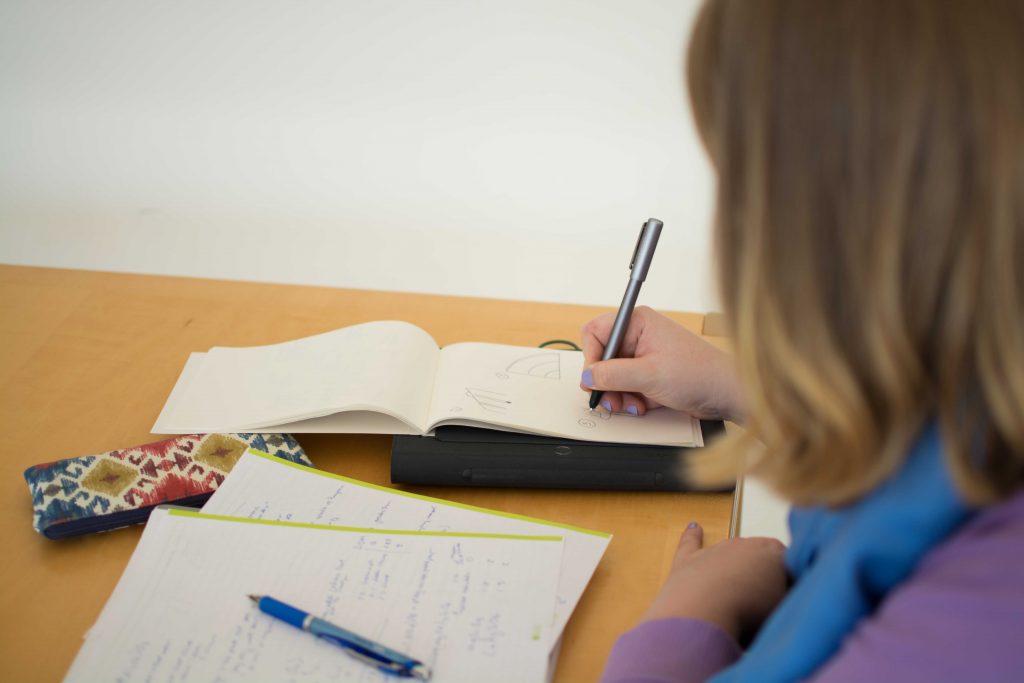 For a little insight into my top note-taking strategies, I'm including an excerpt of the "In Class" chapter of my college eBook, How to Succeed in College.  Here are my top tips for taking excellent in-class notes:
When taking notes by hand, stick to phrases and keywords, not full sentences. Feel free to use complete sentences if you are a fast typist and using a laptop.
Don't copy the teacher or the textbook word for word. Instead, rephrase and use your own language so that you avoid plagiarism and process the information better. There is absolutely no way you'll be able to write down everything that happens in class; it's better to listen actively and fill in your notes later than get behind because you were busy taking notes verbatim.
Write down anything that is:

Repeated
Emphasized
Written on the board

Ask yourself questions as you take notes. Don't just write down what the teacher is saying. Ask yourself, Why does this make sense? How does this work?
If you don't understand something, circle it in your notes and remember to either ask the professor or consult the reading later.
Review your notes after class. Reread them once, adding in the margins, after you get back from class, and once more the next day. This will help you remember the information later on. (And it's a great time to add any diagrams and flowcharts from your Bamboo Spark!)
I hope these tips will help you with your own note-taking process!
Do you use a Bamboo Spark? What's your number-one note-taking strategy?
This post is sponsored by Wacom and Her Campus Media. I received the product free of charge. All opinions are my own. Thank you for supporting the brands that make Sara Laughed possible!