What a fun week we've been having in Advent Illustrated. I know some people in the group have been struggling to keep up with the daily prompts (myself included), but I'm so happy to see the page flooded with new artwork every day. This blog post is an attempt to showcase some of the different interpretations of the work we've seen this past week. I have attributed everyone by first name and last initial, or by Instagram handle. However, if you were featured and you have a blog you'd like me to link to, please comment below and I'll get on it!
Let's jump in.
Monday, December 7th 2015 //  House of God

"And he dreamed, and behold, there was a ladder set up on the earth, and the top of it reached to heaven. And behold, the angels of God were ascending and descending on it! And behold, the Lord stood above it and said, "I am the Lord, the God of Abraham your father and the God of Isaac… Behold, I am with you and will keep you wherever you go, and will bring you back to this land. For I will not leave you until I have done what I have promised you." Then Jacob awoke from his sleep and said, "Surely the Lord is in this place, and I did not know it."." (Genesis 28:12-16)

We had some beautiful and very unique illustrations on this day. Here are just a few!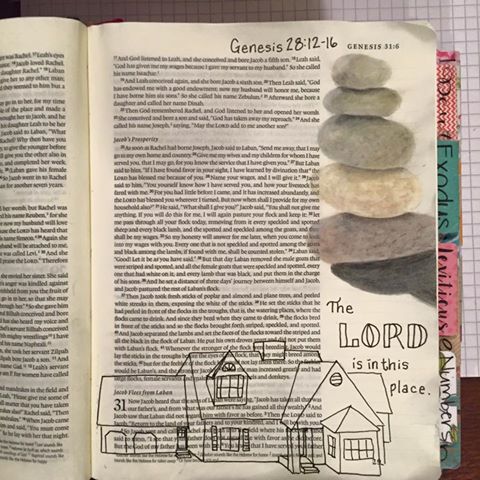 This is a lovely interpretation of the verse by Molly B. N. Thanks for sharing, Molly!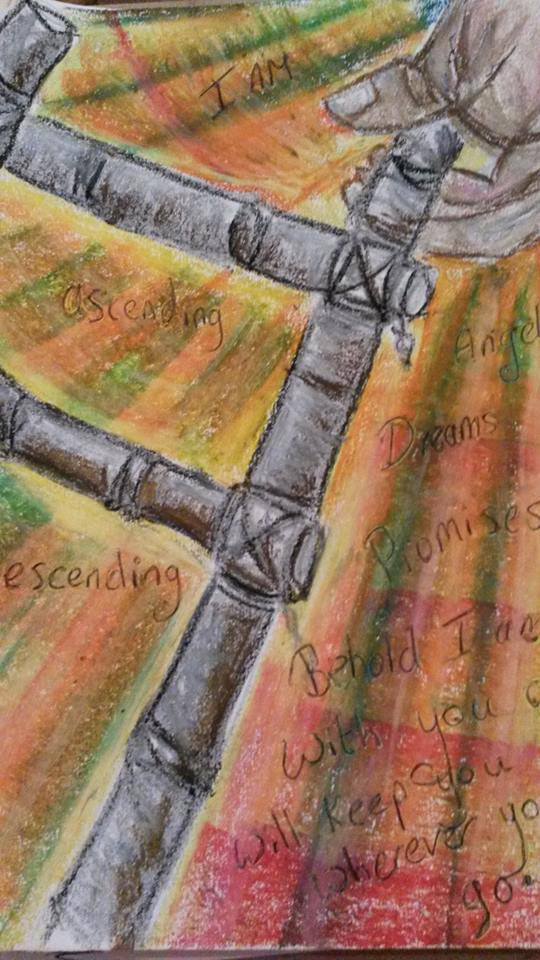 I'm really impressed by the shading and vivid colors in this illustration by Vanessa L. Y.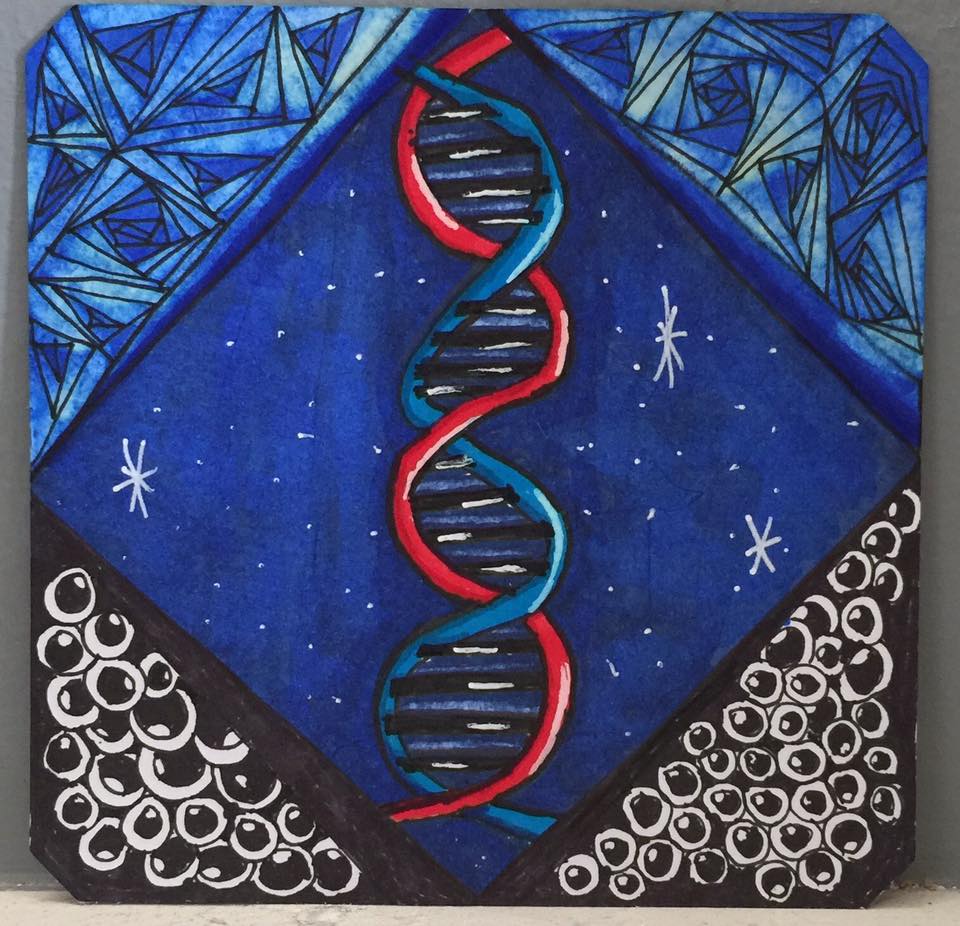 I just loved this incredible interpretation of Jacob's ladder by Katherine C. Very unique, and a great new take on an old idea!
Tuesday, December 8th 2015 //  Faith and Forgiveness

"So Joseph said to his brothers, "Come near to me, please." And they came near. And he said, "I am your brother, Joseph, whom you sold into Egypt. And now do not be distressed or angry with yourselves because you sold me here, for God sent me before you to preserve life… So it was not you who sent me here, but God."" (Genesis 45:4-5,8)

This was a really interesting verse to see illustrated, because the themes of faith and forgiveness can be very meaningful for people. Here are a few selections from Tuesday's prompt.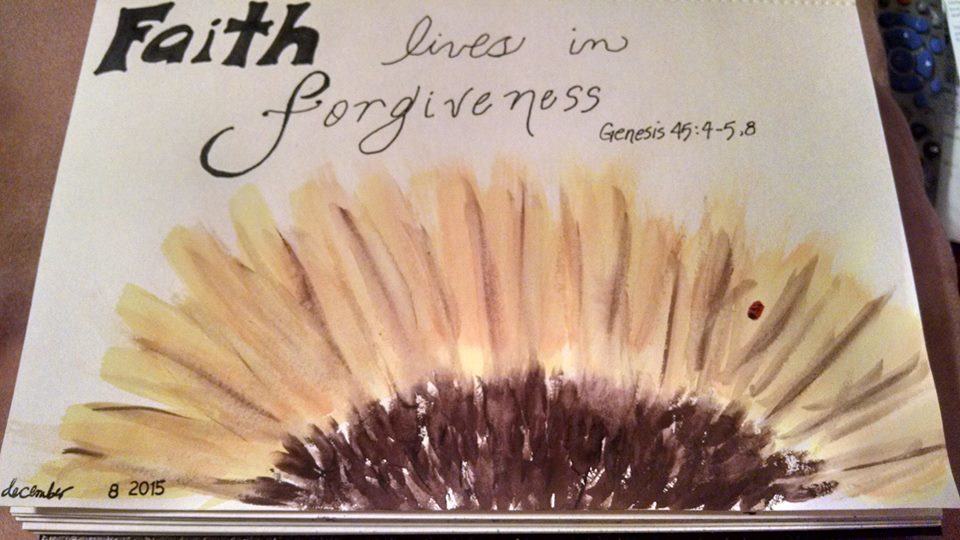 I really liked how Jill M. C. combined the themes of faith and forgiveness in this unique illustration of the verse. It's true that they often go hand-in-hand; faith in our friends and in God's love is the seed of forgiveness.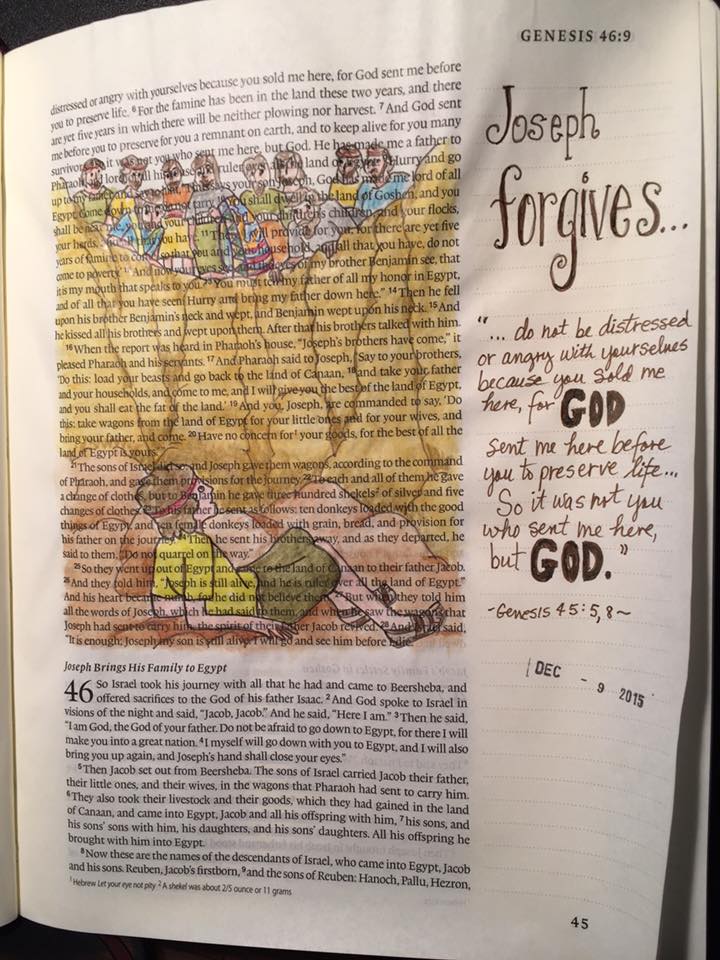 This journal entry by Sandy K. P. is a more literal illustration of the verse. I like that she illustrated the hurt caused "under" the verses about forgiveness. It highlights how hard it can be to forgive, but how it is still an important and worthy choice.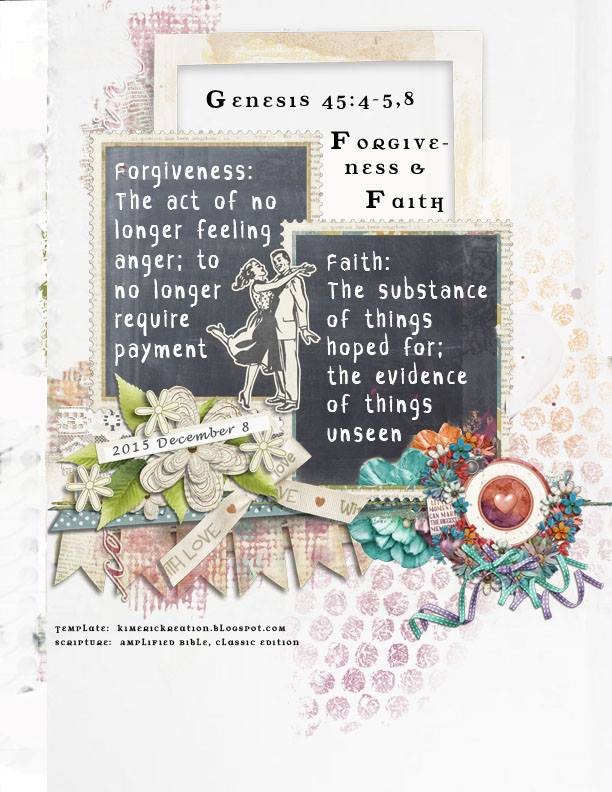 As the last choice from this day, we have an illustration by Ds P., who makes journal entries using her computer. How fun and different these entries are! Thanks for sharing, Ds!
Wednesday, December 9th 2015 //  I am that I am

"God said to Moses, "I am who I am." And he said, "Say this to the people of Israel, 'I am has sent me to you.'" God also said to Moses, "Say this to the people of Israel, 'The Lord, the God of your fathers, the God of Abraham, the God of Isaac, and the God of Jacob, has sent me to you.' This is my name forever, and thus I am to be remembered throughout all generations."." (Exodus 3:14-15)

This verse brought out some great and vibrant illustrations from our group! Here are just a few I loved.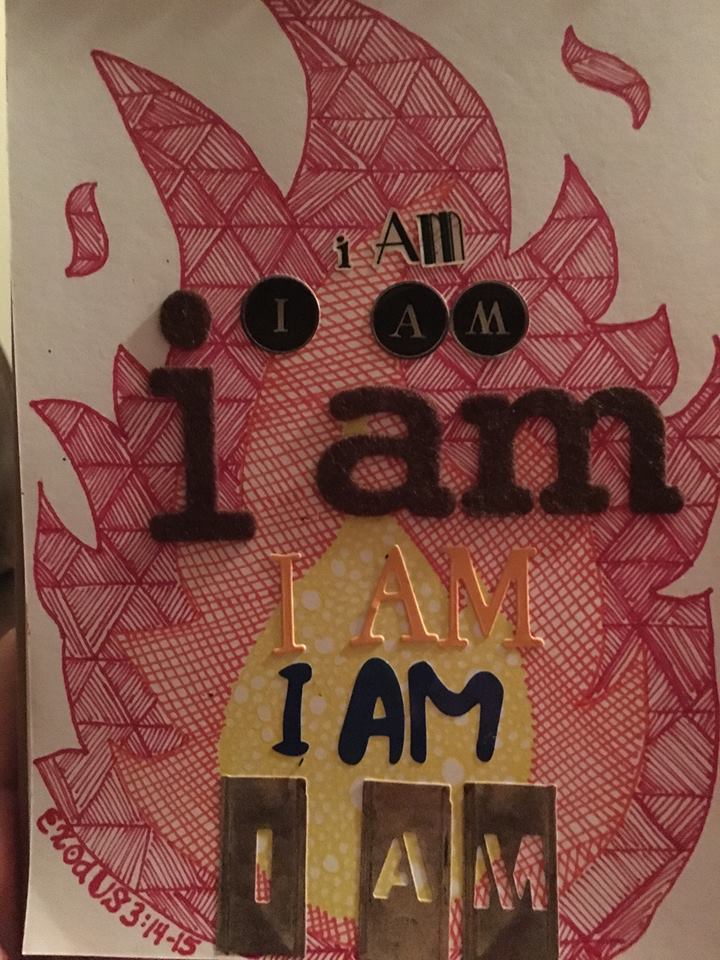 This illustration by Christina M. has some great sketching techniques that remind me a bit of Zentangles. I also like her use of stickers!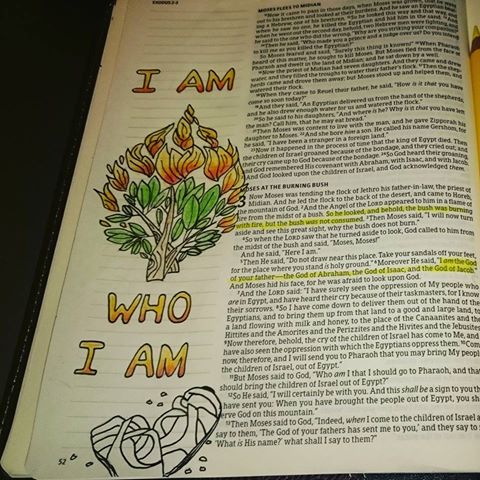 I also really like the imagery and coloring of this illustration by Rebekah C. The way she mixes the leaves from the bush with flames is really beautiful!
Lastly, I really like how Christina S. mixed English and Hebrew in this illustration!
Thursday, December 10th 2015 //  King and Donkey

"Rejoice greatly, O daughter of Zion! Shout, O daughter of Jerusalem! Behold, your King is coming to you; He is just and having salvation, Lowly and riding on a donkey, A colt, the foal of a donkey." (Zechariah 9:9)

Thursdays are our "looking forward" days, where we step out of the arc of the Biblical story to look forward to the birth of Jesus. Here are some entries for our verse from Zechariah!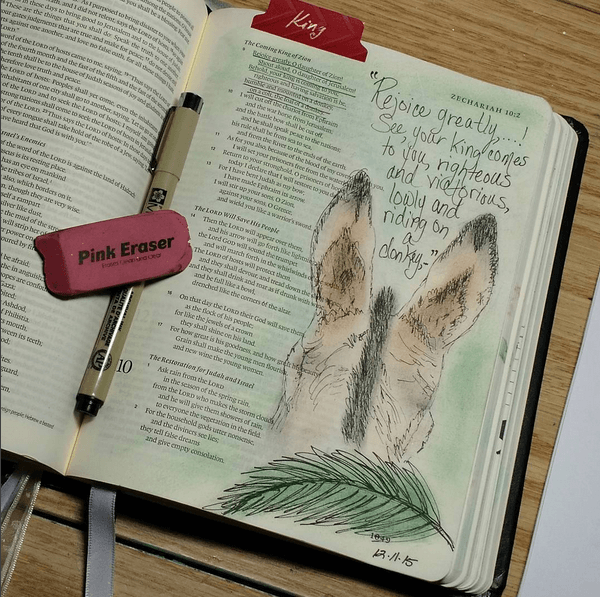 This is a stunning piece of work by Ibumom on Instagram. I love the colors and sketching. Well done!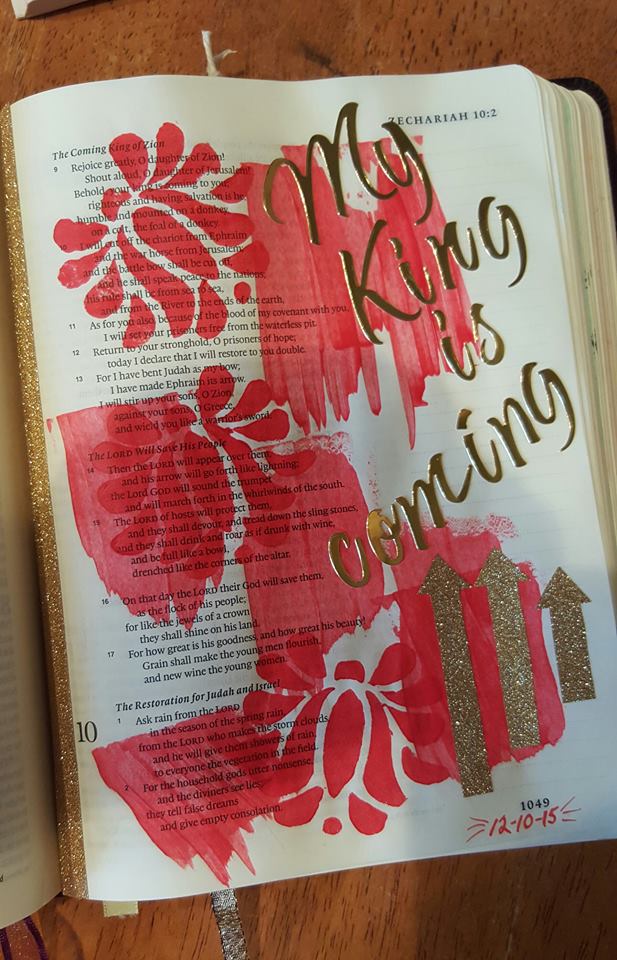 This was a really unique and vibrant piece by Dianna K. I love the mixing of the red and gold, and that she 'stepped out of the box' by following her heart instead of the prompt!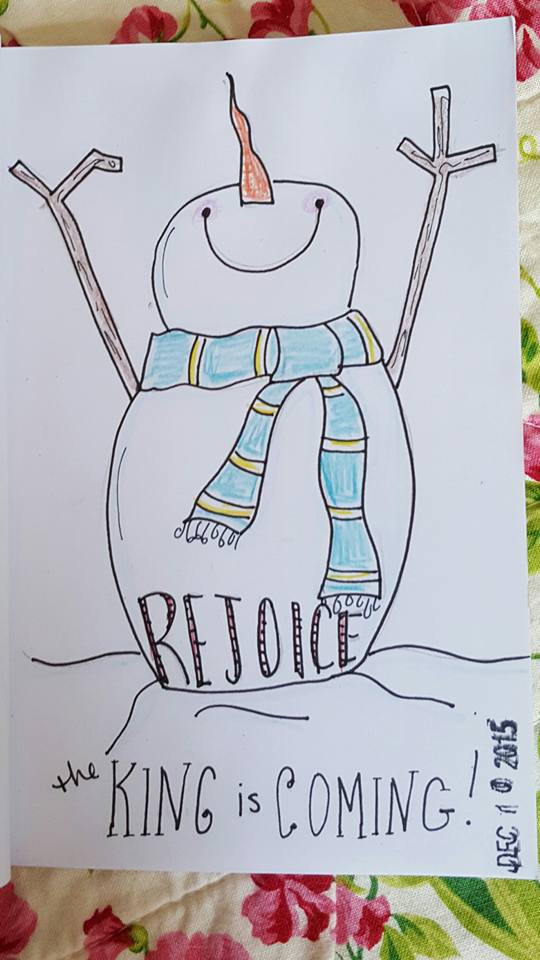 Lastly, we have this adorable rejoicing snowman by Debbie L. What a fun take on an anticipatory verse!
Friday, December 11th 2015 //  Fulfillment

"Now therefore arise, go over this Jordan, you and all this people, into the land that I am giving to them, to the people of Israel. Every place that the sole of your foot will tread upon I have given to you, just as I promised to Moses." (Joshua 1:2-3)

The prompt for this day pointed journalers to the idea of feet stepping into the promised land. Let's see a few different takes!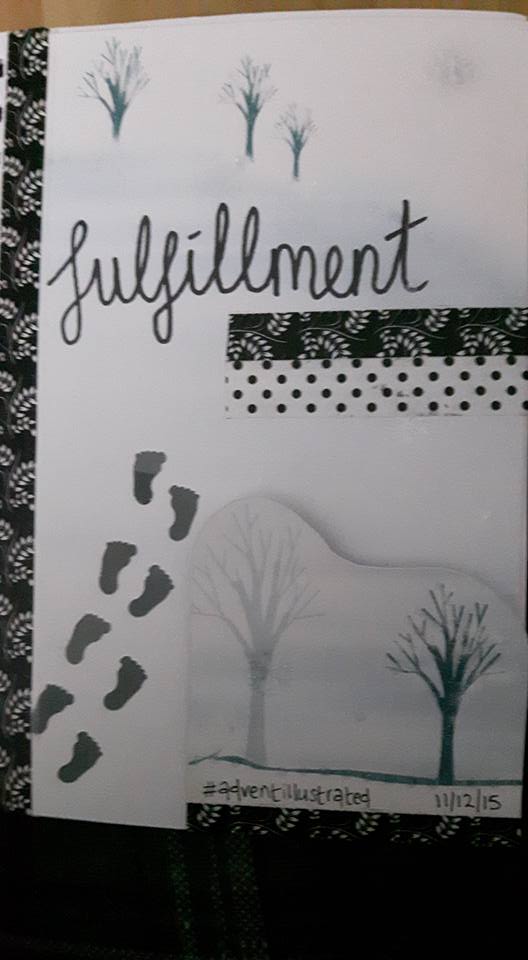 This illustration by Claire G. is really fun! I like the footsteps walking their way up the page!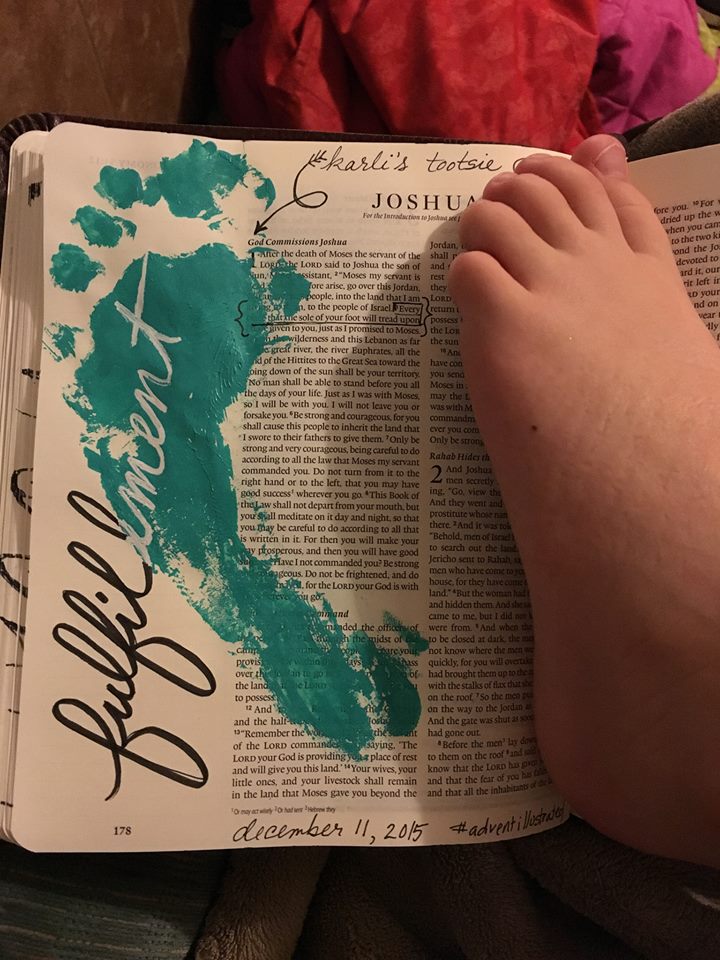 Brandi M. had her daughter place a painted footprint in her Bible margin. What a special memory for later.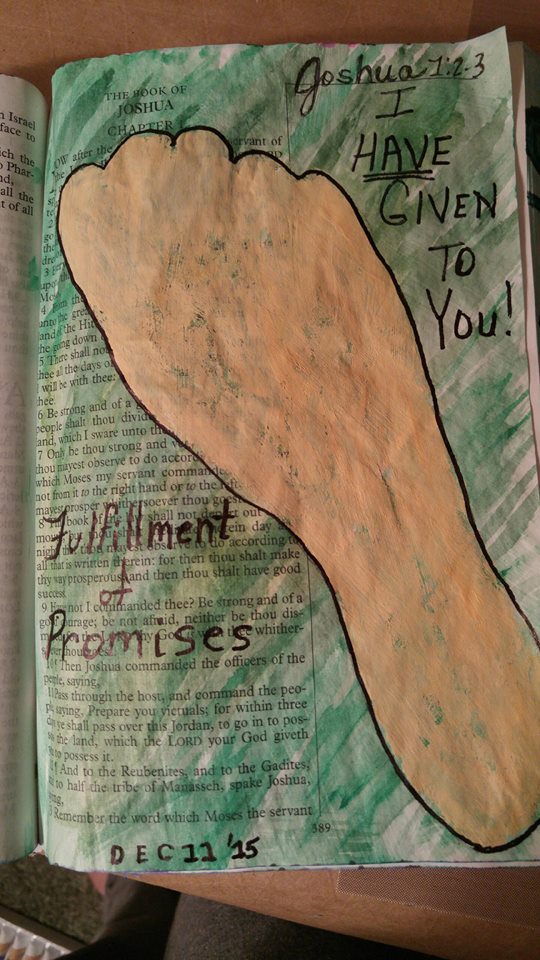 I also liked this illustration by Sherri M. P., and I like the drawing on the word 'promises.'
Friday, December 12th 2015 //  Refuge

"The Lord repay you for what you have done, and a full reward be given you by the Lord, the God of Israel, under whose wings you have come to take refuge!" (Ruth 2:12)

The Book of Ruth is my absolute favorite. I've done so many studies on it, and reading it makes me so happy, so I loved seeing peoples' takes on these verses! Here are just a few.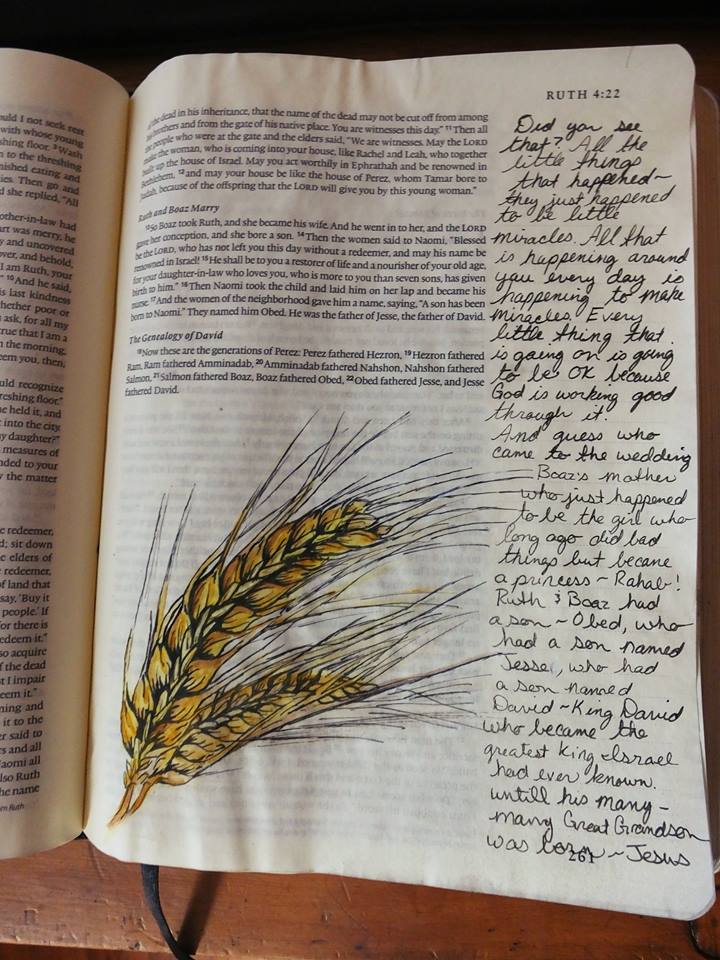 Beautiful wheat illustrations by Dianna M. I love the vividness of the colors and the feeling that the barley invokes.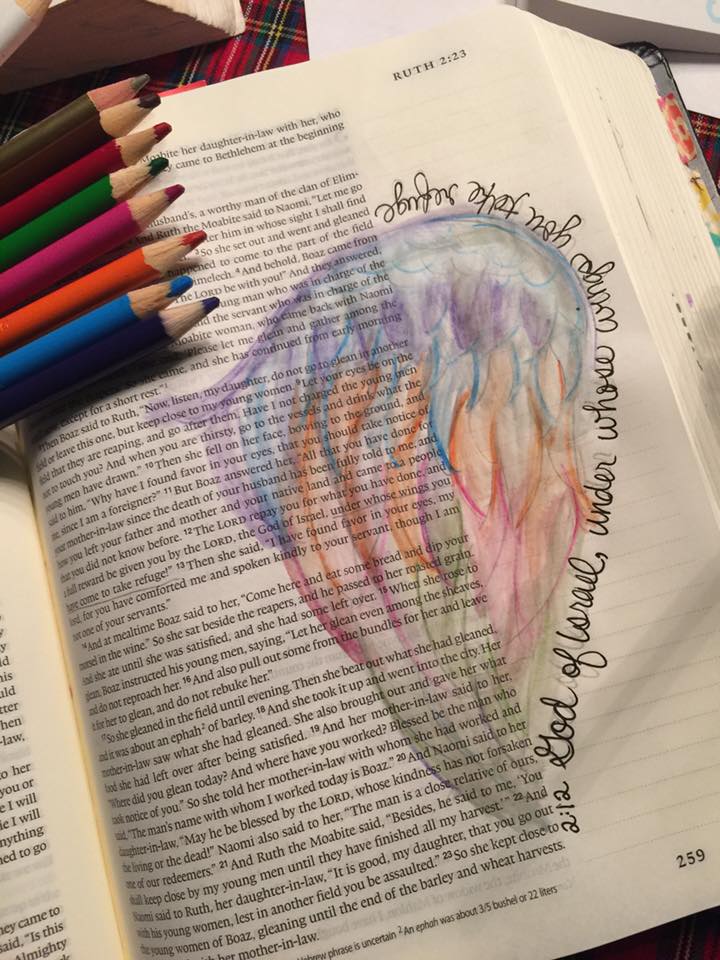 I also really appreciate the rainbow wing in this illustration by Jenny D. V.!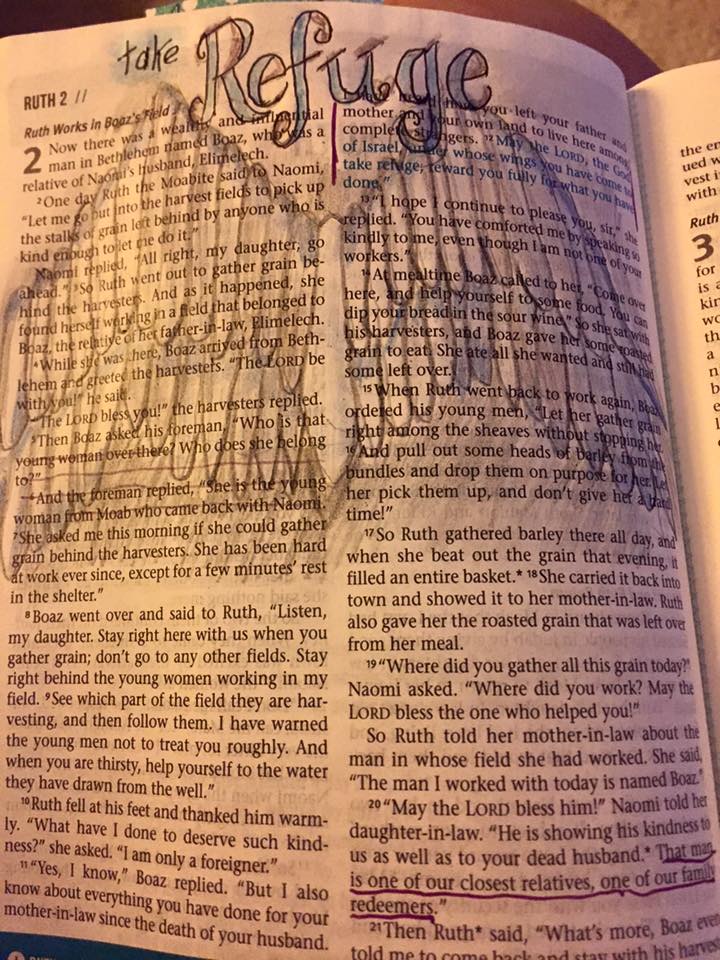 Finally, I love how these wings by Sue S. B. almost "protect" the page. A really nice take!
Those are some of my favorite illustrations from this past week! Please remember that this is certainly no talent show or art exhibition; rather, I look to feature new people and interpretations every week to showcase some of the diversity of thought and talent in our group.
Which of these speaks to you? And how are you enjoying Advent Illustrated so far? Let me know in the comments!