Winter here in the Netherlands is far from my favorite season. After Christmas and New Year's, I'm ready for flowers and sunshine, but there's still January and February to wade through. So instead of the long walks and beach trips I'm missing, I've been curling up with a good book… or 20.
As I've mentioned, I've been having a bit of a reading renaissance lately (check out this blog post if you're looking to read more, too). I love reading and watching other people's reading wrap-ups, so I thought I'd share my own on the blog today. Since this is a new series for me, I'm still experimenting with format, so please let me know in the comments what about this format you do and don't like!
Today I'm going to try a general overview of what I've read this winter, bite-sized book reviews of just a few sentences for most of the books, and a few spotlights for books I really enjoyed.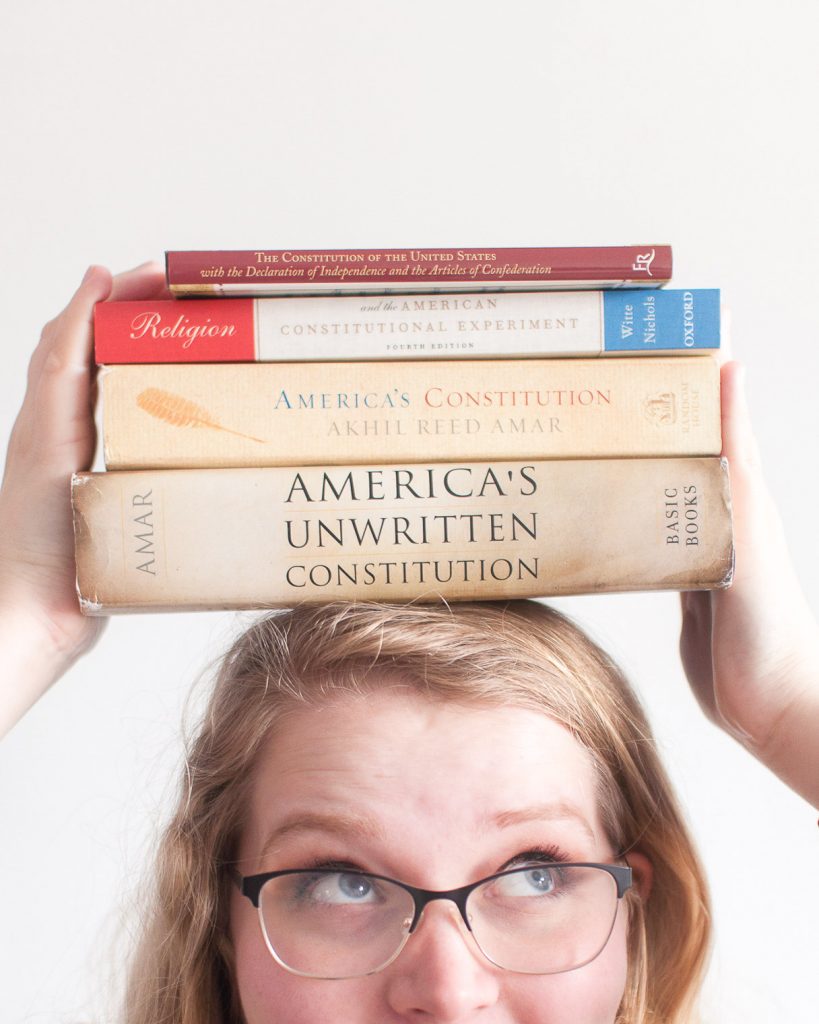 What I've Read this Winter, By the Numbers
If you don't like data, go ahead and skip this section — but if you're a nerd like me, read on!
Just for fun, I put together a little breakdown of my reading so far this year, according to genre and topic. Please note that I'm pretty stingy with my star ratings, so if some of these average ratings feel really low, you might have higher ratings than I did.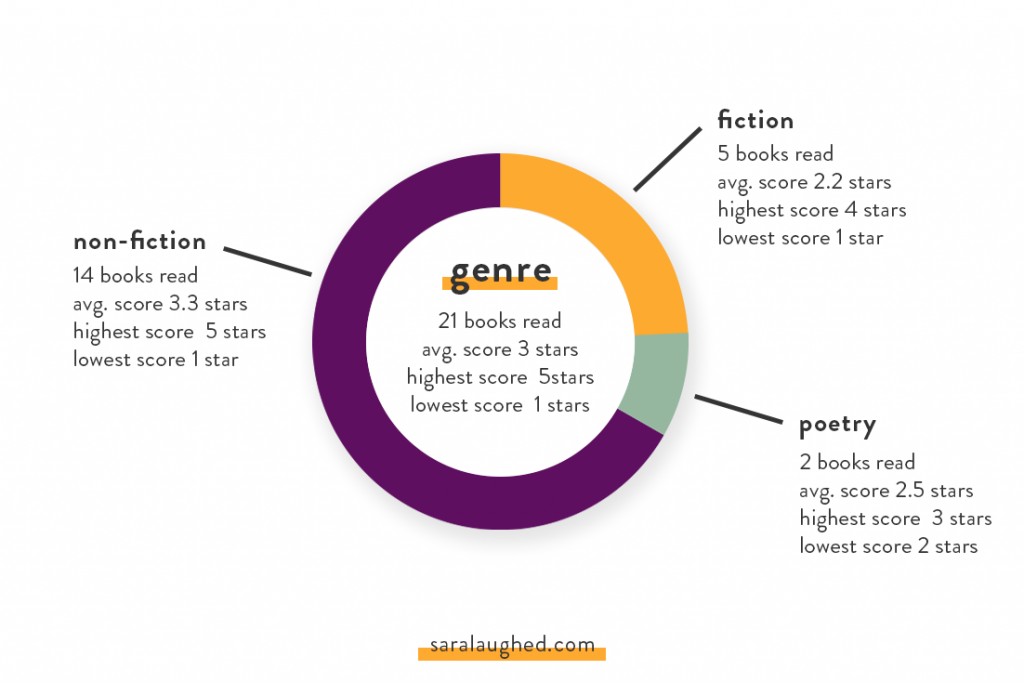 As you can see from my genre breakdown, I have a pretty strong preference for non-fiction in my reading: 14 books, compared to 5 fiction books and 2 poetry collections. My non-fiction ratings were also higher than the other two categories: 3.3 stars on average, compared to 2.2 for fiction and 2.5 for poetry. The fact that my fiction rating was so low surprised me, because I do generally enjoy fiction when I read it, whereas I tend to not be a huge fan of poetry. I realized that my fiction rating was low because I rated two novels one star so far this year.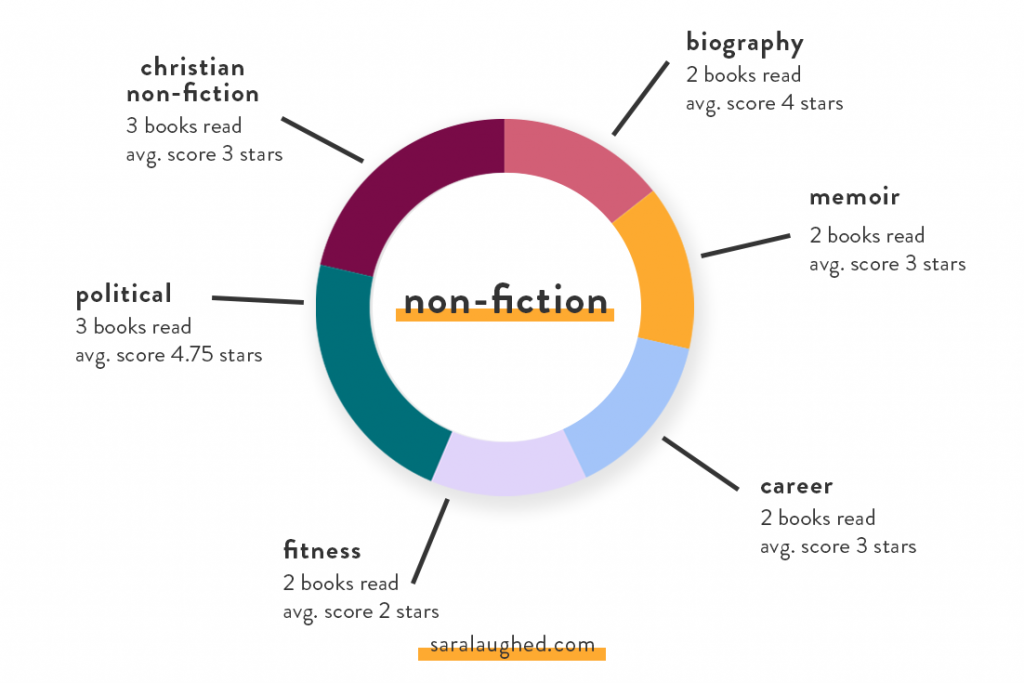 My non-fiction topics have some range, although I do tend to read a lot of Christian non-fiction and political non-fiction. Both of these categories also had some overlap with first-person accounts, so on the whole, I read a lot of autobiographical books this year, compared to other categories.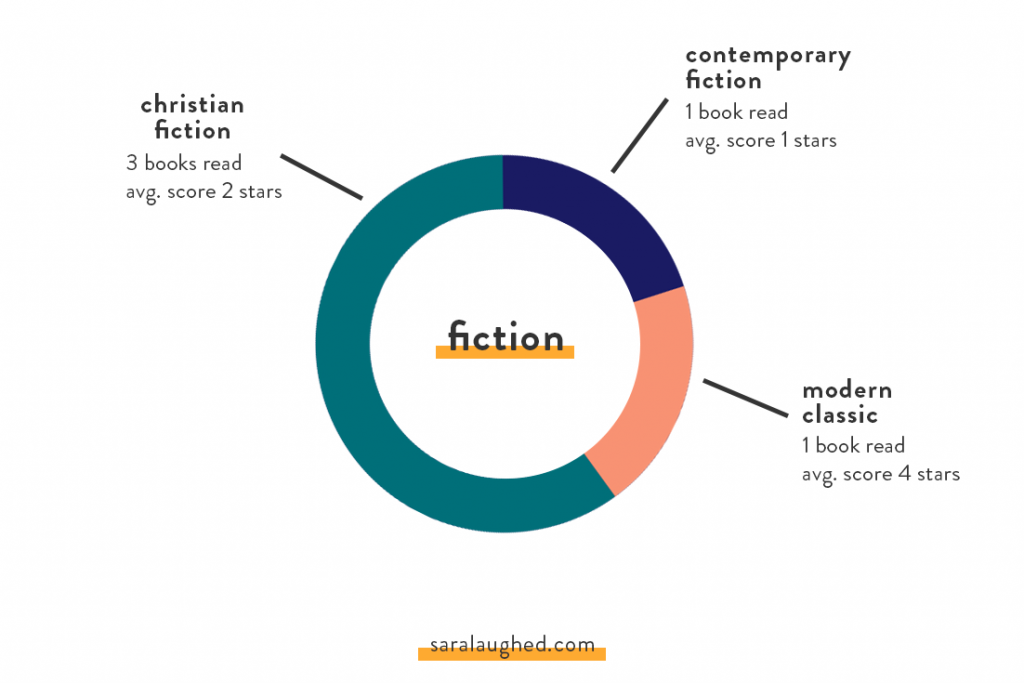 Of the five fiction books I've read so far this year, I read primarily Christian fiction. The average rating for that category is a little low because I really disliked one of the books I read. I really enjoyed the one book I read in the modern classic category, and strongly disliked the one contemporary fiction book I read.
A note on authors
Just for fun, I also thought I'd see how the authors of my books stacked up. Of the 19 authors I've read this winter, 8 were men and 11 were women. 13 authors were white, and 6 were people of color. I'm hoping to diversify the books I read this spring, and read more books by authors of color specifically.
Bite-sized Book Reviews
Please note that the following links to Amazon are affiliate links, meaning that I get a small kick-back if you order something through a link of mine. This is totally optional, but if you do, thank you for supporting my blog and helping to make my reading habit possible!
Jen Hatmaker is a Christian women's author and speaker; I've been a fan of some of her previous books, especially Interrupted: When Jesus Wrecks Your Comfortable Christianity and 7: An Experimental Mutiny Against Excess. This book is a collection of personal essays on giving yourself grace that seems catered to moms, especially. I enjoyed her writing style, but most of the essays didn't feel like they were intended for me.
Ken asked me to read this biography of one of the founding fathers of computer science, and I really loved it. In general, I love memoir but have a hard time with biographies because I find them to be top-heavy with unnecessary information about how so-and-so's grandparents met. A Mind at Play, though, was interesting and a good read. I grew pretty attached to Claude by the end of the book, and had a better understanding of how the information age came to be, as well.
Salt by Nayyirah Waheed
This is a collection of poems by author Nayyirah Waheed, reflecting on her experience as a black woman in America. Her poetry is characterized by brevity and lower-case writing, and after she self-published this collection in 2013, she grew a large following on Instagram and Twitter. I found several of these poems to be deeply moving and thought-provoking, but in general am not a huge fan of poetry, so didn't enjoy this as much as many of the other books I read this year.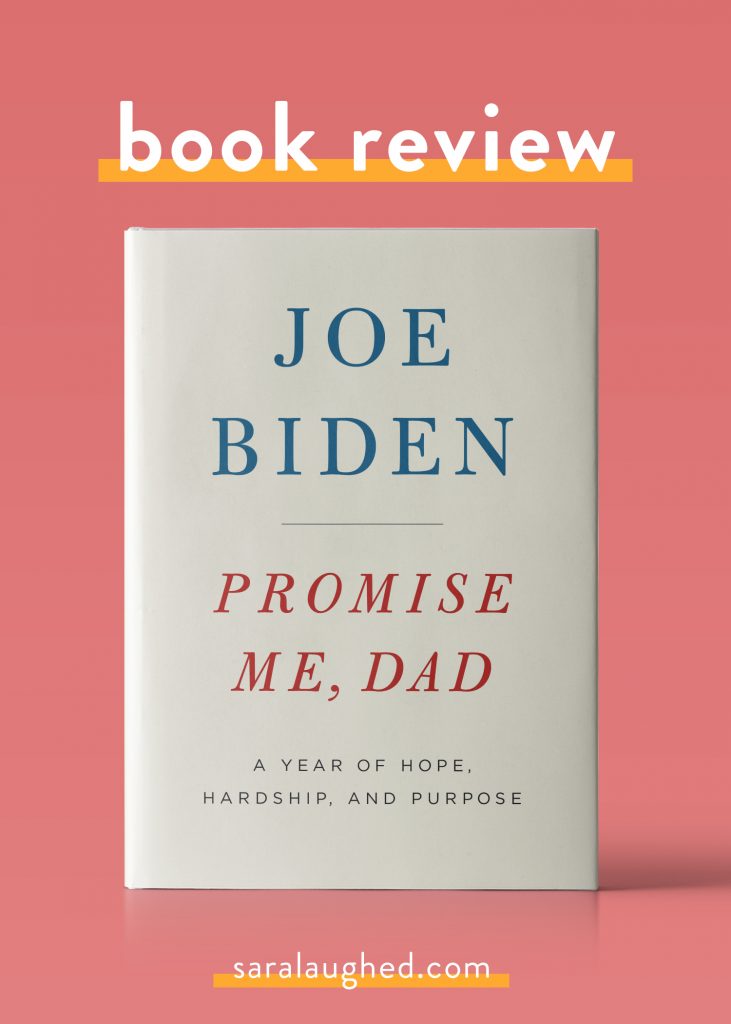 I absolutely loved this memoir by former Vice President Joe Biden on the loss of his son, Beau Biden. Beau passed away during Biden's second term as vice president, and his life and death played a big role in Joe Biden's decision on whether or not to run in the 2016 presidential election.
This book was beautifully written and shared a fair amount of intimate details on the Bidens' family life, as well as some insight into Biden's role as vice president. The story itself was heartbreaking but felt very true to my (comparably limited) experience with grief, and I felt that Biden did a great job of addressing the tragedy without trite words. I was deeply moved by this book, and also felt that Promise demonstrated Biden's character and commitment to his country very well. Through anecdotes about Biden as a parent and a politician, I developed a deeper respect for him than I'd had before.
I also enjoyed the descriptions of his friendship and work with Barack Obama; I've read books about President Obama before, but always with him as, understandably, a central figure. Seeing him take a secondary role in Biden's book gave me some insight into who President Obama is as a person, as well as a leader.
This memoir detailed television writer Shonda Rhimes' year of saying 'yes' to new opportunities like TV interviews, commencement speeches, and health journeys. I listened to this as an audiobook and liked her sense of humor and insight into her life, but didn't love it overall. I've read other similarly inspiring books about the idea of saying 'yes' to life, and didn't find this one to be especially better others I've read.
This book was my least favorite of 2018 so far. I've read a few of Picoult's books in the past, and liked My Sister's Keeper and Keeping Faith when I was younger. Things followed a similar formula (a personal drama leads to a court case, with a big twist at the end), but at this point, the formula had worn thin. I also appreciated the criticisms of the way in which Picoult, who is white, tried to represent the black experience in America — I can recommend watching this video by Didi of Brown Girl Reading for a better breakdown of that than I can provide.
This has been my only modern classic of 2018 so far. The Handmaid's Tale is a novel about a woman who lives in the dystopian future of America, called Gilead, where women are suppressed due to a very conservative interpretation of Christianity that has been made the law. I had never read this before, though I know that many others did in high school literature classes. I loved the writing in this novel, and enjoyed the read, though it was fairly dark.
I was dying to read this after loving Kisses from Katie a few years ago. Katie Davis Majors is a young American woman who moved to Uganda at the age of 19 and went on to found an orphanage and adopt 13 daughters. This book is a sequel of sorts, sharing about how her life has changed in the years since Kisses from Katie came out. I didn't enjoy it as much as Kisses from Katie. While I find Davis Majors to be an incredible person, and to be living a great example of a selfless Christian life, I sometimes found her writing too flowery, and didn't find the contents of this book to be as compelling as her previous book.
This is the first collection of poems by internet figure Rupi Kaur, many of which deal with intimacy and her experience as a woman of color in the United States. The book is wildly popular, but I didn't enjoy it as much as I thought I would, in part because I'm not a huge fan of poetry.
This memoir details Masaji's life in, and escape from, North Korea. It was well-written, but the translation was sometimes a little jarring (for example, the 'author' would sometimes say "Christ!" or slang that tends to be used by younger people, which felt odd for a man in his seventies who grew up in a nation where Chritianity is not the norm). The book was emotionally challenging to read, but it was also a great learning experience for me.
Katy Tur is a journalist who was asked to cover Trump's campaign during the 2016 election, and ended up becoming a public figure in the process. This was a quick read about her experience on the campaign trail, and I really enjoyed it. Some of her comments felt out of place, and there was a fair amount of focus on her personal life which felt off-topic, but I liked it overall.
I wasn't looking forward to reading Hillary Clinton's memoir about the 2016 election, but a friend of mine really wanted to read it together, and I'm actually glad we did. This was a more personal look into Clinton than I've had before, and I liked the way that she wove her personal history into different stories from the campaign trail, rather than offering a chronological election post-mortem.
Ken and I read this book together for our cheesy couple's book club. I liked the insight Chapman offered, though some of his anecdotes clearly were intended for a different generation than mine. He occasionally was a little too self-congratulatory, and some of his accounts of his clients were a little troubling. That said, I liked the insight into caring for my partner in ways that he understands, and I feel that it's helped our relationship.
Spotlight: Redeeming Love by Francine Rivers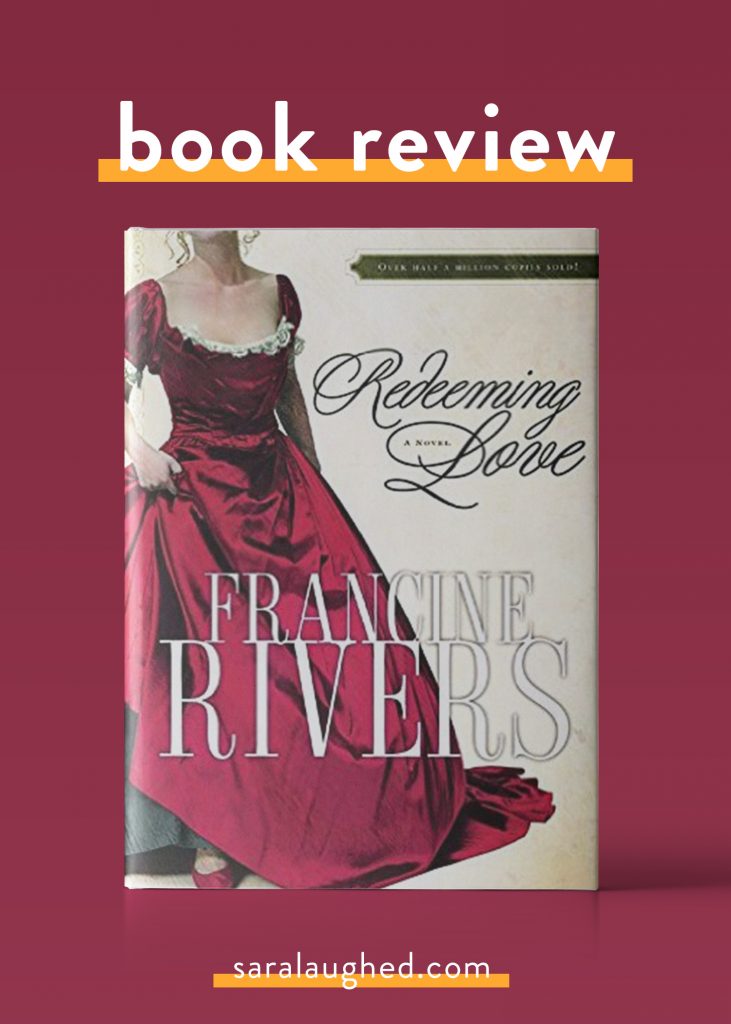 Content warning: I don't recommend this book for people who are triggered by descriptions of sexual assault.
Redeeming Love is a novelization of the biblical book of Hosea, set in California in the 1850s. It follows the love story of a woman named Angel, who was forced into prostitution as a child, and a farmer named Michael Hosea who falls in love with her and tries to take her away from her life of prostitution. This book was recommended to me by a friend, and it was my first time reading a Christian fiction book.
I really liked the focus on God's love and how humans can struggle to accept it, and how we can reflect that love in our relationships here on earth. However, without going into any spoilers, there were aspects of the plot that I found a little far-fetched at times, especially considering the limited options for women of that time and place. Regardless, I enjoyed the writing and went on to read two more books by the same author, which are detailed below.
Content warning: I don't recommend this book for people who are triggered by descriptions of sexual assault or suicide.
The Atonement Child is the second book I read by Francine Rivers, who also wrote Redeeming Love. It follows the story of a woman named Dynah, who is sexually assaulted and becomes pregnant. The book follows her decisions about what to do with the pregnancy, and how her choice impacts the people around her. I strongly disliked this book — wherever you fall on the issue of abortion, this book will read more like a political tract than a novel. Some 9 or more characters in the book have had abortions and regretted it, or have gone on to commit suicide or die of cancer as a result. This might have felt less like a stick over the head if it had happened less often, but towards the end this exact plot device came up so frequently that it had become almost a joke. There is a passage in which the situation of abortions in the United States is compared one-for-one to the Holocaust, which is not only offensive, but deeply inaccurate in its description. I really do not recommend this book.
This was the third book I read by Francine Rivers, the author of the two books above. It follows the life of a woman in modern-day California as she works on herself and her marriage, and discovers the diary of an ancestor on the Oregon trail. I liked this book more than The Atonement Child but less than Redeeming Love.
I read this book for a job interview. It's very short, but I found the tips helpful. He offers scripts to adjust for your own interview, as well as general tips about presentation and speech.
Another self-help book, this time about binge eating. This book revolves around one particular trick of the mind, but spends so much time pointing you back to free resources on his blog that it felt like one big lead magnet. I would have liked to see the same free resources included in the book, which could have used some more content — one of its chapters was two sentences long.
This was the second fitness book I read this year. It advocates macronutrient counting and weightlifting as the ideal fitness program for women. I think I might have enjoyed this book more if I was earlier in my fitness journey, when more of the scientific information would have been new to me. As someone who already does a lot of what this book recommends, I didn't find it very helpful, but I can recommend it to beginners.
I liked this career book a lot. It's written by the two teachers of the wildly popular "Design Your Life" class at Stanford, and this book breaks down a lot of their methods to help the reader focus on designing their dream career. The focus of the book is on work, so if you're looking for a balanced book that also deals with relationships and personal fulfillment outside of your career, this one may not be the one for you. That said, I found some of its exercises really helpful!
Finally, Hidden Figures is a historical non-fiction book that details the lives and careers of several of the black women who worked at NASA from the 1940s to the 1960s, and especially those that helped bring man to the moon. I read this at Ken's recommendation, but haven't seen the movie yet. I loved learning about the history of these women and really enjoyed this book.
Whew! This blog post took me so long to write that I read another book while working on it (no, I'm not kidding, and no, I won't make you sit through that review). What have you read this year? Which books on this list are you interested in reading?